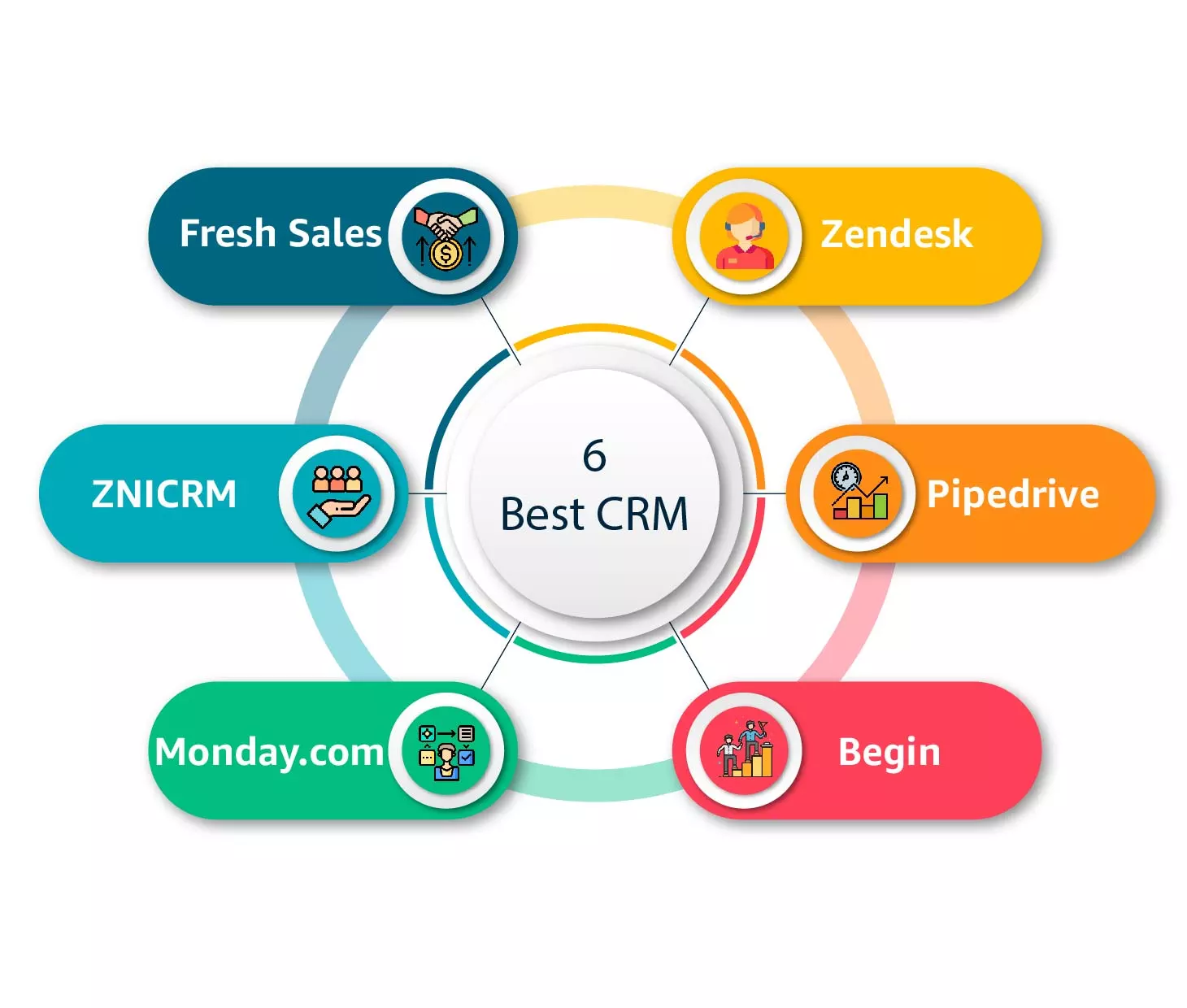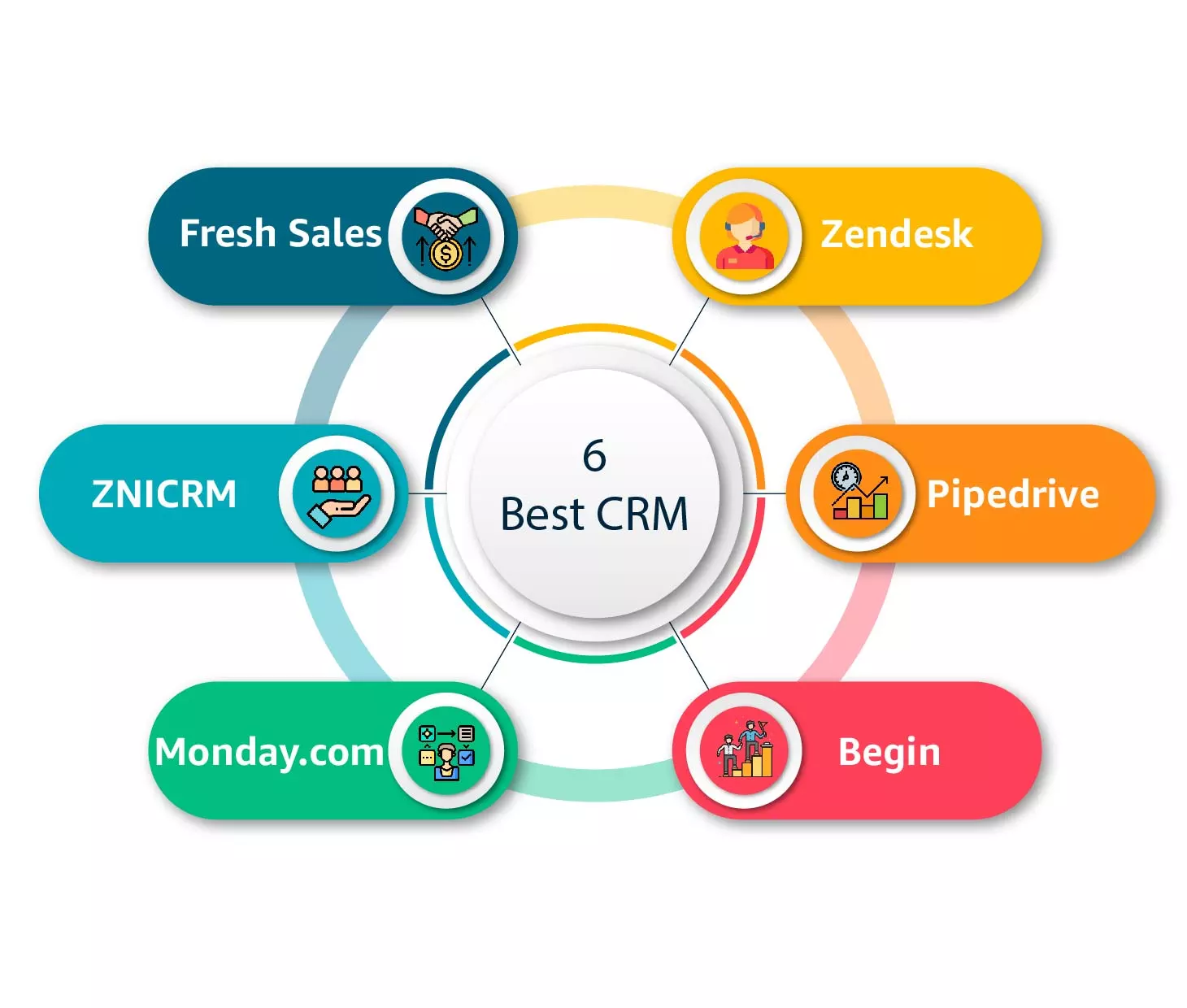 6 Best CRM Software For Small Business & Startups
In this section we will provide you 6 best CRMs for startups and small businesses.
CRM for startups is the best way to achieve growth. Well, knowing that you need CRM does not guarantee that you will also achieve growth. A good CRM is also helpful to achieve growth and success. Have you found yourself that you need CRM software for your company? Do you want to know which CRM software will best suit your company? So, yes, you reached the right place.
In this section, we will inform you which CRM software will best suit your company. We will also tell do you need CRM software? We will also look at the types of CRM and how they will solve all your problems.
What is CRM?
CRM is a customer relationship management. Whether it is a diminutive or large enterprise, you need the customer to grow for any business. So, for that, you need proper arrangements to administer and manage all activities. There is no doubt that CRM software is the best software tool for small businesses. CRM software will work in maintaining customer relationships. It is a software tool that will also work to interact between the customer and the business. Furthermore, CRM software will also work to maintain the relationship between the previous customers and potential customers.
Customer Relationship Management will help in
Building customer relationship
Maintain potential buyers
Nurture leads
Retention of customers
Maintaining customer loyalty
We do not have to think twice that we need all the above to boost sales and efficiency. CRM is software that only provides an interface to the company that can manage customers.
CRM can only provide the guide to increase sales. It is a platform that can boost or nurture sales. However, to increase efficiency, you have to choose the best CRM software. The goal of the CRM is to increase sales and minimize costs while you have customer dealings.
The CRM software does not only focus on the company but also on the customers. CRM makes life easy for the customers. An ideal CRM will keep all the customer's information in one centralized form. It can make the sales department's life easy.
Why is Customer Relationship Management necessary for small businesses or startups?
The core technology of Customer Relationship Management will indeed be the same for small or large enterprises. However, small businesses or startups only require software that can add up to the value. Small businesses require software that can boost efficiency. Small businesses may not have a dedicated team for software evaluation. You can choose CRM based on your needs and desires. However, additional costs are the main factor in buying choose CRM software. Only costs will not determine the selection of this software tool. The last resort is time and complexity. It is recommended that startups or small businesses can choose CRM software that is based on cloud technology.
Different types of Customer Relationship Management
There are five different types of CRM. The CRM software varies according to its features and how it will work in small businesses.
CRM Operational– The CRM is called operational when it performs operations. This type of functional CRM is used in marketing, sales, and customer support. Operational CRM helps to contact information automatically and set procedures automatically. The most important feature of this type of CRM is that it can integrate leads through different channels. The integration can happen when you connect it with MailChimp or Outreach that can boost sales.
Analytical CRM– The name itself suggests that this software helps in analysis. This CRM software helps in customer analysis. This technology allows understanding customers' desires, needs, preferences, interests, and points of contact. With the aid of this software, you will be able to examine your client's behaviour quickly. If you want this type of software, you can use Zoho Analytics and SalesForce Wave Analytics.
Collaborative CRM– This software helps in collaboration. Collaborative CRM is the complete software for customer service. You can easily manage and interact with customers using this software. You must have felt pain in answering queries due to different inter-departmental communication. This software feature will enable you to manage all customers very quickly.
Campaign-based CRM-This CRM is the integration of both operational and analytical. Campaign-based CRM can help you to build campaigns like emails. These mails can be for sales or marketing. For any business we need customers. For customers, we need campaigns to promote our product and services. So, this software will help in promoting the product.
Strategic CRM– This software also focuses on the customer. So, all the above CRM features or types of CRM focuses on the customer. However, this software will help to maintain relations with the customer. Strategic CRM will provide consumer information to maintain the relationship in the long run. All this can happen when this software customizes all your customers.
Top 6 Customer Relationship Management Softwares For Small Business
We chose the top 6 CRMs based on the company's value, functionality or ease-of-use, or the ability to make your business grow. Some brilliant CRM options can help you to enhance your business.
Freshsales
It is also known as Freshworks CRM. This CRM software helps customers and sales process one easy-to-use platform. This software is used in sales and marketing to data management. This software has the essential feature that is advanced AI. The Artificial Intelligence tool is called "Freddy." This AI tool will help recognize leads and acknowledge if these leads can get converted to potential buyers. You can use Freshsales for advanced tools and integrations. We will list some features that will help you out to choose this software. It includes
Artificial Intelligence (Freddy)
Marketing contacts
Website tracking
Freshsales have Built-in phone and mail integration. You can quickly call your potential buyers for free.
Web forms
Visual sales pipeline. This pipeline will help you to nurture sales and boost efficiency.
Custom reports and dashboards. This feature will help you to make reports very quickly.
Collaboration with Slack
You can easily migrate from other CRMs
Freshworks can also easily access the most popular add-ons.
Lists and Segments
These are some unique features that make Freshsales CRM unique from others. So, this means if any company wants CRM with a large number of abilities. This CRM has the maximum number of capabilities. It generally means that small businesses will benefit more from this software. Although, there are various advantages for a small firm. Still, there is one major drawback. This software limits 200 emails per day per user. So, this means that small businesses have to suffer because of mails.
We all know that small businesses are based on the mails. They try to connect with customers with emails and have marketing outreach.
Pricing
For small businesses, Freshsales will be a high investment. Their free features are only for solo users with only 100 contacts every day. Freshsales is the most expensive software for small firms or startups. Their features are pretty good but to work with those features you have to spend more. So, this generally means that you get what you pay. To know more, you can visit Freshsales Growth.
ZNICRM
You are on this page, and we are discussing CRM that is helpful for small businesses. Let us tell you that znicrm.com provides the best CRM tool for small businesses and large enterprises.
Why ZNICRM?
ZNICRM is intuitive and automatic, where others are manual. We provide the best platform with easy setup and affordable. This Software tool was built from the ground up to the ready for the modern world. CRM takes charge of all the little details from logging emails, recording calls, and managing your data.
We provide
Contact Management
Cloud telephony or Zip Calls
Invoicing
Helpdesk and Ticketing
Best customer support system
Mass SMS campaign
Bulk Email Campaign
ZNI CRM provides several integrations that can be best for small businesses and startups
Task Scheduling
File Manager
Deals Management
Custom Forums
These features mentioned above are some of the features we provide to our clients. You can visit our website znicrm.com to know more.
Monday.Com
Monday.com is best for customisation. This Software tool has an intuitive interface and a vast number of innovative features. It is because of this interface you can easily customise the application. It is a project management tool. It has a unique element to know the status of the customer relationship. Monday.com has a traffic light system. That means you can categorise your workflow according to the status of every customer relationship.
Features of Monday.com
Custom fields
Full mobile CRM
Custom apps
Unlimited contacts
Unlimited users
More than 200 templates
Document management
What type of small business is best suited for Monday.com?
Monday.com has lots of innovative features. So, this will best suit those businesses that are creative and innovative. This software is for small businesses. It is best for creative and innovative industries like design and estate. These industries have unique clients, and this software is best suited for them.
Whatever you are looking for, whether it is for marketing, hosting, project management. This CRM software is best suited for all of the above.
Pricing
Monday.com has a distinctive pricing structure. They have limited seats. If you want to know the pricing details further, you can visit the above link.
Monday.com is the best CRM tool because it has unique and distinctive features. So, we recommend this CRM tool for innovative and creative businesses, including design and estate.
Zendesk
Zendesk is best for business support. It has a potent reputation in the business software market. This CRM software has the integration of many features that helps in analytics and reporting. Zendesk is the CRM tool that also helps in e-commerce, IT and project management, etc.
The brand "Zendesk" offers two main products one is Zendesk CRM sales, and the other is Zendesk for services. Zendesk for sales provides services to the sales department. These two products are best in themselves. The companies are very much impressed with other products, that is, Zendesk for services.
These CRM tools help to provide an all-in-one customer support system with knowledgeable support systems. This CRM tool monitors client bugs and analyzes your performance, and helps improve your performance. This CRM tool became popular among companies and other departments because it provides the best user support. Zendesk helps to utilize a vast library of handy materials. This software also helps to guide through various learning paths, onboarding, and on-demand training courses. Suppose you have problems while you are using this platform. This software provides 24/7 customer support.
Features of Zendesk
Staff Management
Triggers and automation
Analytics dashboard that is already built in the software
Google Analytics for help centers
You can easily export all your data to other software or CRM tool
What type of business is best suited for Zendesk?
Zendesk is best suited for the specialized business. The specialized business includes software development. If your enterprise is connected to software development or any other specialized company, you are constantly engaged in confused customers. Then, Zendesk is the intelligent way to manage all these problems. It is one accessible database.
Zendesk helps to record, manage, organize and track all your customers' issues. This software will help to solve all the problems that customers are facing. You can follow all the customers' issues in one dashboard. The entire team can easily access the dashboard, which has customers' problems. It will help you to clear an up-to-date ticket pipeline.
Pricing
We recommend you try before buying. Zendesk provides a 30-day free trial. All the pricing information based on monthly and weekly plans is mentioned on the website. You can check all the info on Zendesk.
Customer support is the most critical service for the business. Even if your business is small or big, that does not matter. You need customers. So, supporting the customers and resolving those issues should be prioritized for all small businesses or big organizations. Small and Medium Enterprises involved in a long list of requests like software developers should use Zendesk.
Pipedrive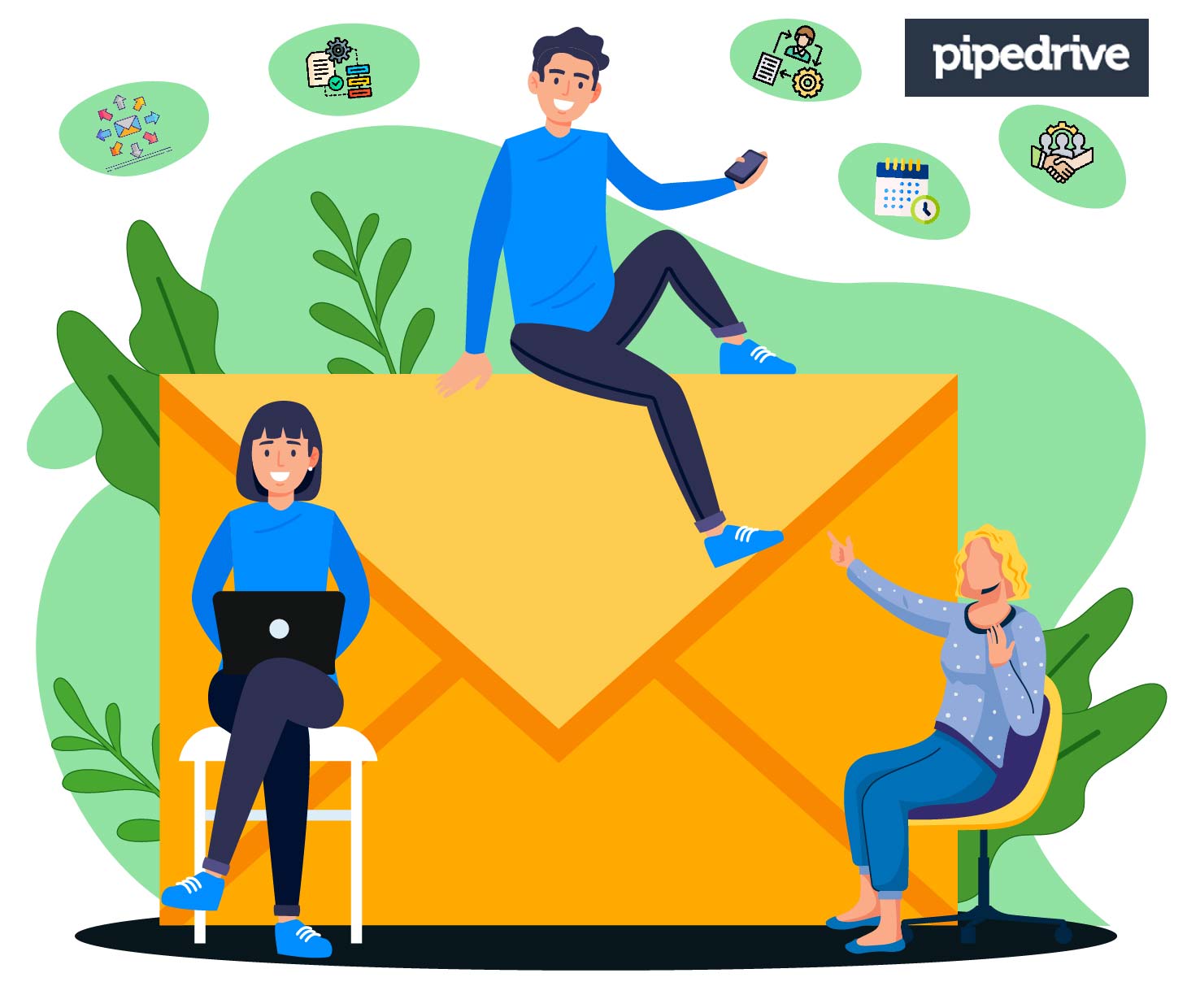 Pipedrive is the CRM software tool that is best for integrations. Pipedrive focuses on sales management. This CRM software tool can easily handle all complex problems. You can quickly enter and edit your data inputs in a detailed view. Pipedrive can solve all these solutions using clean visual interfaces. Pipedrive supports integrations like email integrations, goal tracking, reporting, and forecasting.
This CRM software is unique in its way because of its integration features. You can customize all these features according to the needs of your sales department or your team. This feature of Pipedrive is best suited for small, tech-based companies. These companies want CRM tools alongside existing software.
Features of Pipedrive
Pipedrive has 150+ integrations. It includes mail integrations, Google meet, Zapier, Slack, and Microsoft Teams.
Pipeline Management
Calendar integrations
Mail integrations
Activities and goals
Sales Forecasting
Data imports and exports
Which business is best suited for Pipedrive?
Pipedrive is best for small businesses. This CRM software tool has several third-party integrations that make the best technology for small firms. It is the best option for a company that works remotely or a tech-based company.
Pricing
Pipedrive does not have any free features. It only provides 14 days free trial. If you want to have better knowledge of Pipedrive plans, you can visit Pipedrive.
Begin By Zoho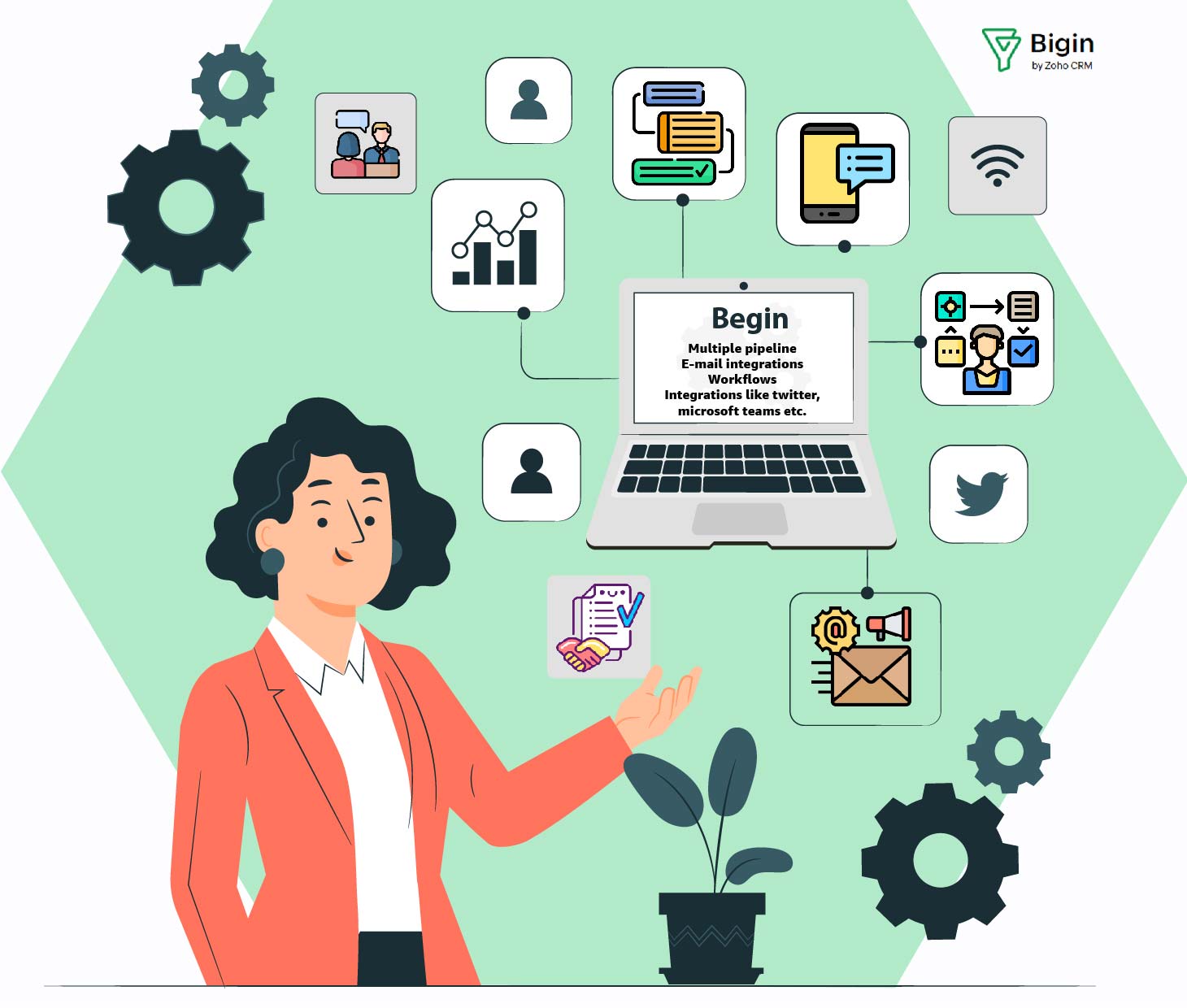 Begin is the best software tool and affordable. This CRM software is specifically designed for small businesses. It is an essential and cost-friendly software tool. Begin has a drag-and-drop interface. This interface helps in navigation and functionality. In this CRM tool, you can easily organize contact details, values, and other project details. All these projects can easily track with the help of Begin.
Features of Begin
Multiple pipelines
25 Workflows
Email integrations
Mass mails
Custom Dashboards. This CRM software tool helps to customize the dashboards.
5 Webforms
Integrations like Twitter Integrations, Google Workspace, Microsoft 365, and Mailchimp.
Which business is best suited for Bigin?
Bigin is basically for small businesses. This CRM software tool is essential, and in this basic plan, you can easily focus on custom dashboards. It is paid-for-plan features. All the features in Bigin can bring efficiency and can manage your work efficiently.
There is one flaw in Bigin. Bigin does not perform well in file allowance, which only allows 50,000 records. The file allowance we are discussing includes contact lists, Word documents, and PDFs.It means large-scale data-led operations or large-scale sales operations. Bigin is not suitable for these operations.
Pricing
Bigin is quite simple due to its basic or free option. So, this CRM software is suitable for solo users or freelancers. If you require to understand more about these programs, you can visit Bigin.
ZNI CRM is the best platform that is affordable. You can easily streamline and grow your sales with ZNI CRM. Our software provides the functionality, flexibility, and support to automate business processes. We offer exceptional technical assistance to our customers. Our mission is to help grow businesses meaningfully.