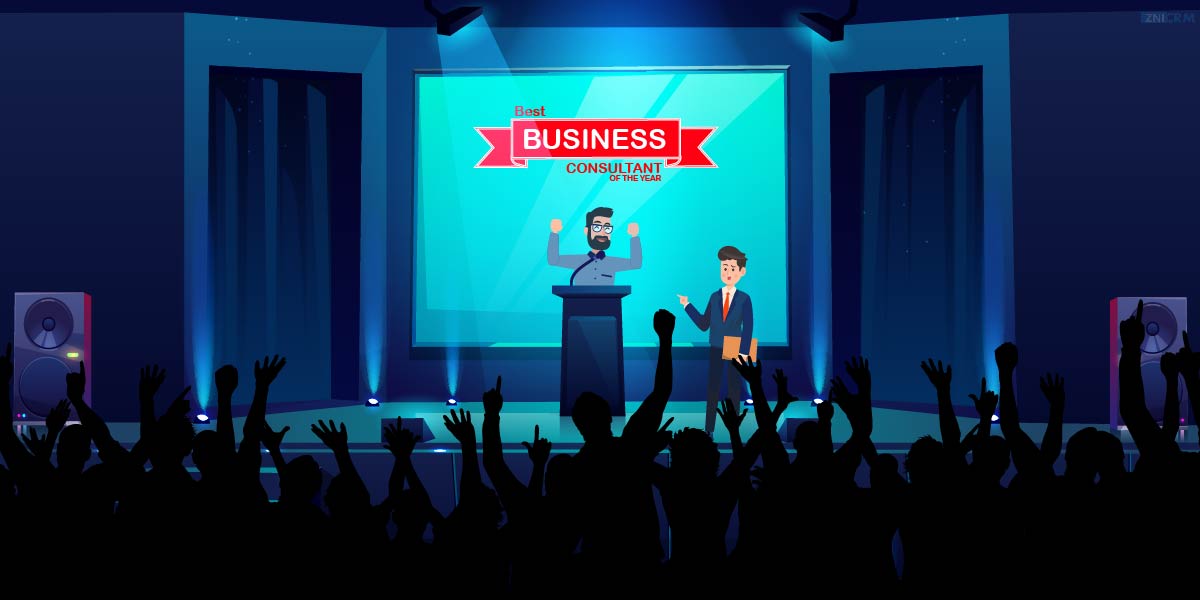 OpenCRM software
OpenCRM software helps the users to maintain good relationships with customers. It is software that is fully featured and customized. Cloud CRM solutions will help boost revenues and grow business without paying enormous costs. It is an affordable tool that can manage your sales, customer support, contacts, finances, events, etc.
You can even look around or access all the features on the website. No hidden fees are on the website. You can access all these features or use this tool whenever you want and wherever you want. It is a fully CRM software for startups and entrepreneurs. It offers end-to-end solutions specially designed for Windows.
It offers Calendar Management, Territory Integrations, Reminders, Lead Scoring, Integral Chat Segmentation all in one place.
It is a UK provider hoisted in the EU with exceptional customer services, and pricing is pretty cool.
Pricing
OpenCRM software costs £33 per month/user. With one user per month, you will receive everything. You will receive functionality, features, user permissions, file storage, EU database, and other components at this cost. The price of CRM software is not that high, and you will receive features that can help grow your business.
Features of OpenCRM software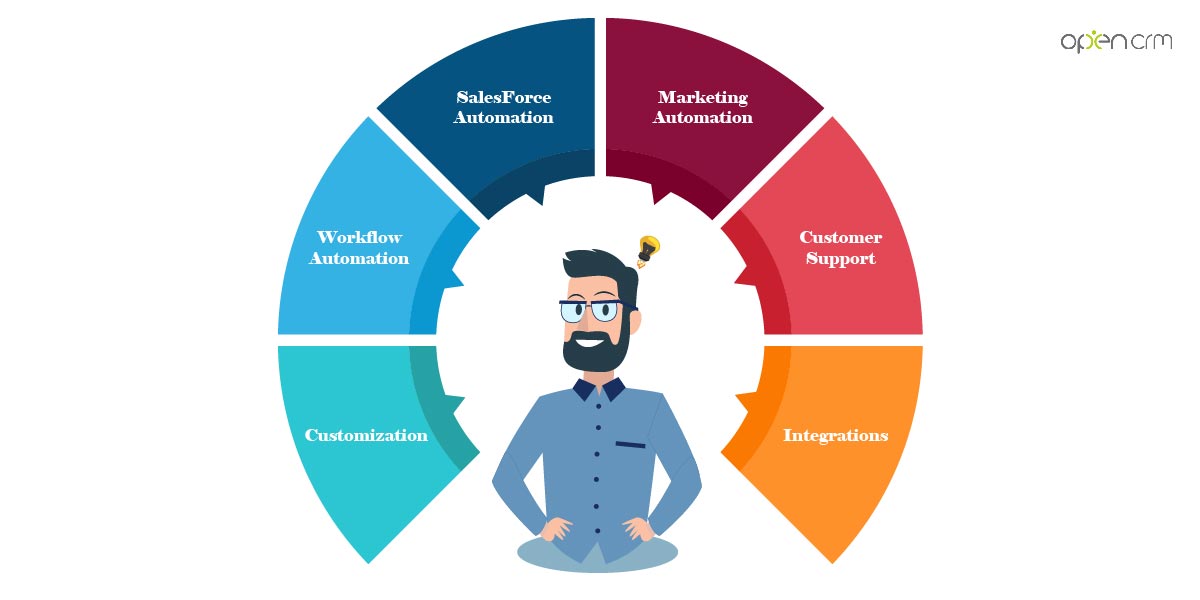 The OpenCRM software allows to customize or administer their unique processes. It includes creating custom objects, fields, rules, calculations, etc.
It is a software tool that helps automate a series of steps that typically require lots of intervention. An administrator can write rules for who and when to complete all the steps. It can also notify when they need to take action.
OpenCRM software can boost sales using all the tools in the sales force automation. It includes contact and account management, task management, quote management, customer contact management, and various other fields. It is a software tool that can also generate lead and organize it specifically,
OpenCRM software can help automate marketing tasks and organize all the marketing leads from different channels. It is a tool that can help manage and handle all the email marketing, lead management, and personalized campaigns. Subsequently, you can also have insights into each customer and the effectiveness of all the marketing tactics.
Customer is the core of every business, whether small or big. We require excellent customer support that can resolve issues of the customer.
In OpenCRM software, you can also add on third-party integrations. The applications include social media platforms, accounts, tally, or other applications suitable for businesses.
PipelineDeals
PipelineDeals CRM software looks like a spreadsheet solution. Its primary purpose is to improve the efficiency of the sales team. It is a tool aiming for small and medium-sized business.
Sales pipeline management, this software integrates deal tracking and other features. It is a tool with a limited number of third-party software like Microsoft office. PipelineDeals have premium software deals that offer various other features. It is a software tool with a dedicated account manager, advanced security, and sales acceleration component.
It is a software tool mainly created for the sales department. PipelineDeals is a tool that is exportable to Microsoft Excel. It is also available on Android and iOS. It also helps to track deals faster. The sales team can manage critical yields, milestones, and deadlines.
Pricing
Starting PipelineDeals CRM software pricing is $29/user/month. It can manage its leads effectively.
PipelineDeals cost of CRM software for development is $39/user/month. This CRM software accelerates to development or management of relationships with the customer.
PipelineDeals pricing is $59/user/month if you want to grow your business. It is a CRM process that automates advanced analytics.
All these costs have no extra charges. It includes free US-based call support along with various reports and dashboards.
Features of PipelineDeals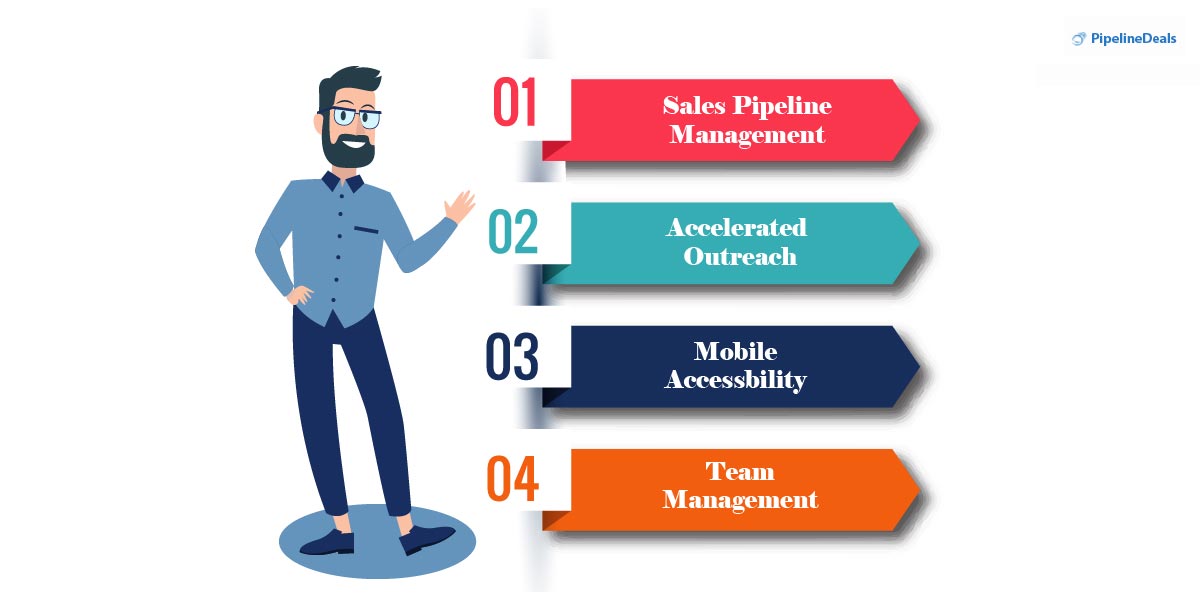 Sales pipeline management-
It is a CRM software that helps the sales team to manage all the leads. The CRM software tool is available to help the sales team to drive sales and productivity.
Using PipelineDeals software, you can manage all the prospects or time accordingly. With sales automation and integrated email campaigns, you can easily find all the prospects.
PipelineDeals software offers iOS and Android applications. It is software that has complete mobile browser optimization.
Using the PipelineDeals software, you can easily and quickly manage all the team members effectively. It will help to move your team in the right direction.
Oracle Siebel
The term Oracle itself means 'prophecy': a kind of forecasting about the future. So, as its name, it prepared itself for the future and established itself as unrivaled customized and integrated capabilities. The open architecture for a personalized user experience deploys either on-premises or the cloud. It's a key feature of Oracle's customer experience (CX) and industry solution strategy.
While traveling over time, we learned that Siebel CRM is a tool company. It principally engages in the designs, developments, marketing, and support of customer relationship management applications- notably Siebel CRM. It is headquartered in San Mateo, California, United States.
The company founded by Thomas Siebel and Patricia House in 1993. The company extended it into the broader CRM market. By the late 1990s, the dominant CRM vendor was Siebel Systems, peaking at 45% market share in 2002. Later on, in 2005, Oracle Corporation announced to buy Siebel Systems for $5.8 billion.
Therefore, "Siebel" is now a brand name owned by Oracle Corporation. Siebel Systems is Oracle's- premises CRM system, and Oracle's cloud applications for CRM are Oracle Advertising and customer experience.
Facts and features
Oracle Siebel CRM is the most renowned, complete customer relationship management solution. Siebel's interface is available in many varieties of modulations, tailored to the specific needs of specified industries. It covers the management of the following processes, sales, services, contact centers, marketing hubs, customer loyalty management, as well as partner management in the following market :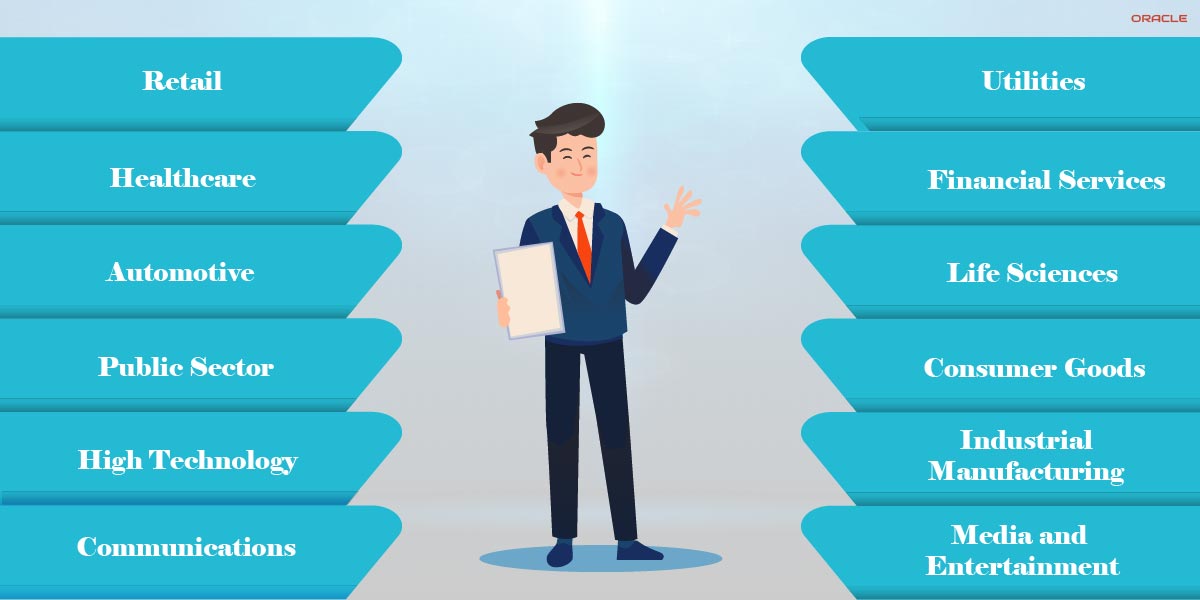 Utilities
Retail
Healthcare
Automotive
Public sector
High technology
Communications
Financial services
Life sciences
Travel and transportation
Media and entertainment
Industrial Manufacturing
Consumer goods
Our Oracle Siebel enables many functional solutions with several other functions. While many system modules to the requirements of a specific industry are modified. At first glance, it creates the impression of the incredible complexity of the system. Still, in practice, it is invaluable for the accurate propagation of the customer's specific business model in the CRM system. It is also convenient to access ready-made successful business models and best practices worldwide. The management of such a business categorizes into modules.
The Modules are as follows:
Sales
Mobile
Quote and order capture
Sales
Analytics
Integration with Microsoft share point
Partner and channel management
Offers and Orders
Dynamic catalog
Product and catalog management
Dynamic pricing
Product and pricing analytics
Quote order lifecycle management
Pricing Management
It starts at $3,750 per license, targeting typical customers, whether small, medium, or large size businesses. Most CRM software in the market is priced on a per-user, per-month basis, although companies can expect to pay between the range of $10 to $200 per user monthly. There are various CRM products with annual prices and others with perpetual licenses.
Versatile pricing
Deal management
Elevated pricing
Customer Service
Siebel Help desk
Siebel field server
Siebel contact center
Siebel mobile solutions
Oracle CRM call center
Marketing and Loyalty Systems
Campaign\ dialogue management
Loyalty management
Email marketing
Web marketing
Marketing analytics
Self-Service And e-Invoicing
E-support
E-commerce
I-store
Self-service E-billing
Partners Management
Partner portal
Partner manager
Partner analytics
Corporate Intelligence
Our Oracle business intelligence applications support more than ten functional areas through fully integrated best practices for analysis. Its key indicators are metrics, and workflows for analysis.
The intelligence provides access to essential information, usually to everyone. The required legalities thereby ensure a solid basis for making faster and better business decisions. However, they are mostly related to optimizing resources, reducing costs, improving operationists. In a wide range of processes- from sales through human resource management to purchasing.
Although an allrounder system, Oracle Siebel tries to fulfill the multiple tasks of its demands. It sharply focuses upon development, deployment, integration, productivity, and mobile services.
Pega Customer Engagement Suite
It is an interface that enables everything without complexities, confusions, and manipulations. Pega delivers innovative software that crushes business complexity. The motive of maximizing customer lifetime value is to streamline services to boost efficiency. It manages in leading brands, solve problems promptly and transforms for the near future.
Pega clients make better decision and get work done with real-time artificial intelligence and intelligent automation. From 1983, it has built a reliable architecture and low-code platform to stay ahead of rapid change. The solutions provided save time for clients, employees, and customers, who can get back to what all matters most.
Pega Marketing leads the world towards the next step in evolving the customer engagement platform. Its integration is enlightened to analyze customer analytics and business rules in real-time.
It constantly evaluates the context of each customer interaction and insists on the most relevant offer, content, channel, and action to take. When you are in relation with Pega, your connection becomes deeper with customers. It keeps on moving beyond segments and campaigns to focus on customer experience management across different channels.
Nature
Pega , delivers on the promise of personalized customer engagement. With the analysis of streaming data, tracking patterns, and triggering actions for the right channel in real-time. You can perform the optimum best action based on a clear understanding of your business goals and what the customer wants.
Features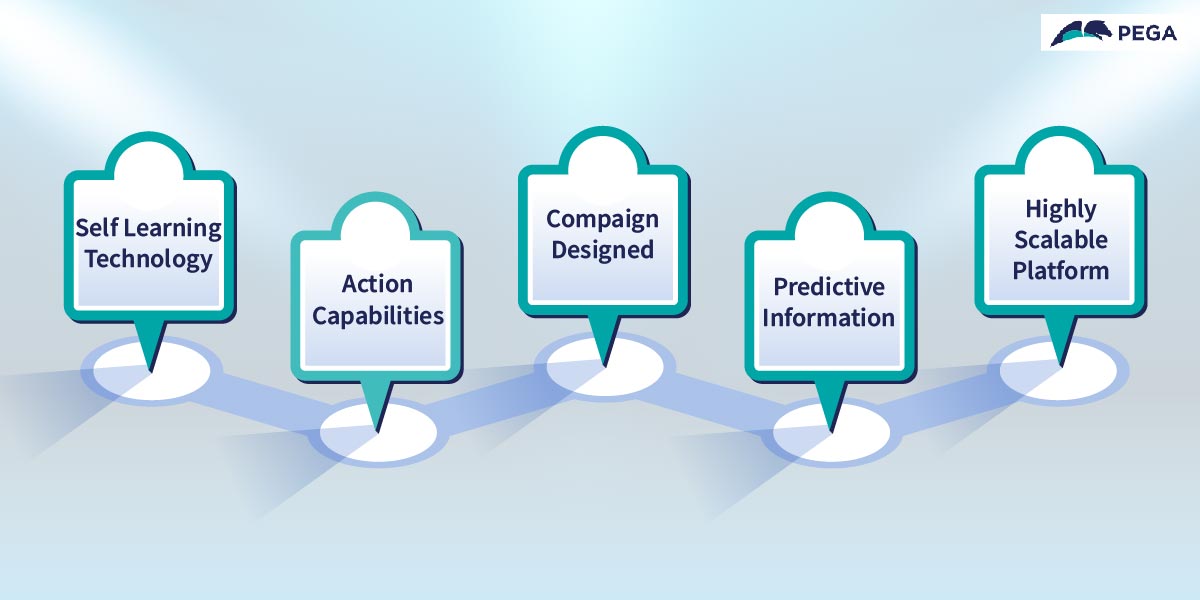 Self-learning technology enables you to inbuilt relations with customers., along with the minimal real-time need for data experts.
Action capabilities that can foresee customer needs in exact timings.
Campaign-designed tools let you quickly design, build and execute strategy across coordinated campaigns.
Predictive information lets you know proper customer behavior.
The Ultra-fast and highly scalable platform enables you to maximize your technology. The investments ensure fastest time-to-value by easy integration of the legacy of marketing.
The Pega Customer engagement platform inbuilt several features and made it the most readily applicable for its client using it. It comes up with improvement of customer conversations, which elaborates its usage with contextual messaging, branding, and nurturing. It conducts the function in which it automatically drives offers, through the fulfillment of demands. Its most important feature is to improve customer lifetime value, as it turns every interaction into an opportunity to build trust and value. The inbuilt feature manages to upsell and cross-sell strategies and makes the right offer on the right channel at the right time. It also improves customer retention, with stats that enables retention management.
Pricing
The pricing plan varies as the minimum price goes on, from $25 per month to $115 per month. At the same time, the pricing may differ from listed pricing.
SAP (Systems, Applications & Products in Data Processing)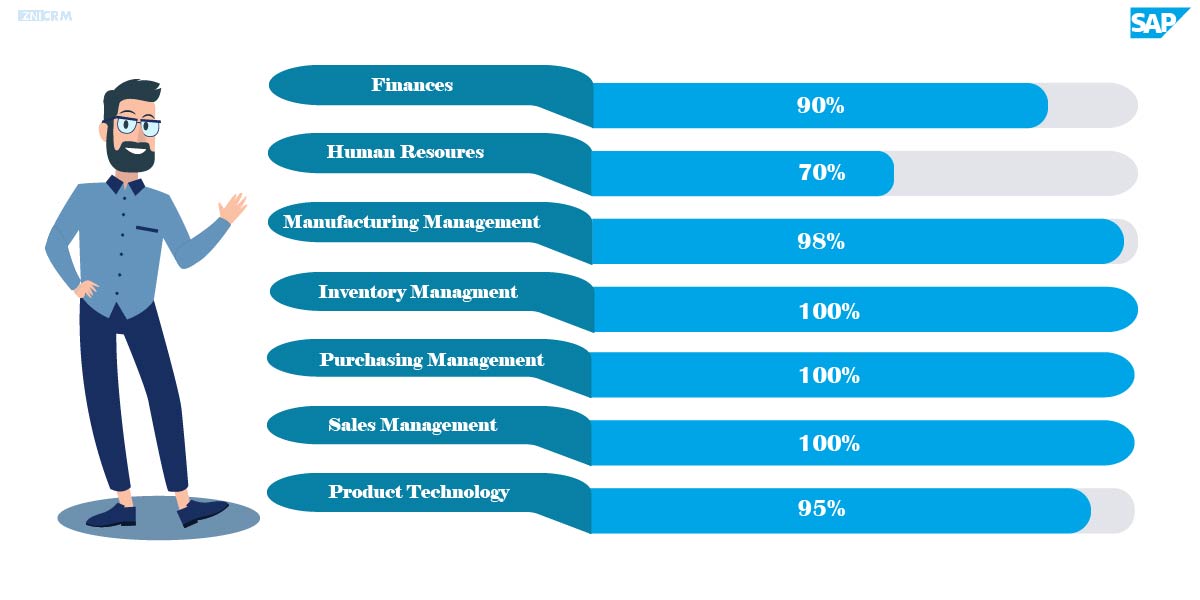 SAP can be defined as the world's leading software producer for the management of business processes, developing solutions. It facilitates effective data processing and information flow across organizations. While focusing on its past, in 1972, it was initially called System Analysis Program Development, later abbreviated to SAP. It grows from a small venture to a multinational enterprise. Its headquarters is in Walldorf, Germany, with more than 105,000 employees worldwide.
It established its original SAP R\2 and SAP R\3 software and set a standard for enterprise resource planning (ERP) software. The company's integrated applications connect all parts of a business intelligence suite on a fully digital platform, replacing the process-driven, legacy platform. Moreover, today SAP has more than 230 million cloud users, more than 100 solutions covering all business functions, and the provider's most extensive cloud portfolio.
SAP is best known for ERP software. It is the largest non-American software company by revenue, the world's third-largest publicly – traded software company by revenue, and the most prominent German company by market capitalization.
It has been serving as a solution for data management and developing processes in enterprises for years. It is an organized presentation of 3690 features arranged into the standard Enterprise Resource Planning (ERP) structure, with clear modules and sub-modules. Its rates have a level of support SAP ERP offers for every feature, from full support to partner add-on, customization, third-party, etc. SAP ERP's overall performance sets the benchmarks against the industry average.
Features
SAP ERP offers complete coverage of financial characteristics. It acts as an exception; it gives other ERP software packages and support on average 90% of attributes for this module. It results in an observable lead for SAP ERP.
It enables SAP's software a substantial lead over other software systems, which support an average of systems that adds up about 70% of attributes for the module. SAP ERP is an appropriate choice in the Human Resources module. The top competitor offers 360-degree coverage in this module.
SAP ERP supports an astounding 98% of manufacturing management attributes. Other ERP software interfaces on the market average 82% coverage in this module, meaning the SAP software has a perceptible advantage.
SAP ERP offers 100% coverage of inventory management functions and features. It is outstanding coverage that noticeably surpasses its competitors, which average 86% support for this module.
In this module, SAP ERP supports 100% of the functionalities. It is superb, given that its competitors cover on average 91% of purchasing management attributes.
SAP ERP holds unparalleled coverage in this field, supporting 100% of its features. The standard support offered by other ERP software packages is 90%. It provides the SAP software a notable advantage in Sales Management.
SAP ERP supports an astounding 95% of Product Technology functions. The SAP software package has a huge advantage with this strong coverage that outpaces the average competitor (66%).
Pricing
The cost of CRM software depends upon your company size so; you have to visit the official website for further detailed information. All the brochures and price-related official websites are updated mainly.
Conclusion
It allows recruitment HR transactions, changes, and transfers positions long with payroll timesheets reporting. It enables crude operations on all SuccessFactors objects. It will enable you to perform queries at the planned time, and it is also extensively learned and developed. This cloud computing solution helps you integrate to SAP ERP using SAP HCI or SAP PI. However, most of the clients in SuccessFactors help companies effectively manage HR functions in the cloud environment.
Salesflare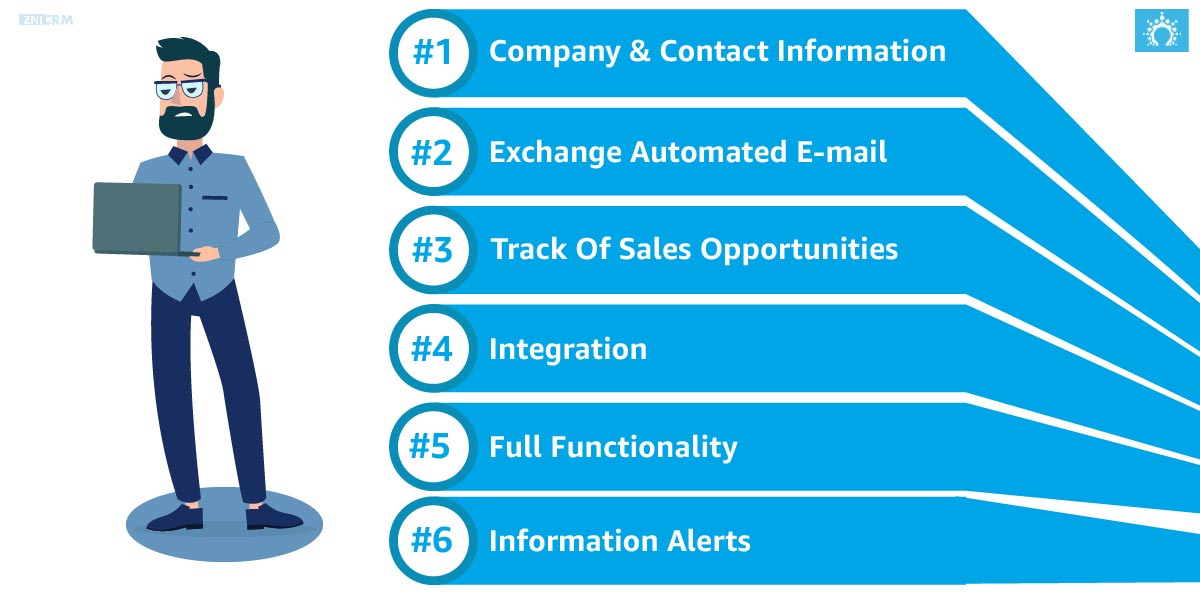 It is an intelligent CRM, one of the best for small businesses selling out for B2B uses. It's simply a zero-input sales pipeline tool that thinks and works for its user, not the other way around. It eliminates manual data entry, fills out your address book, and keeps track of all interactions with the people you're in contact with during your interactions. It grasps data from social accounts, company databases, phones, or emails and handovers it to you in self-operating customer timelines that tell you everything you need to know.
Salesflare dictates and reminds you what to do about leads so deals can't fall through the loopholes anymore. The projection of visual pipelines and powerful insights gives you a full grip upon your sales. Instinctive and easy-to-use, Salesflare turns complication into clarity so that you can transform leads into customers linkages. Salesflare works wherever you want and with whatever you are working with, whether desktop, mobile or just from a sidebar straight from your email inbox (Gmail or Outlook).
Features
Company and contact information is linked with social media profiles, email content, email signatures, and other sources, reducing the need for manual data-keeping.
Exchange automated email sequences to your prospects and customers so that you can connect with them.
Track of Sales opportunities in the visual, drag-and-drop sales pipeline.
Salesflare automatically logs phone calls and meetings through integration.
Use it on any device with full functionality, so you are not dependent on your laptop. Every feature that can work upon your android or iOS is available.
Some of the most valued features by users are witnessed as reporting analytics activity dashboards. It contains all the information alerts and notifications listed by the customers.
Pricing
Salesflare has three different cost of CRM software. It provides different editions from growth level $29 to $99. Although it also provides a free trial of its software.
In Growth, it's $29.00 one user per month, whereas $49.00 for one user per month at Pro level, and in Enterprise level, it is $99.00 one user per month. Moreover, pricing varies according to the customization of your CRM in Salesflare.
Streak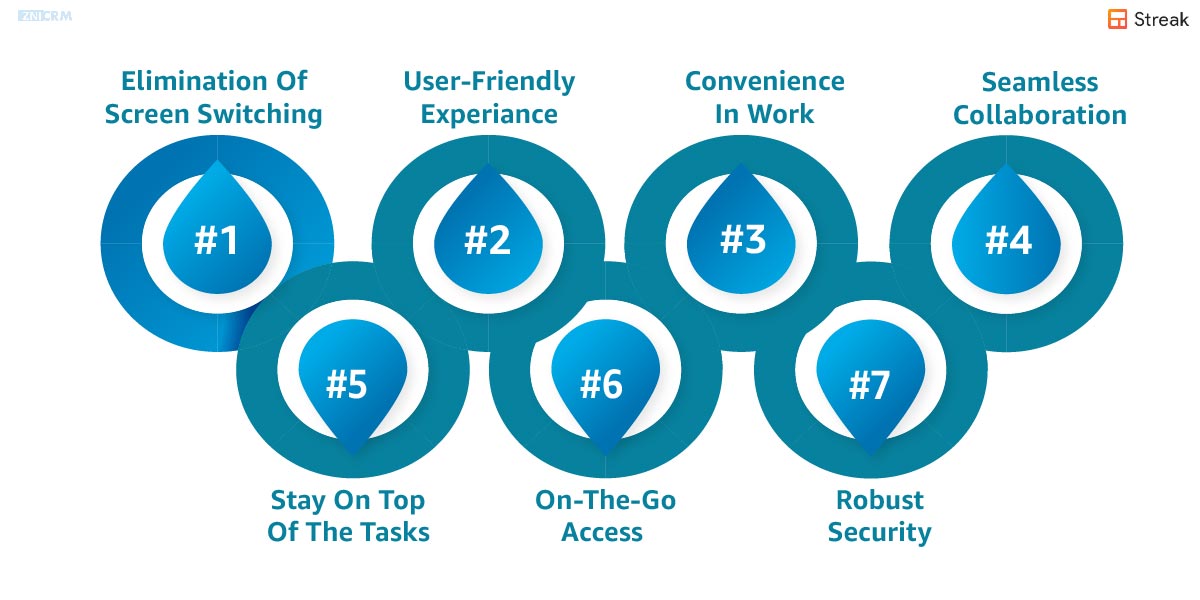 Streak CRM belongs to an American software company that is the developer of a legendary customer relationship management platform for Gmail. This company also developed Secure Gmail, an open-source Google Chrome extension that allowed users to encrypt their Gmail messages. Although it's a privately held company founded in 2012, Aleem Mawani is its founder. The company headquarters is in San Francisco, California, United States.
It is a highly-customizable product that rightly suits your unique workflow. You can use it in any work environment. So, here are some features listed below.
Features
Elimination of screen switching
As it has Gmail's based interface, you can perform tasks and view the information in the same place. The ease of access removes the tug war between CRM and other applications. It saves time and helps you to be more productive.
This feature of Streak makes it easy to use as it relies on integrations. Settings, addition, or editing elements are all very convenient to apply.
The app interlinks with the entire G Suite, so you can easily use the apps you're already familiar with and handle it. You can also use open API to integrate with other internal systems or build your integrations.
This feature enables to share essential information among themselves. The teams share critical information among themselves easily, like tasks, notes, call logs, and emails. So, everyone's on the exact page and acting in the most up-to-date context.
This feature arranges all the jobs according to their due dates, but you can filter them based on the pipeline.
Users can access tasks, view pipelines, automatically log calls and add pipeline contacts to their phones. It is actively available on android and iOS both.
The data is stored ideally on the Google Cloud Platform, providing the exact level of security and infrastructure as other Google products.
Pricing about Streak
The cost of CRM software varies according to the model you choose as it divides into four different categories;
The introductory level is for individuals who try out Streak CRM for an unlimited time.
The solo level is for single users and professionals looking for an all-purpose CRM at $15 per user per month.
Pro level for any sized business or team looking for a complete CRM solution, as $49 per user per month.
Enterprise-level is for the businesses looking for deep customization and data validation at $129 per user per month.
Therefore, you can say it is a powerful CRM and highly recommended utilizing their email power tools.
X2 Engine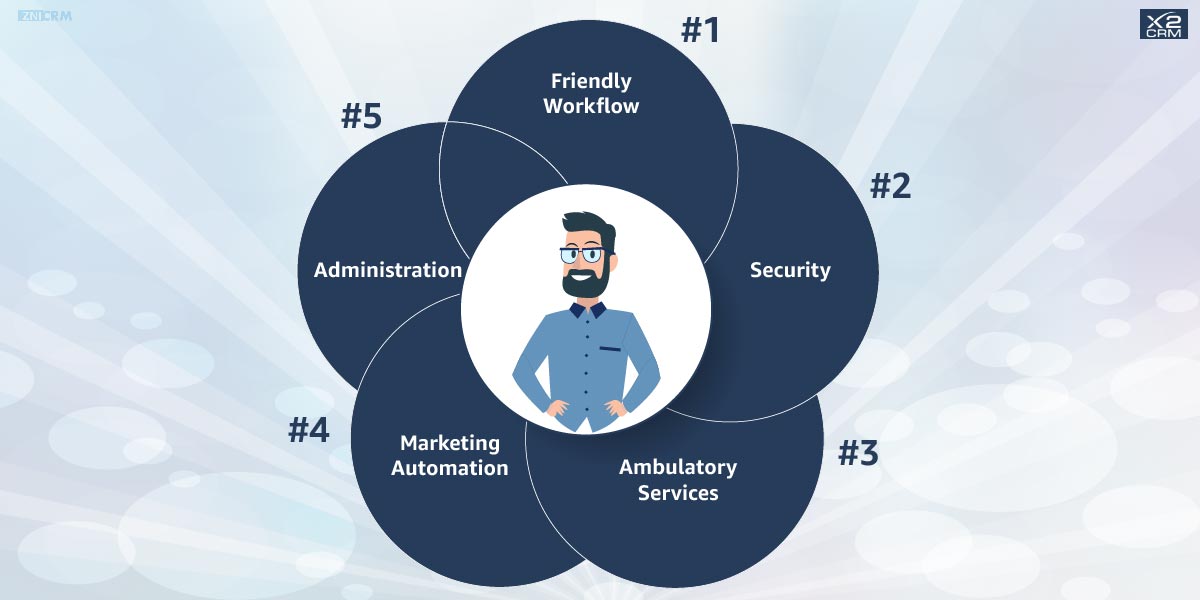 It is an on-premise and cloud-based open-source customer relationship management solution as it offers marketing, sales, and customer service capabilities. It caters to small, midsize, and large businesses. Marketing automation website activity tracking and contact relationship are some essential features that are accessible on this plat Furthermore, deal opportunity tracking, record relationship, sales funnel, process pipeline, line contact interactions are also embedded in it.
Features
It's a simple, fast, and elementary function, that requires only simple drag "Action" to a respective "Trigger." Accordingly, the CRM fills data automatically, just ready to use.
The companies have different security rules, team performance and client's trust depending on proper administration implemented on data and interactions. It offers control with a user, team, role type security, module, and workflow accessibility.
Ambulatory (Mobile) Services
All those employees who work together in the field need an approach to apply it to accurate, real-time data concerning their customers. X2Touch is a mobile version of X2CRM's desktop client. Users can view contact data and user lists quickly and seamlessly.
This considers marketing automation an essential component to customer engagement and advising your customer's journey. X2 Marketing Automation is integrated within every module and can trigger from any module, customer activity, campaign, or initiative.
The panel offers a wide array of managerial and supervisory abilities, tools, and utilities, all of which regulate the details of X2CRM. The administrators also have the flexibility to customize and extend X2CRM through X2Studio, an intuitive development tool.
Pricing
X2 Engine comes with two different editions with three other deployment options to meet your business needs. That's why the cost of CRM software differs according to the edition you will purchase.
Hubspot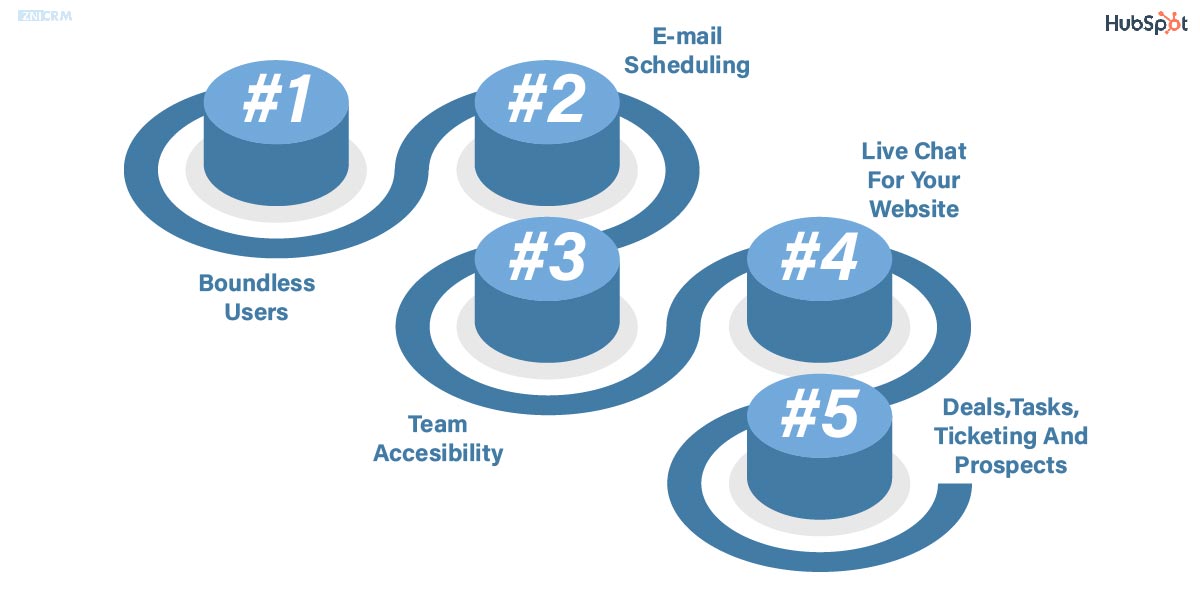 An American company that works for software products, sales, and customer services in the inbound market is popularly known as Hubspot. Brian Halligan and Dharmesh Shah had established the company in 2006. Its headquarters is in Cambridge, Massachusetts, US. This product and services provide tools for customer relationship management. It also includes social media marketing, content management, lead generation, web analytics, search engine optimization, live chat, and customer support.
Hubspot CRM takes care of all the minute details- logging emails, recording calls, and managing your data- freeing up valuable selling time. It frequently ranks among one of the best CRM software products for small businesses.
Its existing CRM is used to help every customer-facing team issue in a company, from marketing to sales to customer service. Hubspot users utilize it as a launchpad for all other marketing, sales, and customer service tools. Each department can approach leads there and use whatever additional tools they need from their department to enhance that lead's relationship with the company.
Features
You can store as many as 1 million contacts and companies on the free platform. Hubspot will keep all of your records and conversations with those contacts. It can store all of your documents and conversations with references.
Ease of scheduling for newsletters and email marketing campaigns. It also integrates conversation with leads and data stored.
It makes sure that everyone is on the same page and working for the same goal. It also makes sure that the work conducted is errorless and perfect.
Live chat for your website.
HubSpot also works upon the real-time facility so you can capture leads even after working hours are over.
Deals, tasks, ticketing, and prospects
It also allows you to keep track of every opportunity. It also looks forward to the sales procedure and making tickets for any clients who might have questions.
Lastly, we can conclude that Hubspot CRM is one of the most robust free platforms. It offers a list of tools you can use to extract qualified potential leads and do better business with your existing clients.
Pricing
The pricing differs as per the package you select as it divides itself into four different levels:
Free for trials $0
Starter $35 per user per month
Professional $560 per user per month
Enterprise $3200 per user per month
Pipelines CRM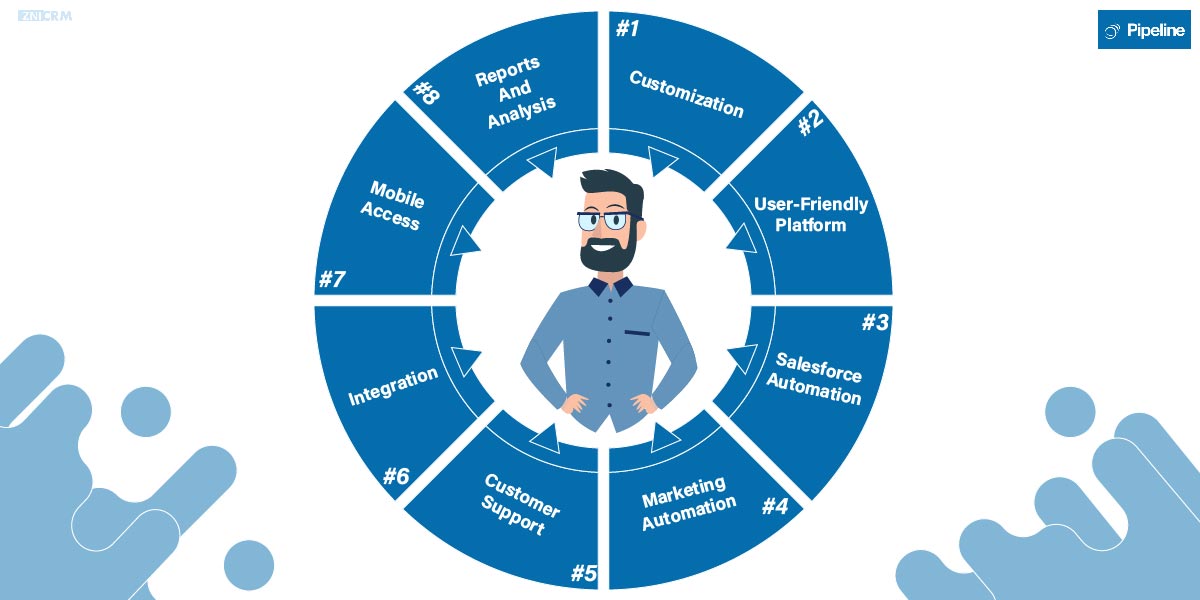 It is a sales platform that will help to integrate third party-applications, easy setups, and other customized tools. With the help of Pipeline CRM, you can easily target the leads and boost sales.
Pipeline CRM is currently in Seattle, USA.
Many remote workers are working from different states and countries. Pipeline CRM is for small and midsize businesses. It empowers sales to build game-changing relationships with employees and customers. It is a software tool that is easy-to-use, customizable user-experience, sales-focused features, and a supportive customer care experience. Today many clients and customers gain visibility and help to boom sales.
You can sign up for 14 days free trial. Make business decisions according to your requirements and build relationships with customers. Pipeline CRM is a CRM software tool that can track and organize all the information to boost sales and revenue.
Features of Pipelines CRM
Pipeline CRM offers administrators to provide custom fields, custom objects, rules, and calculations. It dispenses unique processes.
The Pipelines CRM software, a user-friendly platform hovers your business by using this software tool. You can manage and handle all the customers or relevant information. It is user-friendly, so it is not difficult to access or work on this platform.
Using Pipelines CRM software, you can manage, store and retrieve information associated with the customer's data and accounts. It can easily manage sales through its different lifecycles. Using Pipeline CRM software, you can handle all the tasks and activities. You can entitle the users to order quotes that contain at least products, prices, and discounts. All these features will allow you to generate sales.
Using this software tool, you can easily manage email marketing and various other campaigns. Through this software tool, you can track and drive all the leads using specific processes. The processes include lead generation, Customer Inquiry, Inquiry Capture, Lead Grading, Distribution, and Filtering.
We all know that Customers are the pillar of any business. It is necessary to support all the customers. It grants the customer support team access to all the customers' information, including customer support, history, and various social activities. Some basic features include analytics, call recording, workforce management, compliance management, and resolving customer issues.
Using this software tool, you can easily integrate any third-party application. You can export and import all the data through a structured file.
Pipelines CRM software can easily support multiple mobile devices, including phones and tablets. You can also collaborate the spaces with the messages to receive direct notifications.
Pipeline CRM software can provide reporting and enable sales revenue projection based on historical records and surveys.
Pricing
The cost of CRM software varies according to the various business decisions. However, there are some fixed prices for all the software. The cost of CRM software, especially Pipelines CRM software, varies from starting to growing. The price is $25 per user/ month for teams looking for pre-sales pipeline management.
For teams to manage the entire lifecycle, the cost is $33 per user/ month. If you desire to do some fancy things to grow your business, $49 per user/month is estimated worth.
SAP Cloud For Customers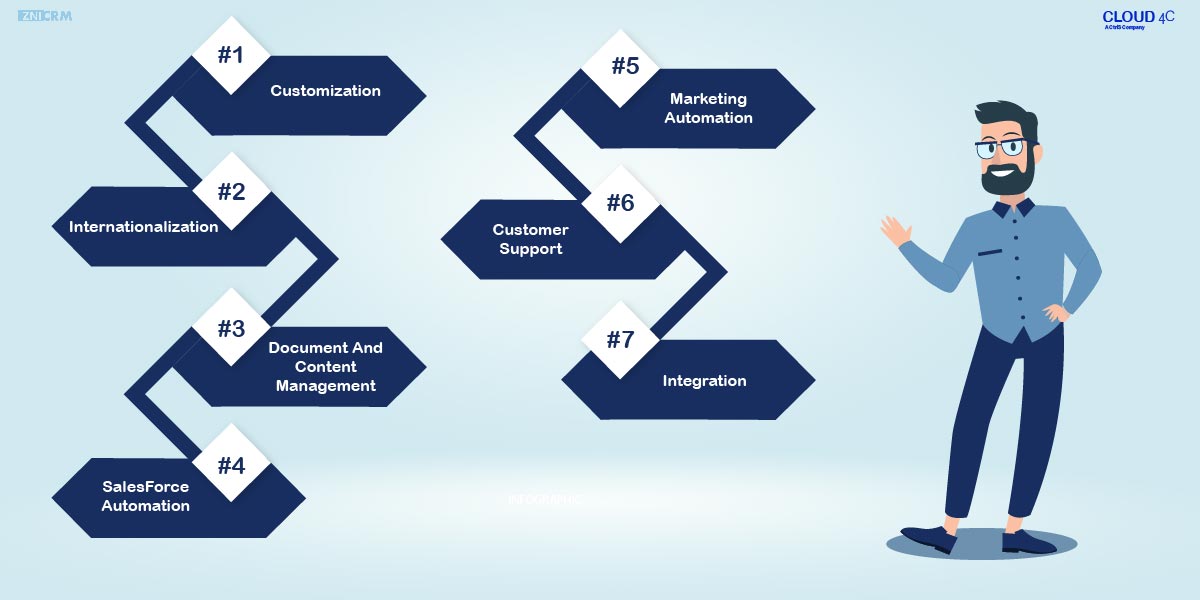 SAP Cloud for customers is a software service for sales and service. It is a software that imparts cloud-based software for sales as well as SAP cloud for services. These are two parts as separate entities with the help of SAP. It is obtainable on a per-user subscription basis and is a combined solution for sales and communication. It includes sales, service, and social engagement. This platform stores and manages all the customer's information in one place. All the information is available to the other employees to
Analyze and take benefit of all the information
Boost sales from the moment of creating the quotation to ordering the sales
Store and analyze all the information of the customers and share all of them with particular teams
You can evaluate customers' productivity and efficiency in sales and revenues.
SAP Cloud for customers is the enterprise application software available for companies of all sizes. You can transform the business into intelligent enterprises using the Internet of Things and analytics.
Features of SAP Cloud For Customers
This allows all the administrators to customize unique processes. They offer custom fields, rules, calculators, and objects. SAP Cloud for Customers software provides a personalized platform to all the customers.
The best part of SAP Cloud for Customers is internationalization. You can enable users to view and transact your business in multiple languages.
Document and Content Management
It is a software platform that helps manage the document, allowing consuming, publishing, phishing, and editing. It includes documents, contents, presentations, images, and other contents that can manage and organize.
To boost the company Sales, it is essential part to have customers that can help grow the business. For this contact management, organizing and storing are necessary. It results in managing tasks and activities.
To market your business and to reach people. It is necessary to have marketing campaigns that you can build up for your customers that can change into leads after some time. You can manage your information to inquire, and capture leads.
Customers are the building blocks of any business. To support your customers, you can resolve customers' issues. It is necessary to have better Customer support. SAP Cloud for Customers can help in enhancing customer support.
You can integrate third-party applications or any other customized fields that can help to retain your customers.
Pricing
There are various modules and some internal prices you require to request from the company personally. For more information, visit the website.
Spiro CRM software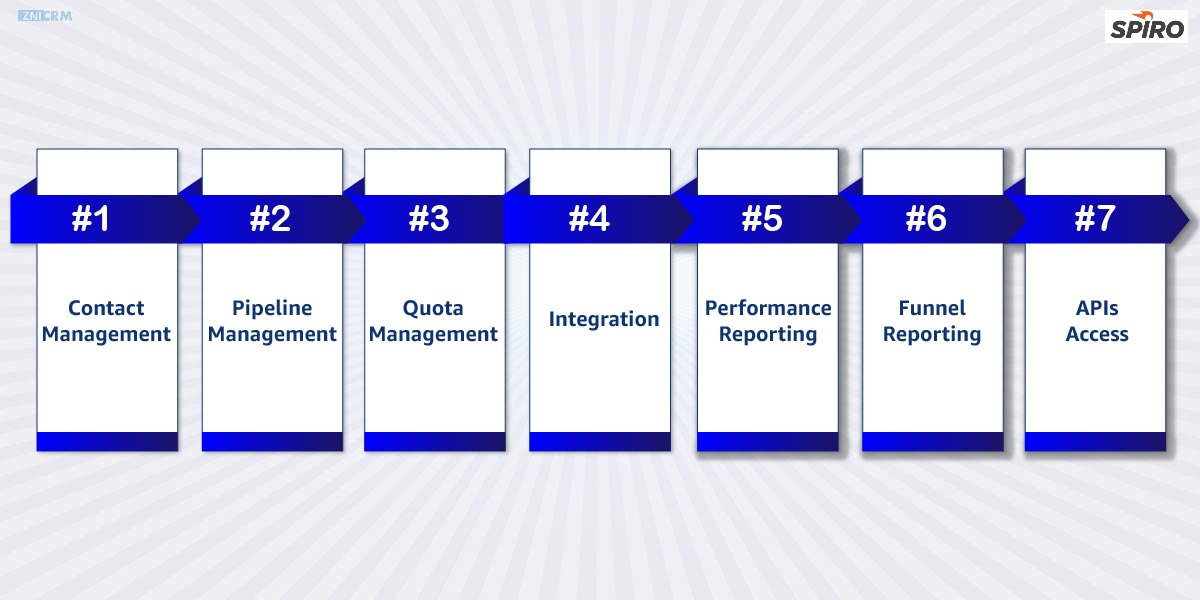 Spiro CRM software is an AI-powered CRM for the sales team. It is a platform that can manage midsize enterprise B2B business.
Spiro CRM software automatically creates contact, manages, organizes, and recommends the next steps. This programme automatically changes teams into machines. It takes work out of sales and transfers the insights and reports to the managers. This process helps to convert the sales team to a sales machine.
The essential part of this software is that it works as an assistant to create contacts, reminders, or updates you want or to make. Spiro's AI-powered platform provides maximum efficiency, and at the same time, it also reduces data entry.
It is proactive relationship management. It is a platform that guides the sales reps and evaluates the sales data. Spiro is ideal for sales teams that have employees 100-1500. Built-in messaging and call features do not require any external application integration for calling or texting.
Features of Spiro CRM software
Store and retrieve customers' contacts. Track and access all the company's information to avoid any mishandling.
Manage sales lifecycle from lead to order. You can track all stages, leads, and possibilities of close deals. Manage and track sales pipelines by individuals, teams, and other departments.
Assign and manage all quotas and territories. You can track progress against all quotas.
You can import and export data from the application in bulk through the extracted file. The significant feature of this integration is that you can easily integrate any application to avoid any mishandling during work.
It endorses reporting all data contained within the system. Spiro CRM software includes standard reports and consists of ad-hoc reports. These performance reports help check all the insights and enhance productivity within the team.
Using Spiro CRM software, you can easily report the number of visitors, conversion rates, and the overall performance of the funnel. The funnel report will give information on how the visitors progress from one stage to different and when these funnels drop off in the middle.
Application Programming Interface helps to communicate application with other software. It typically integrates data, logic, and objects with other software applications.
Pricing
Pricing for Spiro CRM software is negotiable. The pricing mentioned here retrieves from publicly accessible information. The cost of CRM software, I.e., Spiro CRM software, is $12,000.
Workbooks CRM Software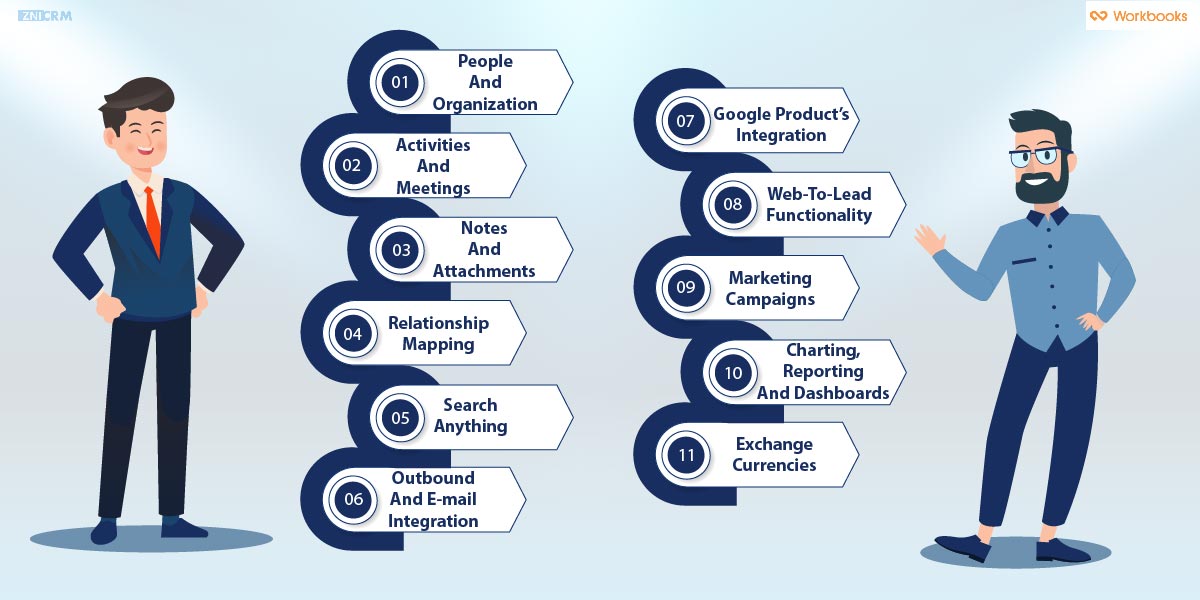 Workbooks company is in Reading, United Kingdom. Workbooks offer a SaaS platform to the growing business and engage with the customers at an affordable price. Its main objective is to target mid-sized organizations and extend beyond sales and marketing. This software focuses on customer services, including a full suite of marketing automation tools, event management, order management, and invoicing.
Workbooks are not the departmental solution but an end-to-end CRM solution. This platform builds its own software that is helpful for the customers to grow revenue, streamline business processes, get insights and reports. The customers can also engage with the clients to increase sales.
The Workbooks approach is unique, making clients and customers closer to each other. It certainly means that Workbooks involve consulting approach to onboarding clients called "Shared Success." It requires a discovery workshop with prospective clients before this platform commits to resolve all the issues. The workshop includes the senior business management team who can define the whole business and their needs after the proper engagement. Workbooks have an excellent roadmap for CRM and resolving their issues.
The feature of onboarding clients has made this platform the highest customer satisfaction platform. Due to this feature, it has won various awards.
Features of Workbooks CRM software
The heart of the business is people as they build up the business and boost sales. You can easily record the information of all the people and organizations you are dealing with. Using the Workbooks, you can categorize and organize all the data based on roles and interests.
You can easily record all the meetings and calls against any record type in Workbook and customize them according to the business needs. It can easily share all the recordings on other applications, whether messages or calls.
You can also store messages and attachments with any records in the Workbook. You can also keep those notes and attachments; share them with any department. The best feature of this tool is that you can restrict the access so only authorized people can have access.
You can manage the relationships with the clients, including your customer partners, suppliers, and competitors. You can also follow third-party relationships such as competitors and retailers/distributors.
Just click the search option in the Workbook, and you can effortlessly search the whole database and information within seconds.
Outbound and email integrations
You can easily send outbound emails to customers. Using integrated mail and other mailing apps, you can send and receive anytime and anywhere. Workbooks link with this application to send emails.
Google product's integration
Workbooks can link with Google applications like Word, Spreadsheets, and presentations. Integrating with Google apps can help you and your team create their templates for every type of record, including quotes, invoices, and orders.
Web-to-lead functionality
Using Workbook, you can capture leads directly from the website. You can create different forms to capture additional leads and track marketing campaigns to generate the lead.
The strong and prominent feature of Workbooks is marketing campaigns. Campaigning allows you to assemble prospects together for targeted marketing activities to increase sales and revenue. Campaigns can be mailing out exhibitions, seminars, and events.
Charting, reporting, and dashboards
Using Workbooks, you can easily click the dashboard's charting tools. It will provide visual impacts to your reports. It allows you to create pie charts, line charts, and bar charts. Using Workbooks, you can create visuals that will help to increase productivity within the team.
Workbooks offers multiple currencies and exchange rates. Workbooks' feature suits those business that deals with various currencies.
Pricing
The subscription price is available for Workbooks. As mentioned above, some of these features may be available as add-on features that can cost a little more. The cost of CRM software, thus, differs according to the requirements. Workbooks offer three different editions whose cost varies.
The CRM edition in Workbooks excludes invoicing, purchase orders, and support functionality. The cost is £22/£34/£47 per user per month.
If you want to include invoicing, purchasing, and support functionality for the business edition, the cost is £50/£71/£59.
For event management, the cost may increase to £110/£152/£132.
To know a more detailed pricing structure, you can visit the website.
Salesforce CRM Software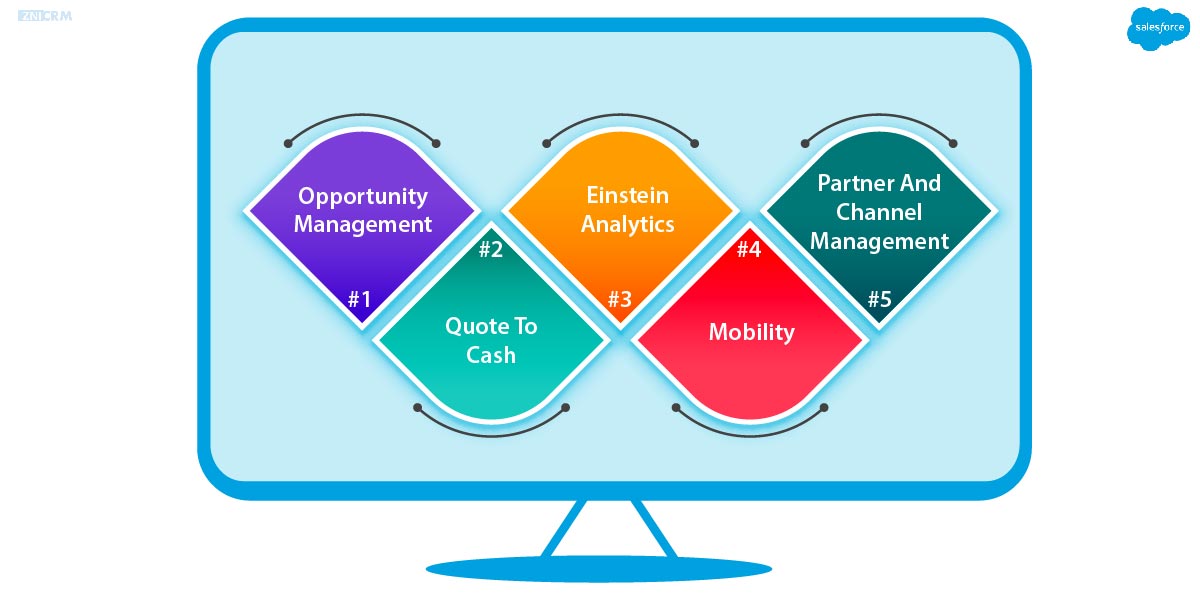 Salesforce, from the beginning, engages with the customers and builds a strong relationship with the customer and organization. Its main objective is to change the world through technology and create a more powerful relationship with the customer and the government, between government and citizens, and all the people who want to change society.
In 1999, four Salesforce founders started in a Small San Francisco apartment to create Customer Relationship Management. All the software and platforms work online and are available with a subscription plan. This unique software as a service platform helped spread the technology to apply quickly to every business.
Salesforce unites your marketing, sales, commerce, and IT teams in one platform. It is a platform that is accessible to the whole department and organization.
Features of Salesforce CRM software
Salesforce CRM software provides the eminent feature that can help check your customers' activity timeline. It also depicts the various stages of the special deal that can help decide the following opportunities.
Salesforce provides three elements: configuring, pricing, and quote. To simplify the code, you can use Salesforce. Using this tool, you can simply track all the products that are part of the deal, including standard price, quantity, product code, and quoted price. With this, you can create the right quotes with approved discounts. Using Salesforce, you can make accurate quotes and submit the proposals faster.
Using Einstein Analytics, you can crack the most complex sales with insights. It is a tool that can help you go to the next steps faster. These analytics will help connect customers to the organization, users to sales, and community clouds with embedded dashboards. Data security is the prime aspect of this analytics that allows more than 150,000 businesses with several intelligent insights to grow business.
The Salesforce application is available that helps to access CRM data anytime, anywhere. This feature will also help to use everything, including meetings, events, and account updates, at your fingertips.
Partner and Channel Management
The Salesforce application creates the ecosystem of partners quickly. This application can help boost indirect sales that help in onboarding manage recruitment and training of the partners. After providing more effective and result-oriented marketing campaigns, you can become a better partner. Associate to the suitable people at the right place and provide better insights.
Pricing
The cost of CRM software differs according to various parameters that include requirements and company size. The price of the sales essentials edition that provides for up to 5 members is $25 per user per month. The cost can increase to $75 per user per month to remove members' restrictions. The customized platform will help to boost sales and revenue. So, if you require a deeply customized platform, the cost is $150 per user per month.
The best and most add-on features include $300 per month per user. The list of all the editions is available on the website.
Freshsales CRM software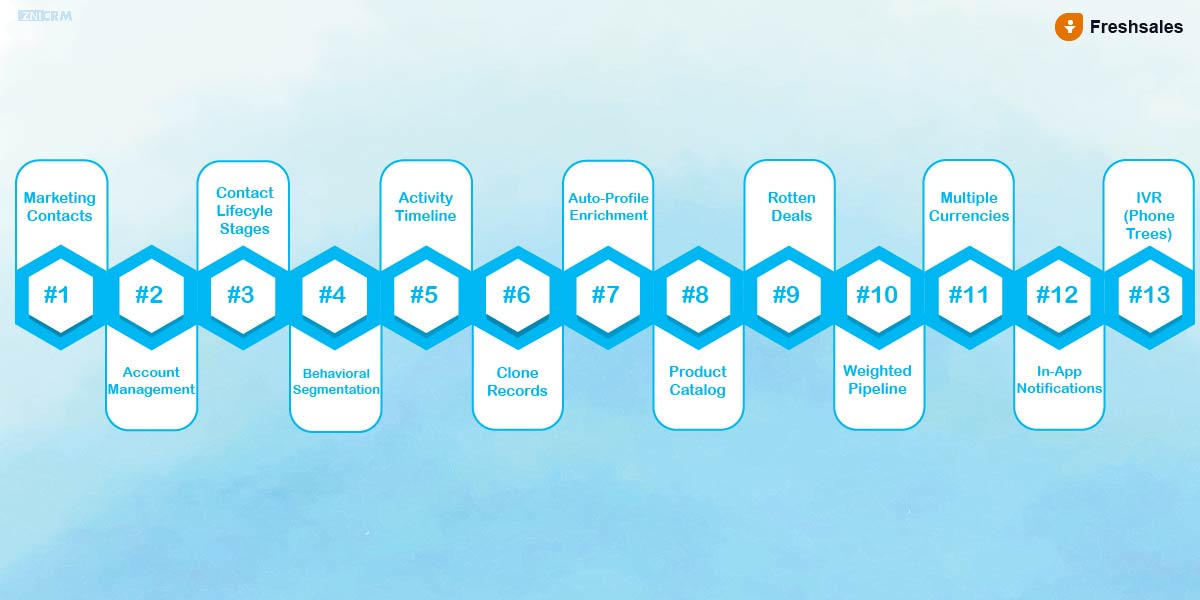 Freshsales CRM software is a full-fledged platform created only for the sales team. It has a sales force automation solution that can benefit the sales team and boost productivity. It offers everything that a salesperson requires, including engaging with leads and various contextual conversations. It drives deals with AI-powered insights, and can also nurture customer relationships. The platform has built-in emails, chats, telephony, that aid to empowers the sales team using automated tools.
Freshsales is a cloud-based CRM software that can engage with customers to build better relationships with the organization. It is software that helps businesses take the next step using the pipeline management tool. It can help the companies to manage the verticals to existing and potential customers.
Features for Freshsales CRM software
You can actively upload the contacts and do marketing modules using this tool. You can segment the contacts according to the various parameters, journeys, and mails.
Manage all the information of the business with which you are dealing. Using all the tools in this section, you can handle all the accounts hierarchy, manage and view 360° of all information and contacts.
Freshsales will furnish the complete lifecycle of the buyer. It includes stages to represent how far contact has moved. It is an essential feature that will build a comprehensive buyer portfolio.
Freshsales can segment the audience based on behavior and activities like page submission. It encompasses several events like cart abandonment or confusion before taking any subscription plans.
You can view the full-detailed chronological activities, including page views, email activities, form actions, unsubscription, confusion while buying the product.
The best and essential feature of Freshsales is to have records of the clone. You c an easily make records from the clones of the existing records.
Automatically make a social profile and update the lead, contacts, and accounts available on the internet. You can create a social profile without any delay. It will help to enrich the leads.
You can create a list of product information with the pricing scheme and add them automatically to your deals.
Set the age of every deal to diminish the real deals if the winning ratio is low.
Add weights to every stage of the pipeline so that you can understand and acknowledge the chances of winning the deals. It is essential as it gives proper analysis and forecasts of every deal.
With the help of Freshsales, you can easily handle all the deals in multiple currencies.
You can receive notifications of any updates of the CRM, lead assignments, emails, and other applications.
IVR is a phone tree that can route your customer calls directly to the concerned departments. All these tools are highly customized call flow mechanisms.
Pricing
You can try Freshsales basic features for free forever.
During the growth phase of your business, which means it has small and fast-growing teams, the cost of CRM software is $15 per user per month.
For larger teams, the cost of CRM software can increment to $39 per user per month.
For enterprises, the price is $69 per user per month.
Hence, the value of CRM software varies according to several parameters.
Copper CRM software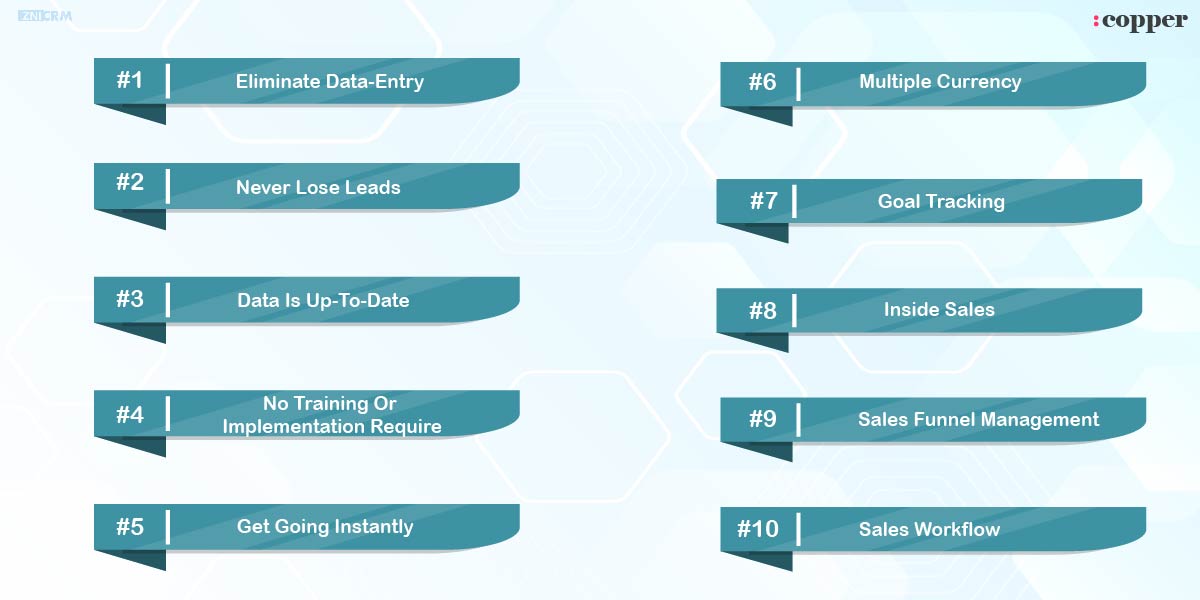 Copper CRM software, formally known as ProsperWorks CRM, exclusively enhances the team's productivity. This software is for those companies that love G-suite and use solutions like Gmails, calendar, and Google Sheets.
No manual data is necessary for the Copper software as you can easily import all the information from Google products. All the data is brought together in the same platform to focus on closing deals.
It is the only CRM built for Google, created by Google, and recommended by Google. For all the users who readily support Google and try to work on the same platform, then Copper CRM software is highly recommended. It integrates all the Google products and assists the team effectively.
Features of Copper CRM software
This platform automatically links all the related files, calendars, and other products that can eliminate data entry manually. This tool will automatically help to save time.
The best thing about Copper CRM software is that it never loses leads. It will automatically send alerts whenever any leads fall off the cracks.
The data constantly updates because Copper syncs with the Google products. So, any changes in the information of Google will automatically make updates on the platform.
No training or implementation require.
Honestly, saying the Copper platform is easily accessible. You do not require any training or implementation. If you know how to use Gmail, you know how to use the Copper platform. Copper CRM interface is user-friendly because the whole forum builds using G-suite materials.
Implementation Copper is so easy and fast that you can use this platform within minutes after taking the subscription. All your data automatically syncs with Gmail, and it is easy to configure them.
Record, report, and manage opportunities or deals in various currencies. You can get real-time currency conversions.
See how your sales number is tracking and when these deals can end against your goals. It is a critical feature that manages your goals too.
Get complete access and view of the inside sales by tracking all the customer data and work opportunities more efficiently.
Manage, track, qualify and measure the opportunities in your sales funnel. In this way, you can nurture the sales funnel and capture it.
Automate the tasks and activities with repetitive sales to avoid tedious work. Using sales workflow, you can drive efficiency throughout your sales processes.
Pricing
The cost of CRM software categorizes into three plans basic, professional, and business. The basic plan is fully Google integrated with limitations of only three seats, and the cost is $25 per user per month paid annually.
The professional plan is the most popular. You can save time with full integrations of applications, and the cost is $59 per month per user paid annually.
The cost of a business plan is $119 that can store unlimited contacts, marketing tools, and customization.
Insightly CRM Software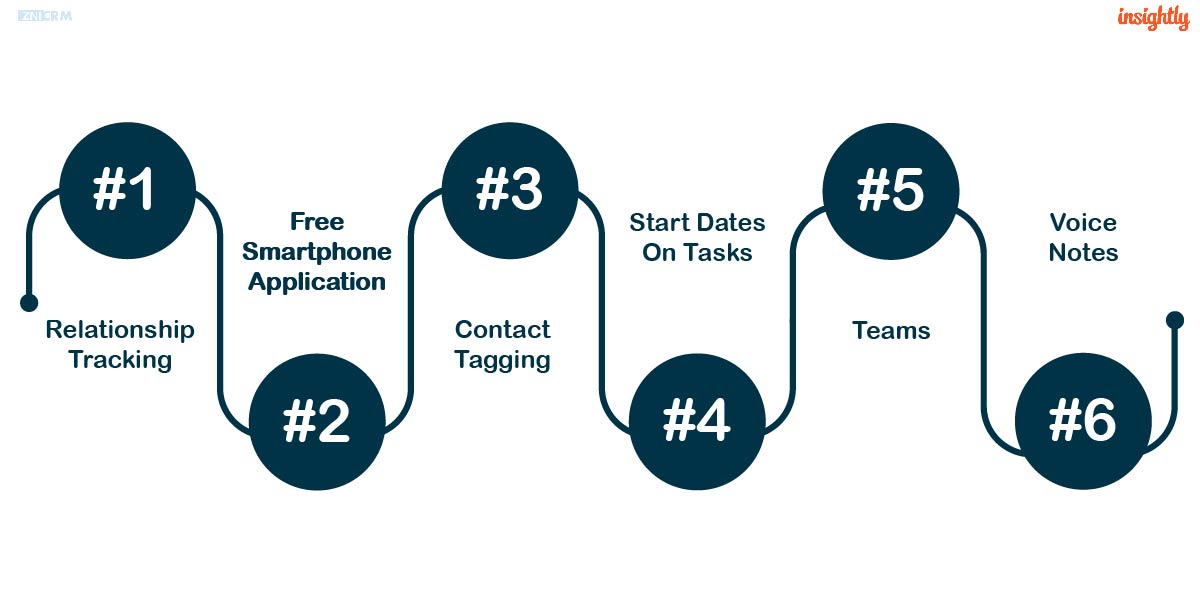 Insightly CRM software is a cloud-based customer relationship management that helps businesses of all sizes and across various industries. The industries include marketing, advertising, consulting, professional services, and others. Insightly CRM software has become the world's most popular CRM software for Microsoft and Google users.
It is a private company currently is in San Francisco, California. Insightly started in 2009, and it has begun developing various ways to help clients and customers. Insightly got backing of $50 million in funding from various leading companies. Different businesses use this software to manage contacts at every stage, track customer relationships, monitor their sales pipeline, etc. It is a platform that has moved further and supports various industries.
You can receive all critical information like leads, Emails, events, projects, tasks, sales opportunities, and reports on one platform and available on the web and mobile applications. It is a fact that if your whole team has all the data at their fingertips, then you can receive maximum sales.
Features of Insightly CRM software
Insightly offers unique features like relationship tracking. You can scroll down to the "link" section for any contact that saves in the software. After which, you can add the relationship you have with that contact like "boss," "friends," etc. You can create your custom relationship in your Insightly using System Settings.
Free Smartphone Application
You do not have to wait until you go to your desk; simply download the mobile application. With this application, you can add new records, search, review pending tasks, filter, and add updates.
It is a feature that can categorize all the contacts according to the categories. If the client is a decision-maker, influencer, and Support Staff, you might form an identification for each grouping, making it more comfortable to filter contacts based on the influence. This feature will help categorize all the connections that will assist the company in the future.
Insightly can manage all the tasks in a better way. Unlike other software, it imparts only the start date without any due date. This feature will then set realistic expectations. Instead of waiting for your tasks to complete past the due date, a start date protects the integrity of the time-sensitive commitments.
After creating Insightly teams, you will be able to assign the tasks to the whole team from one platform. No more confusion or overlapping conversations. You can easily assign to the team, and Insightly can handle the rest.
Insightly offers audio notes that can help the organization. You can record one hour of the content for any contact, lead, organization, or project. It is a feature that can reduce the time to make notes of every call and content. You can save time and use that time to expand the business.
Pricing
You can use Insightly CRM software at no cost. The free plan will include all the basic features.
The cost of CRM software increases to Rs.864/ user/month, which bills annually. This plan comprises all the free plans and other integrations.
The plus plan contains basic features and email scheduling. The price increases to Rs. 2088 /user/month. Visit the website for detailed information on the pricing structure.
Microsoft Dynamics 365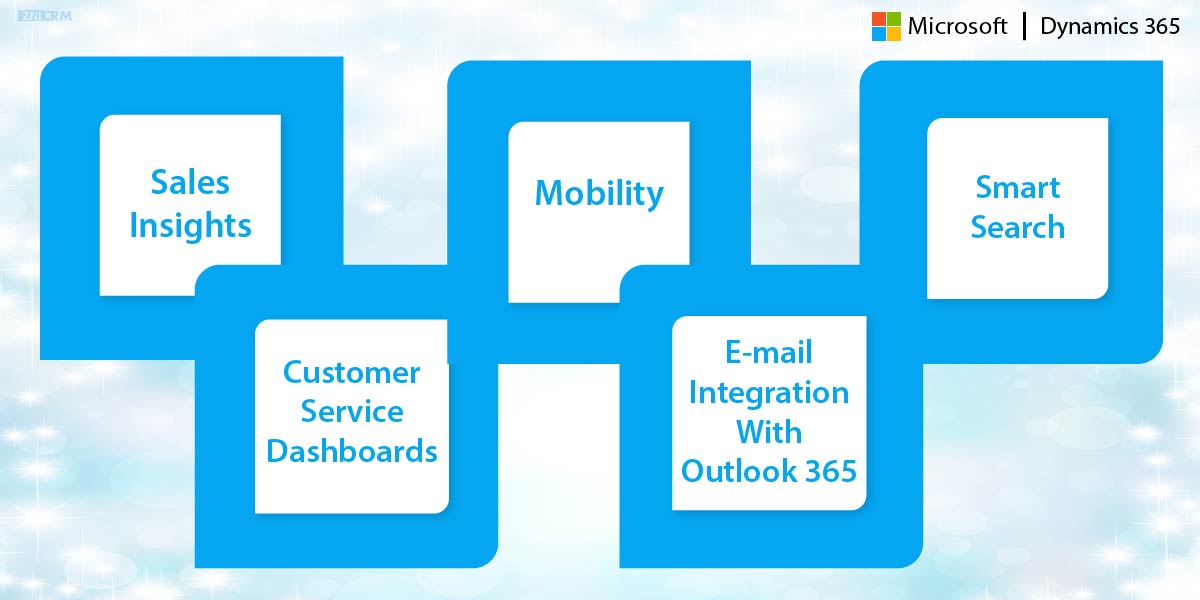 Microsoft Dynamics 365 hinges on cloud technology. Customer Relationship Management focuses on maintaining the relationship with the customers. The product focuses on marketing, sales, and customer services, and Microsoft treats Dynamics CRM as an XRM platform. This software encourages its partners to use its .NET framework to customize it. This platform offers a growing and mid-size organization a powerful solution to manage relationships and retain customers.
The pragmatic approach allows employees to be more productive and knowledgeable. It gives executives deeper insights that can enhance the team from within. The sales and marketing features streamline the business communication with customers, prospects, and team members. It is a product line of enterprise resource planning (ERP), customer relationship management (CRM), productivity applications, and artificial intelligence tools. Microsoft was first announced in July 2016 and launched on November 1, 2016. Microsoft is the first vendor to connect both ERP and CRM.
Features of Microsoft Dynamics 365
Microsoft Dynamics 365 delivers sales insights that can analyze the latest trends and opportunities for the development of the accounts. Microsoft can easily guide your daily priorities by analyzing your communication and activities while keeping you in control.
Dynamics 365 offers a mobile application that accesses all the leads, contacts, and activities. While on the road, you can also receive the overall real-time customer service alerts and provide an overview of the sales channel.
Email integration with Outlook 365
Outlook 365 enables your CRM to integrate with Microsoft Email fully. Using this feature, you can easily access all the information of the contacts and can send any emails using it. The application also delivers access to email templates and attachments vital to this feature.
Customer Service dashboards
Customer Service dashboards allow managers to access the most urgent cases and the status of the requests made. You can also predict the following steps based on customer experience in past conversations.
The unique and intelligent features like Smart Search can help find any records, information, templates, and stored opportunities. The intelligence behind the search engine can make the teams work efficiently and save a considerable amount of time.
Dynamics 365 Pricing
Microsoft Dynamics 365 provide the two pricing features that customer typically prefer. The business edition of the Microsoft Dynamics 365 license retails for $40 per user per month for application access. The Enterprise edition provides more options ranging from $210 per user per month to entirely using all applications. The price range can come down to $40 if you use fewer applications and features.
Nutshell CRM Software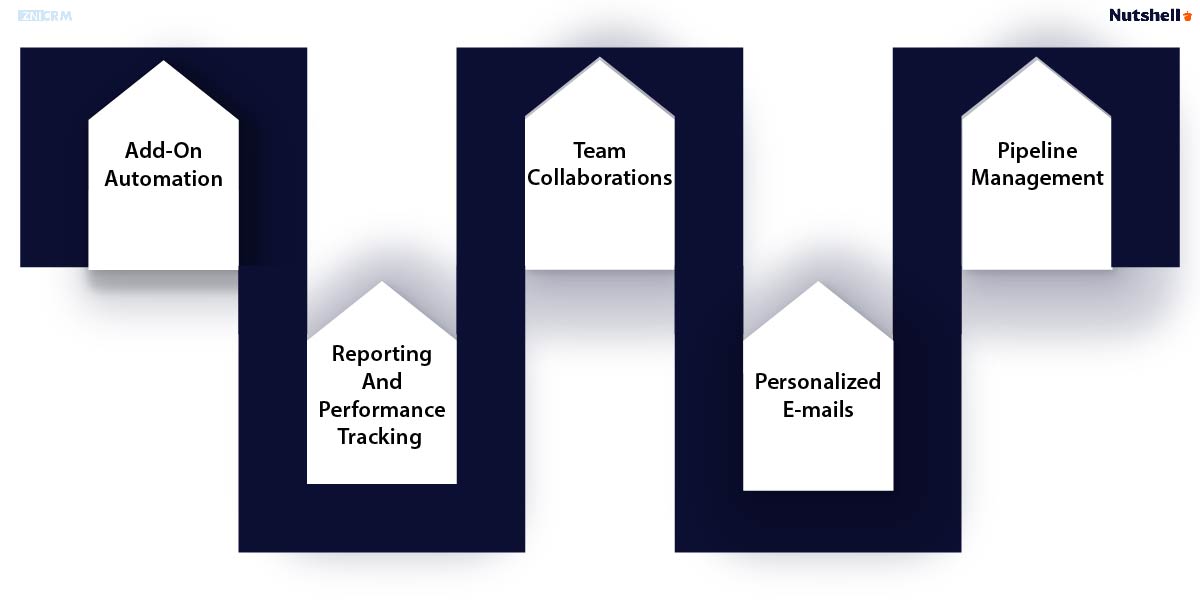 Nutshell is a CRM software that is an all-in-one CRM and marketing platform that helps organizations work for more sales. No wonder Nutshell builds for those who are already tired of moving to different platforms for marketing and sales. It is also crucial for those people who do not want to pay for a full-time subscription using all these tools.
Nutshell subscription plans include unlimited full-time contacts and deals, data storage, fully customizable reports, free migration tools, and world-class live reports at affordable prices. All these features are accessible on the same platform.
Nutshell is quite different from all other software. This platform integrates with small businesses like Microsoft Office, Google Workspace/ Gmail, QuickBooks Outline, Intercom, and Slack. This software is also available for iOS, and Android users to create, edit and add the sale reps while you are on the road.
Nutshell started in 2010, and since then, it has become quite popular among the business. This software has become the top CRM for both affordability and user-friendliness. Recently, Nutshell started marketing tools that can create beautiful templates, marketing emails, and automated drip sequences. Nutshell marketing tools can target customers and can reach more prominent people.
Features of Nutshell
Nutshell pro adds the extra benefit of sales automation that can accelerate all the sales. It can increase sales and revenue, which can grow the organization to different heights.
Reporting and Performance Tracking
It shows what is working and needs to improve by capturing and reporting sales performance, team performance, and productivity. You can also receive ready-to-use charts and presentations.
Tag, collaborate, and communicate with colleagues without missing out on any notifications from clients. Organize and respond to the conversations from anywhere at any time.
You can send customers any personalized emails by creating and scheduling using sales drip campaigns that will help capture leads. Personalized emails will help to retain potential customers.
Nutshell provides drag-and-drop features to progress leads to the following stages and marks them as won, pending, or canceled. You can organize and manage all the tips during their stages.
Pricing
The cost of CRM software varies according to the plans mentioned on the website.
Nutshell already has two plans for the customers' Nutshell Starter and Pro.
Nutshell Starter comprises some primary features, and the cost includes $19/user/month, paid annually.
The pro method consists of all the features of Starter and some add-on features. Nutshell Pro starts at $35/user/month, paid annually.
The customers can pay the fees either monthly or yearly.
Creatio (bpm online)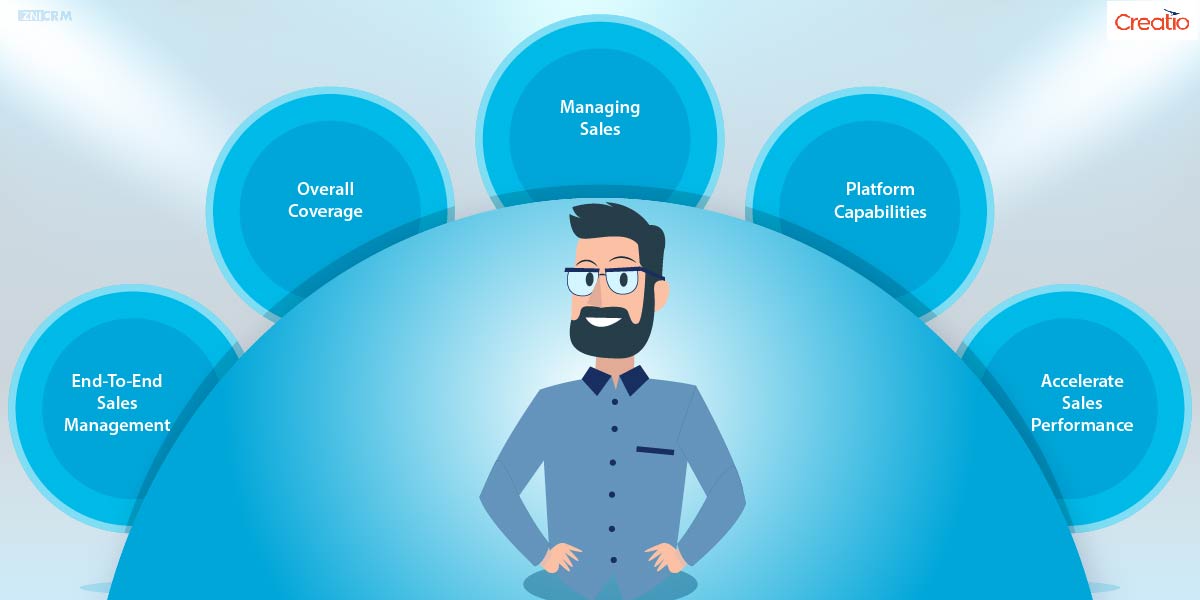 Creatio a Software as a Service (SaaS) platform low-code solution for process management and CRM. The Creatio solution stack consists of Studio Creatio, a low code platform. Sales Creatio (sales force automation software), Marketing Creatio (marketing automation tool), and Service Creatio (help desk software) are all present in this software. Initially released in 2011, It originally got its release in 2021. Its headquarters are in Boston, MA, and has six office locations across six countries. Its unique feature is available in 17 languages, whether Arabic, German, English, Polish, etc.
Creatio can be used to automate business tasks, implement rules and develop third-party integrations. It also provides a free tool for managing business processes and building applications under Creatio Studio.
It is a global vendor of one platform to automate industry workflows and CRM with no code and a maximum degree of freedom. They provide help to customers through digitizing workflows, magnifying customer and employee experiences, and boosting the efficacy of commercial and operational teams.
Features
End-to-end sales management
It accelerates the sales process of any complexity during sales dealings.
It builds 360 degrees views on customers' profiles to make it comprehensively work. It protects and creates engagement to keep relationships on track. It also analyzes the customer database to identify the top clients that can fuel a company's growth.
Sales process automation is one of the significant features of CRM. It efficiently automat types of deals for any organization. Creatio's tool contains leads. It also automates B2B and B2C long and short sales cycles using built-in best-practice sales processes or creates custom ones with efficient low-code tools.
Accelerate sales performance
It comes up with intelligent goal setting, forecasting, and analytics functions that allow for viewing up-to-date sales metrics-from general company-wide indicators to territory, team, and individual metrics.
Creatio easily customizes sales and extends the built-in functionality with add-ons, connectors, and vertical solutions from the Creatio Marketplace.
Pricing
The cost of CRM software, Creatio differs as per the size of your business and the edition you select as they have divided it into three categories.
It is a perfect fit for small and medium businesses with direct sales teams, $30 per user per month, and cloud-based.
It is a complete set of tools for short sale cycles and e-commerce. As recommended, $35 per user per month you can explore it.
This is a sophisticated tool for medium and large enterprises to handle all sales channels. It is available at $60 per user per month.
SugarCRM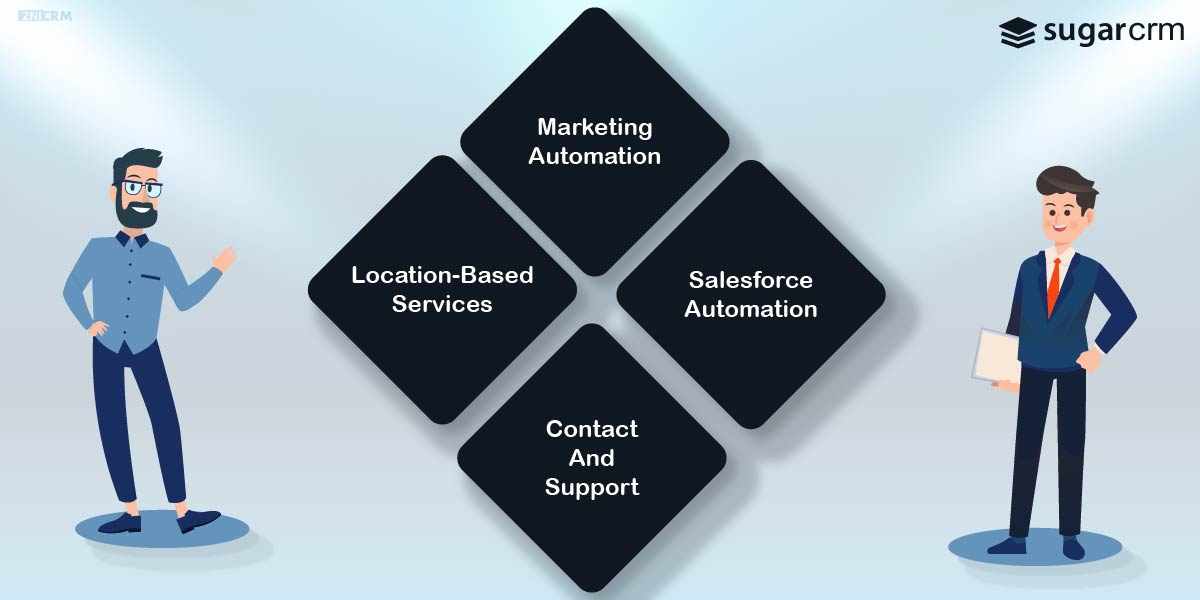 SugarCRM is a software company (2004) based in Cupertino, California. Its primary function is to produce the web application Sugar, a customer relationship management (CRM) system. Founding Fathers are Clint Oram, John Roberts, and Jacob Taylor.
Its headquarters is in Cupertino, California. Its functionality includes sales-force automation, marketing campaigns, customer support, collaboration, Mobile CRM, Social CRM, and reporting.
The organization handles several websites, including its commercial website, Sugarcrm.com, and Sugar Exchange, for third-party extensions.
Features
It helps the sales and marketing team find more details in less time and almost little manual effort. Customers' data is available in the central dashboard of SugarCRM. It makes it easy for the marketing team to access customer insights and target audiences.
It enables the sales team to access customer information throughout the day, which makes sense to centralize them in one place. The primary motive of the CRM is to convert leads and generate revenue. In that case, SugarCRM will help you trace your fresh and existing business leads. It also converts these leads into opportunities and relates these new opportunities to the accounts.
The customers are the heart and soul of a business. It is essential to focus on a customer-centric approach to enhance your business. So, the integrated multi-channel system is available in SugarCRM. It helps you to identify your work and creates efficiency.
SugarCRM can track and locate access to records and leads on Google maps. It potentially results in boosting your business. This GPS helps you find the best route from the source to the destination.
Pricing
The costs of CRM software depend upon its edition. They are as listed below:
SugarCRM Professional Edition
This includes sales automation, marketing lead management, unlimited online support, and all. For small and medium businesses, $40 per user per month.
SugarCRM Enterprise Edition
It has more advanced features for revenue line item- tracking and forecasting. It is $65 per user per month.
SugarCRM Ultimate Edition
It provides customers with technical support whenever he\she desire. It is $200 per user per month for the usage.
Vtiger CRM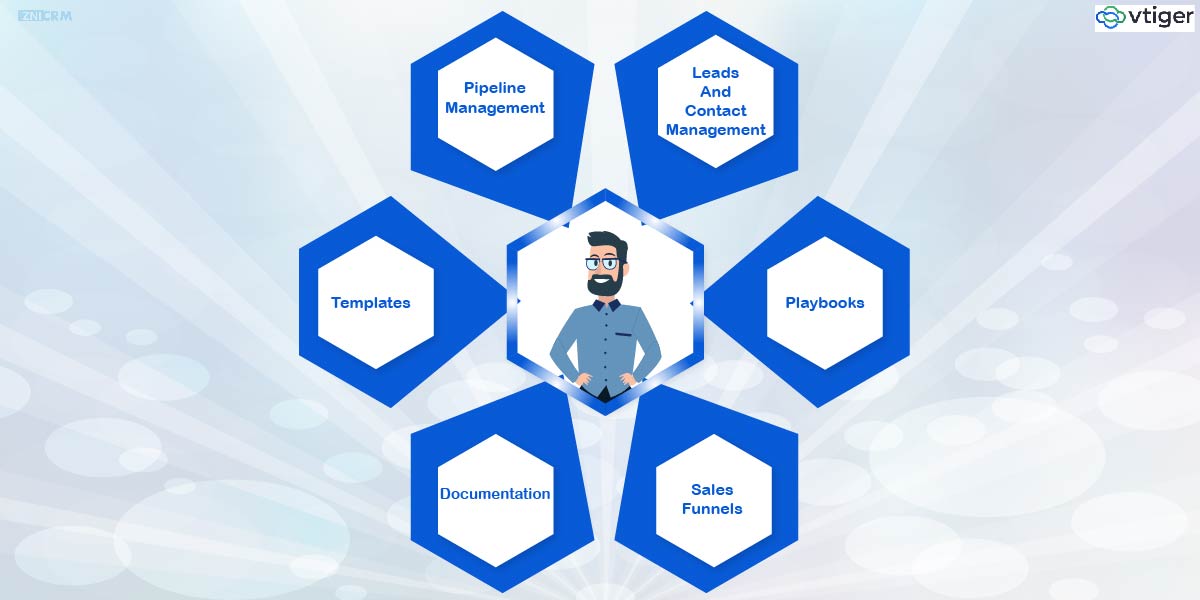 It is an Indian software company. Its headquarters is in Bangalore, India. It is well known for its CRM software that unifies customer data and increases sales. vtiger CRM comes with a comprehensive suite of enterprise applications. It was launched by Sridhar Vembu, CEO of AdventNet, in 2004. The company comes up with professional services such as training, implementation, integration, and customization. It helps enhance performance by providing quality tools and functionality across Sales, Help desk, and Marketing teams.
Features
Leads and contact management
A complete view of all your clients, including name, phone number, prior interactions, and account history.
It consists of playbooks that sequence settles down tasks to deal stage and monitors a deal's progress.
It helps to acquire leads and build lasting relationships. It also uses landing pages, web forms, emails to generate and nurture leads.
Representatives from Sales can quickly check out the statistics for client engagement with essential documents such as quotes, emails, or marketing collateral.
It enables a wide range of preloaded email templates in Vtiger, saves time, and helps in sending personalized emails. The benefit of printing makes it customizable and efficient to work.
It keeps track of your deals stands with opportunity management. It makes it easy to check out the current status, cases, previous conversations, and scheduled meetings.
Pricing
The costs of Vtiger CRM are according to its edition.
The Standard edition begins with Rs2100 per user per month.
The Single App edition begins with Rs1400 per user per month.
The standard edition begins with Rs2940 per user per month.
The Single App edition begins with Rs2100 per user per month.
Nimble CRM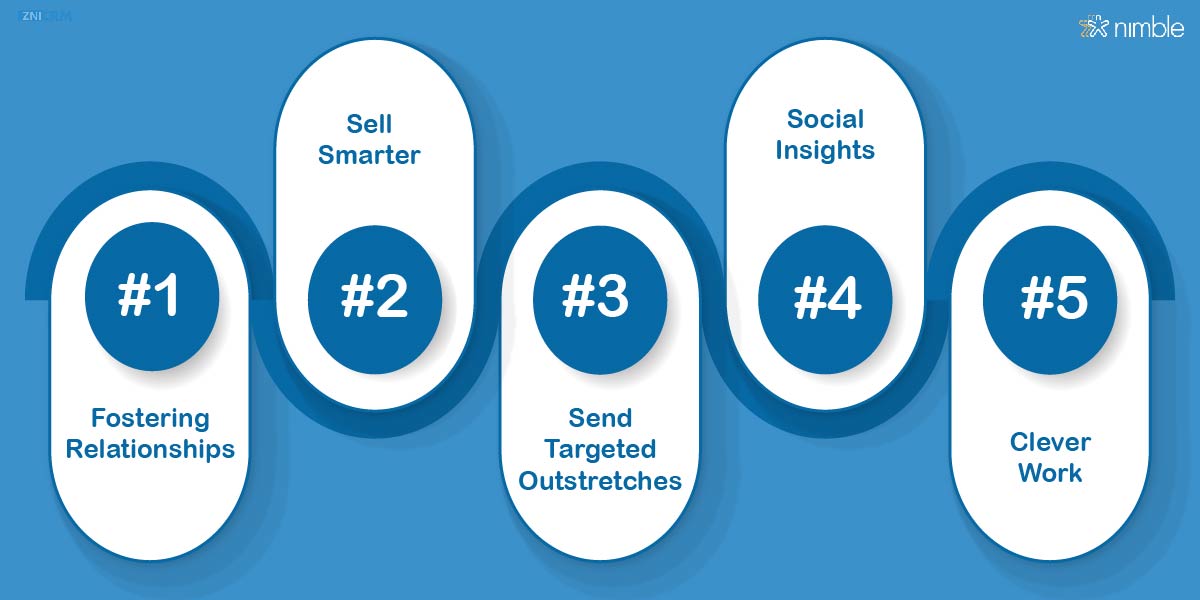 It is a social sales and marketing CRM that help you to store and organize your contacts. It creates tasks for follow-up reminders sends trackable template outreach to targeted lists. It tracks to-do's, manages multiple pipelines simultaneously, and much more. It helps you build a proper relationship with your potential and existing customers.
Features
It helps you to add your contacts and emails to one centralized location. Nimble lets you keep track of your most important leads, sync appropriate profile data, create segmented contact groups, and schedule follow-up reminders.
The ability to track your outstanding sales scheme and manage your team's deal helps you to enable the ability to generate reports.
Send Targeted Outstretches
The emails outreach feature allows you to send templated messages to communicate personally, with tracking skills.
The ability to nutrition all contacts with relevant social data during the business cycle provides you with insight. It provides a roadmap to learn more about your prospects.
It accesses critical insights directly from the social media platforms, emails, and SaaS apps everywhere you engage customers with the Nimble browser extension.
Pricing
Nimble offers a free 14-day trial with all the business plan features. For more details, you can visit www.nimble.com\pricing
Xiaoshouyi (Neocrm)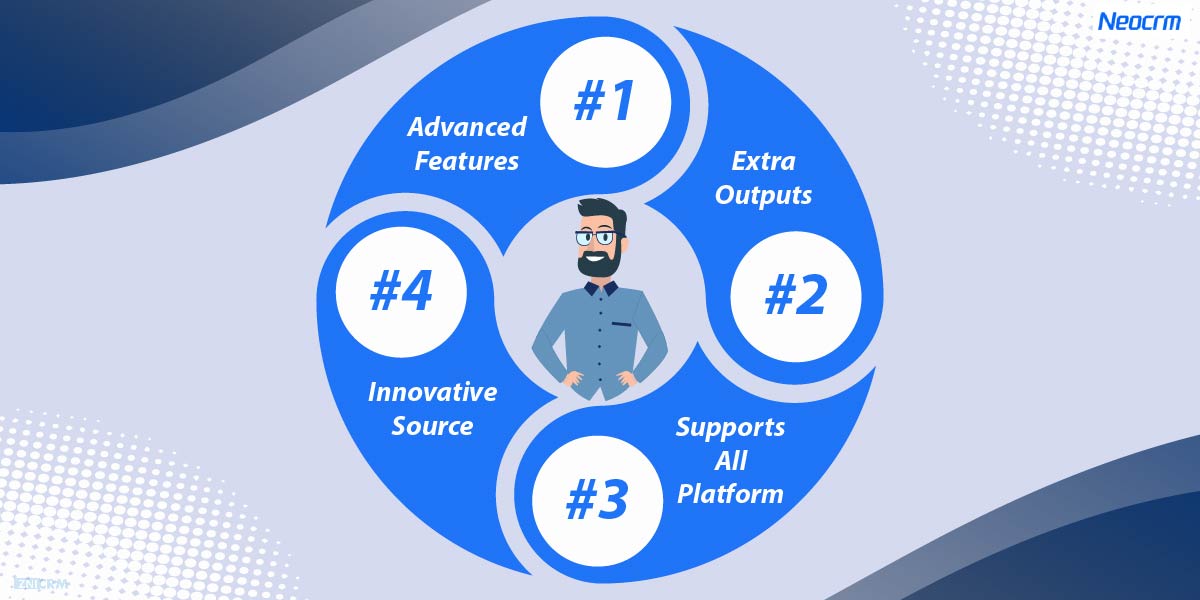 It is an innovative CRM solution vendor in the mobile internet era. Beijing Renke Interactive Network Technology co, Ltd owns Neocrm. It is also a new-generation Saas customer relationship management (CRM) software that leverages upon latest mobile and social technologies. It dedicates itself to digitizing the end-to-end interaction between businesses and their customers, helping users improve customer satisfaction and achieve sustainable growth.
It supports complete business process automation from marketing, Sales to Service. Neocrm supports full business process automation from marketing sales to service. It also leverages social, mobile, and IoT technologies to help companies directly connect with external product distributors' service partners.
From the day of its establishment, Neocrm has dedicated itself to its mission of applying new technologies to CRM. In contrast, it enhances the productivity of customer-centric business processes for sales, marketing, customer services, etc.
Features
It offers automatic data capture, lead management, opportunity management, case management, and task management.
It has many valuable extras like automatic data capture, Lead management, Configurable reports, and dashboards.
It supports many third-party trading platforms. As well as it enables access to various markets worldwide. It also promotes trade with the assistance of expert advisors or a customizable automatic trading strategy.
When it comes to innovation, Neocrm is the most creative among all as it always looks forward to improving itself.
Pricing
The cost of Neocrm provides competitive pricing.
For small businesses free per month
For mid-market $3 per month to $2000 range.
Agile CRM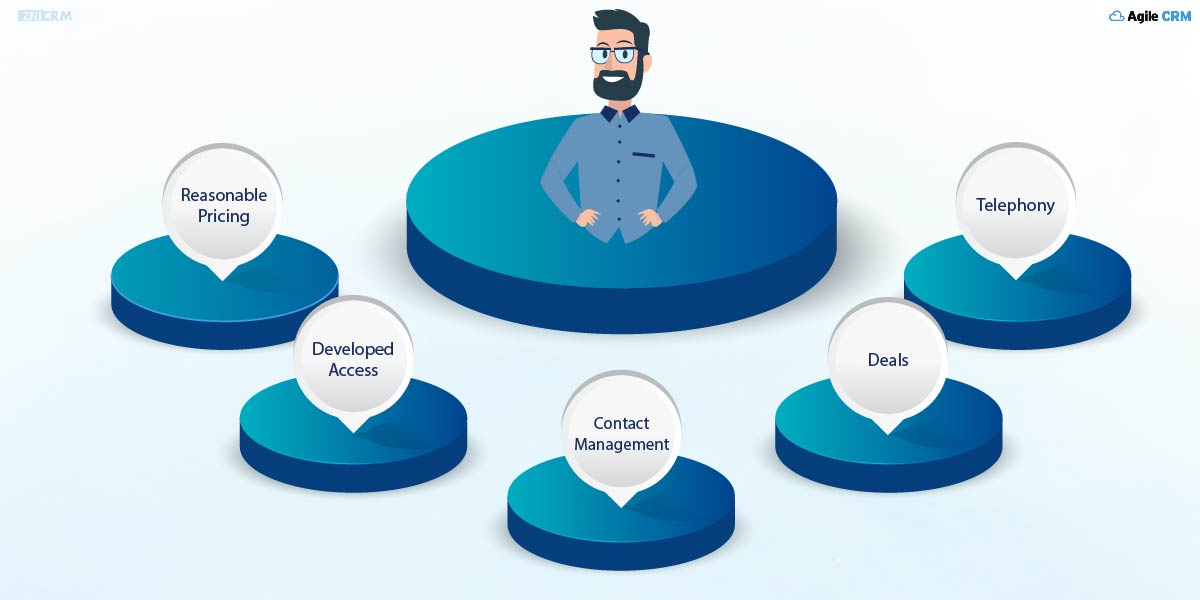 Agile CRM tracks and manages customer interests, behaviors, and profiles across telephony, email, mobile, social and web channels. It acts as a multi-tasker. Whether sales, marketing, customer support has to access all of the data from their colleague, contained on unit page with a 360-degree view. It locates itself in India, with offices in Mexico, San Francisco, and Boston. The software provides an All-in-One CRM with Sales, Service automation, and Marketing on a single platform.
The software consists of sales tracking, marketing automation, contact management, web analytics, telephony, two-way emails, and a simple, clean, and modern helpdesk.
This Agile software allows you to build, organize, and present your customer's information database. You and your team can update this information whenever new data allocates itself. It is a central base for all customer and prospect information which facilitates your group, which organizes itself and becomes more productive. It also allows teamwork among teams and provides management with more profound judgment about individual performance and the overall growth of the business.
Features
It is a CRM that automates your sales, marketing, and services in one platform. It also secures data from leaks and enables consistent messaging.
The software provides the customers with several modern features and integrations, easy implementation, and great support at an affordable price.
The cloud-based SaaS service is mobile-ready, fast, and simple in Agile.
It manages all your contacts on a single page.
Tracks different stages and milestones of your deals to keep the sales process on track.
Just one-click calling, call scripts, and voicemail automation.
Pricing
Agile CRM provides pricing in four different stages:
Free for ten users per month.
The Starter edition starts from $8.99 per user per month.
The Regular edition starts from $29.99 per user per month.
The Enterprise edition starts from $47.99 per user per month.
Freshworks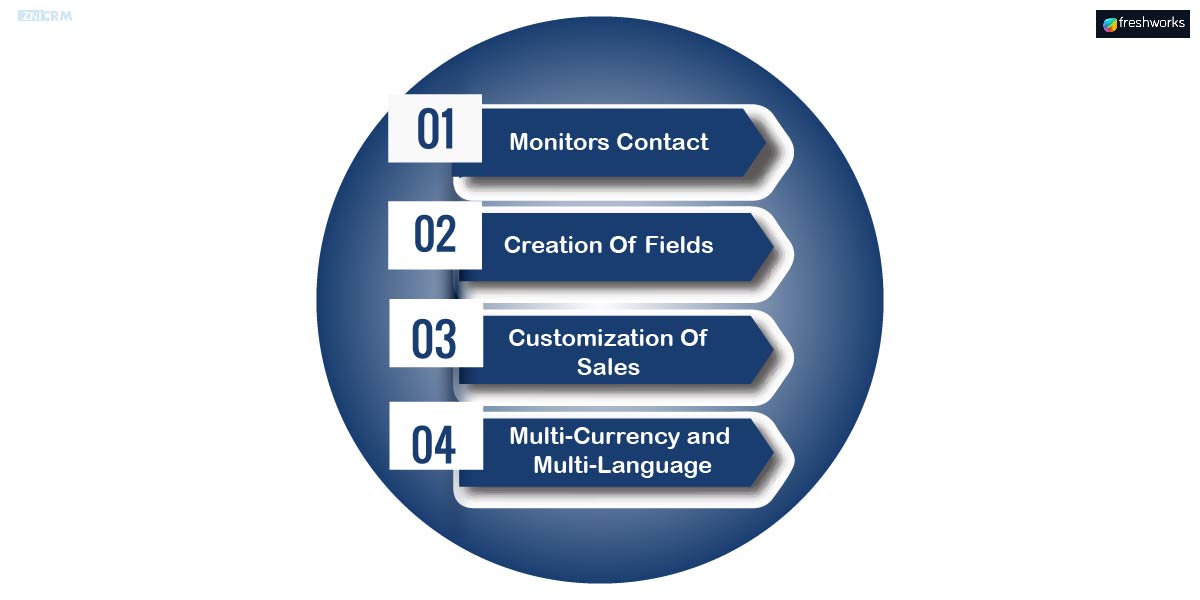 Freshworks acts fast and smoothly for businesses to delight customers and employees. It does this by taking a fresh approach to build and deliver software-as-a-service that's affordable, quick to implement, and designed for the end-user.
As per software legacy, Freshworks CRM builds technology effortlessly that works for everyone. It makes it easy for IT, customer service, sales, marketers, and HR to do their job and delight their customers.
The software established itself in 2010 in Chennai. The headquarters is in San Mateo, California, United States, and the founders are Girish Mathrubootham and Shan Krishnasamy.
Features
It goes through various stages of contact based on your business process.
It helps create custom fields- text, date pickers, checklist, and even formula fields to collect and store information for your business.
It creates custom activities and defines the outcomes. It also tracks interactions, check-in to meetings, log calls, and notes.
Multi-currency and multi-language
It manages transactions in local currency, automates currency conversion, and customizes your CRM to speak your preferred language.
Pricing
The cost of CRM software depends upon the size of the business.
So, it distributes itself into three levels:
The Growth Level: It is rs999 billed annually
The Pro-Level: It is rs2799 bills annually
Enterprise Level: It is rs4999 bills annually
For more information, you can visit Freshworks.
NetSuite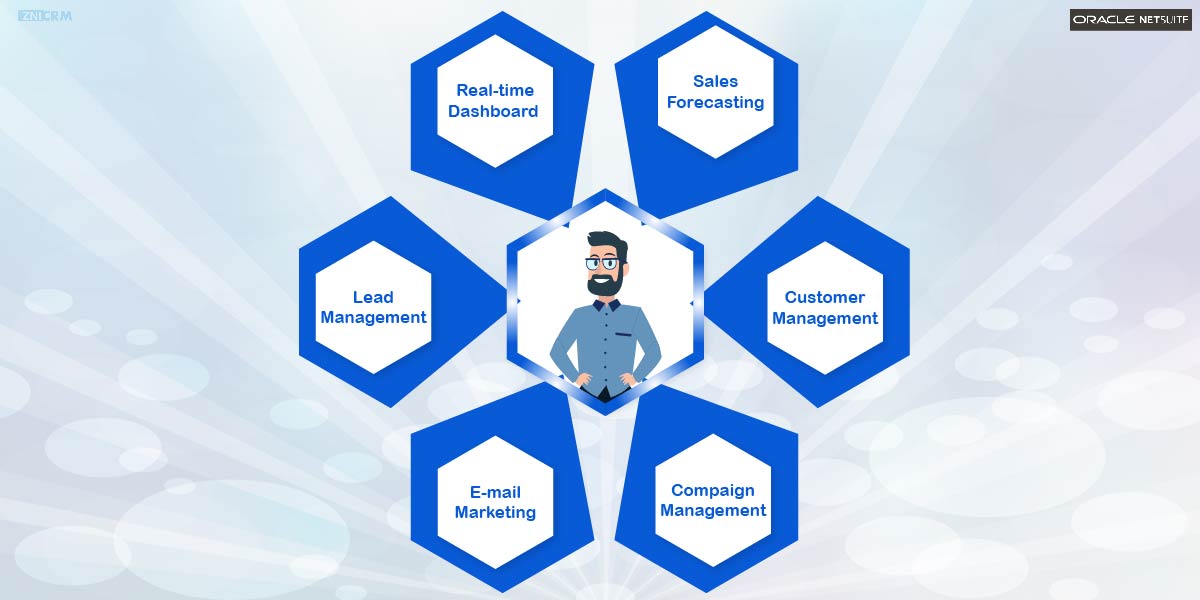 It is an American cloud computing company founded in 1998 with its headquarters in Austin, Texas. They also provide software and services to manage business finances, operations, and customer relations. The software and services for small and medium-sized enterprises with solutions for ERP, CRM, PSA, inventory\warehouse management, and e-commerce deliver itself with efficiency.
It is a subsidiary of Oracle Corporation. The intuitive interface and rich feature list make it an ideal solution for almost any type of business.
Features
Accurate sales forecasting is vital for capitalizing on opportunities. It provides you with the real-time data you need to predict sales. The comprehensive range of forecasting tools includes a system of checks and balances that triangulate the sales forecast and enable you to get critical insight into sales forecast. It allows you to gain essential insight into sales opportunities and how they are likely to impact on your overall targets.
An overview of all your customers is invaluable. It means that you can build a profile of your customers and better serve them.
It is a part of NetSuite CRM's marketing automation tools; campaign management allows you to create marketing campaigns based on reliable data. It enables access to a wide range of information about your customers, including demographics, response patterns, purchase trends, and support history.
Managing your email marketing campaigns in the same system is a considerable benefit of NetSuite CRM. To maximize your open rates, you can create highly targeted campaigns with compelling content and even target specific sections of your list. The emails you send your contacts and their interactions store themselves within that person's record.
It smoothly assembles marketing and sales functions, allows you to manage leads, tracks lead from initial capture to opportunity the customer. You can build a complete profile and truly personalize your approach by following their journey.
It manages customer data appropriately and enables services, sales, and marketing teams to identify critical stats such as the number of calls resolved or open opportunities and response to email campaigns.
Pricing
The cost of CRM software depends upon the size of your business and the packages you choose. At the same time, NetSuite's pricing starts from $129 per month, with the rest of the details available on request by the vendor. For more references, you can connect through its website NetSuite.
Keap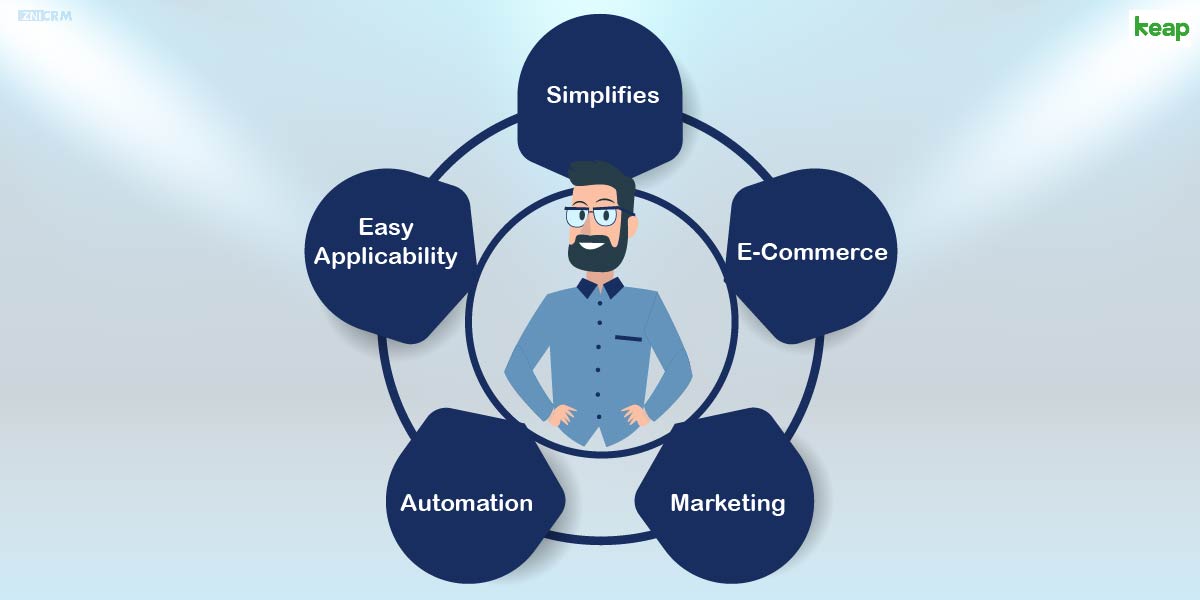 It is a private company that offers an email marketing and sales platform for small businesses, including products to manage customers, customer relationship management, marketing, and e-commerce. In Chandler, Arizona, the company established itself in 2001.
It can segment contacts, track customer interactions, send emails, and run campaigns with personalized communication triggers based on emails, clicks, etc.
Keap takes the perplexes from marketing automation to help small businesses stay organized and deliver exceptional service to convert more customers.
Features
It simplifies your Sales activities, qualifies and distributes leads, automate sales tasks, view sales, and convert reports. It also manages opportunities and pipelines, capture leads with web forms, segment customers, manage calendar and jobs, as well as, you can import and manage data.
It creates a storefront and shopping cart, electronic order forms, sells with discounts, upsells, and trials. It also helps in collecting invoices, managing inventory, and more.
It builds relationships with campaigns, follows up with autoresponders, shares content, socially measures results, captures leads with web forms, etc.
It builds innovative campaigns, qualifies and distributes leads, automates workflow, delivers products with personalized communications, etc.
It is the most user-friendly CRM platform. Although it's not as vigorous as some enterprise-level tools, such as Salesforce, it's an excellent fit for smaller businesses that want more straightforward software.
Even without participating in "expert coaching," you will find it very easy to optimize. It also accomplishes tasks such as building automated workflows and sales pipelines.
The dashboard tries to keep your team focused on sales, with products such as leads, invoices, and email activity at the desk of the screen. It provides quick access to recent activities, appointments, and reviews. It efficiently reorganizes the home dashboard by holding a widget and moving it. You can also remove or add different devices and just a couple of clicks to create the perfect dashboard, regardless of its role within the organization or experience with the software.
Pricing
CRM pricing depends upon the business's size, and here, Keap has divided its pricing into three levels.
The Lite version starts from $56 per month for the initial five months if your business is new.
The Pro version starts from $119 per month for your first five months if your business grows.
The Max version starts from $140 per month for the first five months if your business establishes itself and their team's work.
For further linkages, you can refer to Keap.
Zoho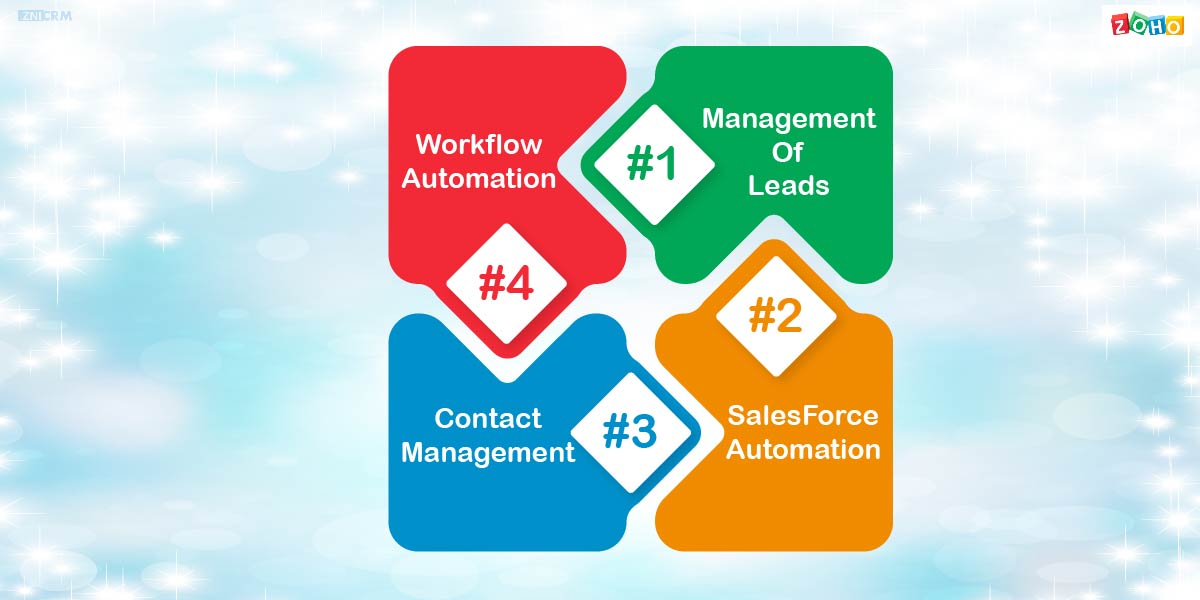 It is an Indian multinational technology company that makes web-based business tools. It is known for the online office Suite offering Zoho. The company established itself in 1996 by Sridhar Vembu and Tony Thomas and had its presence in various locations with its global headquarters in Chennai, Tamil Nadu, India, and corporate headquarters outside of Austin in Del Valle, Texas.
Features
It captures leads, automates scoring, identifies leads that will convert, and follow up with detailed contact information.
It automates routine sales, marketing, and support functions that take up valuable work time to concentrate on your customers.
It provides real-time insights into your customers, connects them across channels, and builds strong relations.
Team follow-ups with a lead or updates a field require significant manual work.
Pricing
The cost of CRM software divides itself into four versions
The standard version starts from Rs 800 billed annually
The professional version starts from Rs 1400 billed annually
Enterprise version starts from Rs 2400 billed annually
The ultimate performance starts from Rs 2600 billed annually
For more information, you can visit Zoho.
Drip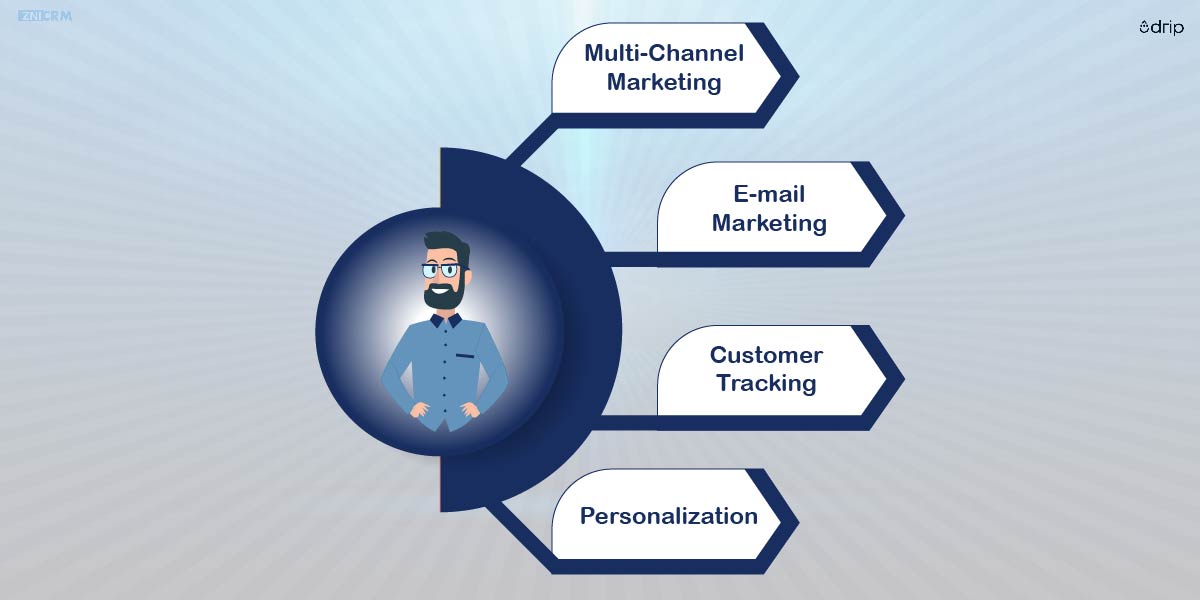 It is a communication strategy that guides or sends a pre-written set of messages to customers or prospects over time. The letters are in the form of email marketing so that other media can use them. It has a distinct feature from different databases. Drip is the first eCommerce CRM created. Drip CRM (an abbreviation for Customer Relationship Management) system works as an enterprise-level technology. It also optimizes the way companies collect, organize, access, and analyze their customer information and interactions. It takes action and leverages a Drip CRM's automated ability. It proactively shares the brand values with all the prospects and customers at a time.
It can send customer engagement rates by delivering them personally and taking care of relevant messages to the right contacts with precise information at the right time.
Even a marginal improvement to the sales funnel triggers a massive increase in the number of deals.
Drip CRMs are available as affordable, cloud-based SaaS solutions. They also automate lead management to enjoy an uplift in revenue.
The research from Gartner quantifies this increase at 10% or more in just six to nine months.
Features
It activates you to connect with your customers through social media. No valid email is compulsory. You can click through landing pages, postcards, and text messages.
It comes up with a fabulous email designer built for text and visual emails. Drip makes setting up any email that suits your business very easy.
It provides insights into what your customers are doing so you can make it better. You can also set up a scoring system for your leads.
It makes sure to reach your customer with the most relevant and engaging messages. Drip's automation and segmentation features are magnificent for helping you in driving solid connections with your target audience.
Pricing
Drip's revised pricing policy is to keep in mind while reading other reviews. You can enable your package to get 1,000 contacts for $49/month on the basic version. It was a common complaint – so this is one area where Drip has improved in recent years.
The problem with Drip pricing (aside from being a touch more expensive than similar platforms, to begin with) is prices increase steeply when your contact list grows. Keep this in mind when comparing Drip with alternative media and consider how you expect your online store to grow.
Drip will argue its specialist e-commerce features are worth the expense. Still, only you can decide whether these features add enough value to your brand to justify the price tag.
The cost of CRM software differs as per your business requirements. It starts as a free trial, then $19 per user. Whereas for further information you could visit the site Drip.
Bitrix24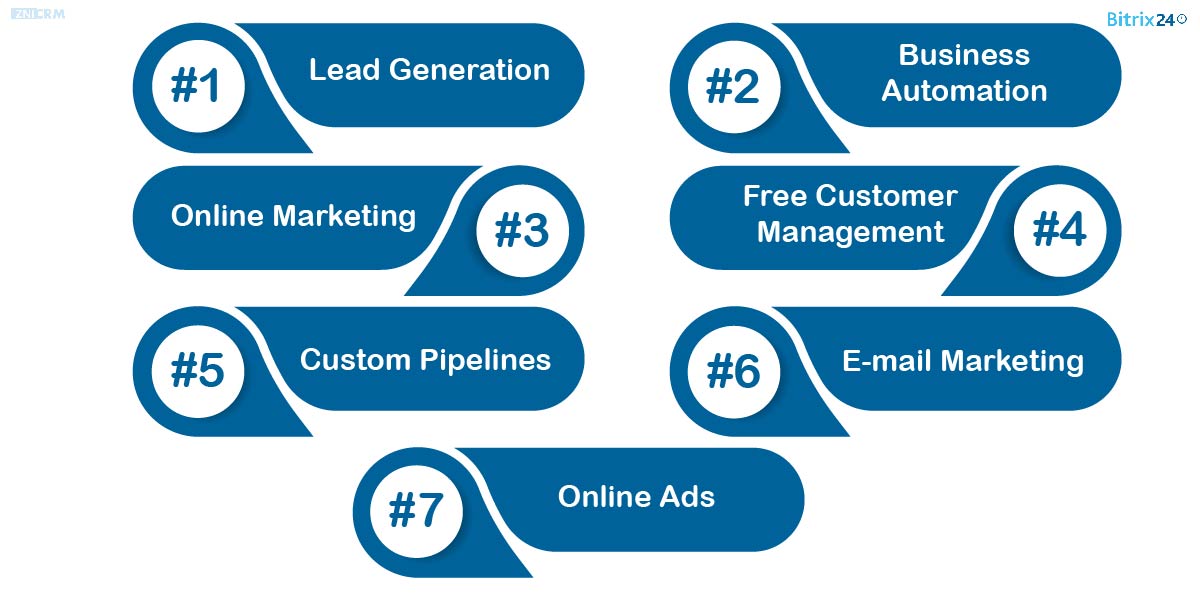 It is more than just free online CRM software. It is a suite that features more than 30 tools for sales, administration, and marketing-a unique feature among other free CRM platforms.
Bitrix24 CRM keeps customers as the soul of the business. It provides you with the entire history of clients. From first contact to sale and beyond, allowing you to develop and nurture your relationship with the customer. With Bitrix24, you get the whole picture of customer interactions, sales activities, and lead management.
Our CRM comes with all the tools you need to automate marketing and sales, making running your business more manageable – and boosting revenue. It offers the choice of using a separate lead listing or going direct to contact. Even it provides constant notification of opportunities, tasks, and activities.
Features
It acquires leads via customizing web forms and has them automatically added to your online CRM system.
It uses your business process automation tools to customize automated workflow and sales funnel.
It can also run victorious marketing campaigns right inside your CRM tool-email marketing, ad targeting, and more.
It captures leads via free CRM website templates, forms, live chats, phone calls, or social media and has them added to your CRM program.
It enables you to set up your own custom sales pipeline with stages specific to your business.
It also runs segment-based email marketing campaigns from your CRM software and tracks their results.
The software creates retargeting campaigns based on contact information stored inside CRM. You can launch ads directly on social sites from the Bitrix24 online CRM tool.
Pricing
The cost of CRM divides as per the editions provided as per your business.
It also provides Free edition usage for initial users
The Basic edition provides effective collaboration for small businesses and sales teams starting from $39 per month per user.
The Standard edition advanced collaboration for your entire company and workgroups. It starts from $79 per user per month.
The Professional edition comes up with maximum sales and business process automation. It provides $159 per user per month.
Bitrix24 CRM offers a free 30-day trial for its paid Professional plan, and it needs 30 days to explore all the functionality. A free plan includes support for 12 users, 5GB of cloud storage, and access to core CRM, task management, and document management capabilities.
Whereas communication tools are free to use and it doesn't have any limitations. All communication and collaboration tools within Bitrix24 CRM. The activity stream, workgroups, instant messages, and group chats. It also sends emails, telephony, mobiles, employee directories, and the company's structure directory— which are available for free to unlimited users.
For more references, you can visit Bitrix24.
Close CRM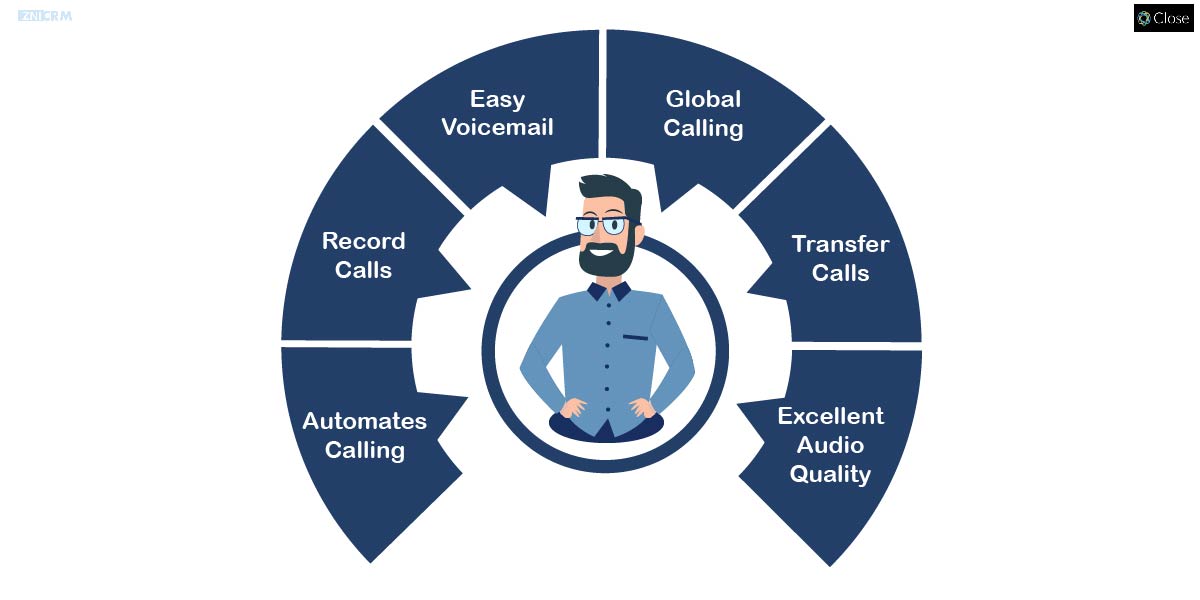 It is a great CRM tool to manage your business lifecycle and customer relationships with leads. Close boosts sales automation features that help you to generate leads. It also provides a helpdesk for those having any technical hassle. Close CRM is capable of handling outgoing calls automatically. The dialer makes it easy to automate the sales process by streamlining lead calling, working automatically through your list of prospects. It will make you reach the world so smoothly without much struggle.
Features
It automates calling, and logging allows you to keep track of sales processes.
It records calls and can track the work done.
It also provides an easy voicemail that lets you leave custom voicemails by clicking a button.
It allows global calling to let you work seamlessly.
It transfers calls and manages them efficiently.
It also enriches with excellent audio quality to be confident about professionalism in your team.
Pricing
Close CRM has four different pricing packages, depending upon the size and complexity of your marketing team. The prices below reflect the monthly plan.
The Starter plan starts with $35 per user per month and is a better option if it runs a sales team with one to three people.
The Basic plan starts from $65 per user per month and is ideal if you have a medium-sized team. The basic program also provides you with access to calls and the ability to use your external phone number.
The Professional plan starts with $95 per user per month. It is for medium to large businesses with robust marketing and sales teams.
The Business plan starts from $145 per user per month and is worth considering if you operate a large sales team. You get all the features on the business plan, including the predictive dialer, voicemail drops, call transferring, call recording, etc.
For further details, you can visit Close CRM.
Nethunt CRM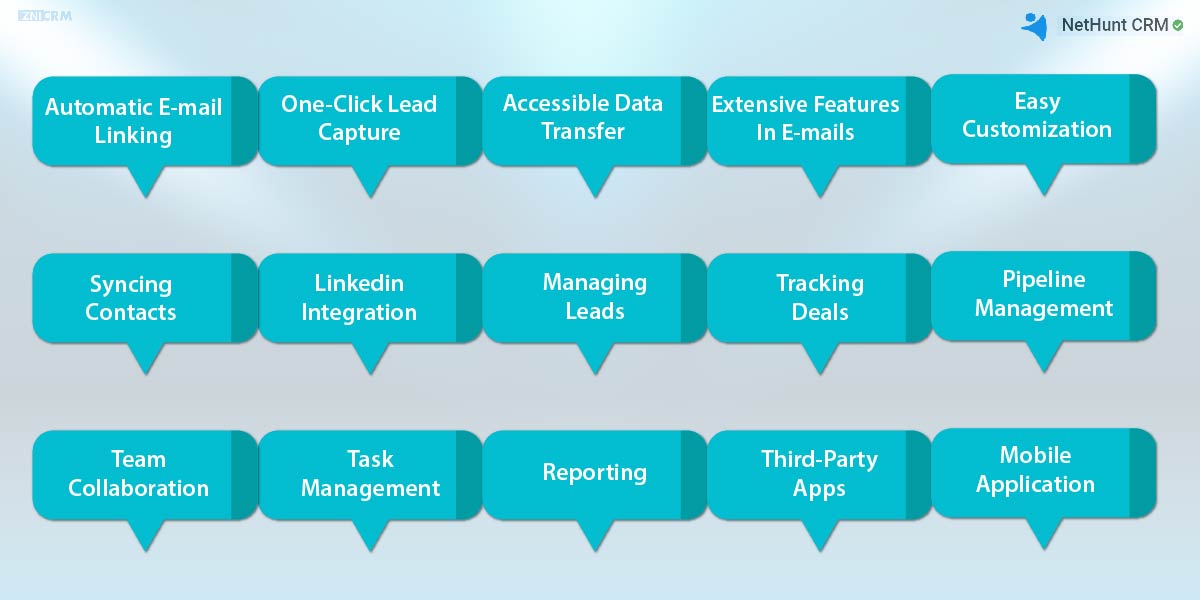 It is a powerful CRM built inside Gmail and integrated with other G Suite apps. It works as a sales automation tool that helps you manage leads, nurture customer relations, monitor sales progress, and close more deals.
It has built the best CRM integration with Gmail, allowing for 100% CRM functionality from within Gmail. While using this, you don't need to switch more tabs or more data entry, or everything in one place, with a familiar interface to use it easily.
NetHunt is a cloud-based customer relationship management software that integrates with Gmail and enables businesses to manage linkages. It also records directly from the inbox. It generates leads via email, chat messages, and social media.
It includes bulk email campaigning, open email tracking, email link tracking, follow-ups. It provides a 360-degree view of interactions, permission, management, and client management as a dedicated manager. NetHunt lets its users automate updates in CRM data from results generated through campaigns and customize software functionalities via API integration.
It integrates with Gmail, Google Drive, Google Hangouts, Facebook, Twitter, and WhatsApp. It is present on iOS and Android devices.
It's a simplified solution that helps users manage customers, gather leads, and take care of sales from their Gmail. Its user-friendly interface provides easy learning. NetHunt also supports scalability and lets its users add more features when needed.
Features
The users can log emails with customers by automatically linking their email conversations with companies, contacts, deals, and support cases. The platform allows its users to share their conversation history with their team.
It allows users to create leads and to inquire from new emails. It impacts auto-fill to capture it quickly in fields like first names or emails.
The users can switch from spreadsheets or any other CRM without any stress. Importing data to NetHunt's database takes a few glances.
Extensive Features in Emails
The platform helps in saving time and promotes business growth with robust email capacity. It offers readymade email templates, bulk emailing, test emails, unsubscribe updates, open and click tracking, scheduling, and the ability to connect customs.
The system simplifies organizing and customizing folders, permissions, client cards, and pipelines. Customization is made prompt and straightforward without any technical support.
The users can automatically sync Google Contacts with NetHunt CRM, easily converting their contacts into CRM records.
The software directly captures LinkedIn or Sales Navigator leads, enabling more extensive lead authentication. It further enhances customer profiles with available data to avoid duplicates in the system.
The platform catches leads, nurtures them together, and makes them ready for sales. The segments are divided with follow-up reminders and help users sustain customers and their opportunities.
It has a feature that allows users to track all deal-related to information. Find those with the highest conversion probability, and determine which ones need closer attention. They can use reports to identify bottlenecks in the sales funnel and find opportunities to grow.
Users can structure sales cycles, define sales stages, generate reports, forecast sales, track conversion rates, and identify drop-offs. The pipeline's creation tracks the progress of each sale.
It leverages email linking with users, and it can promote better organization and communication. They can reach out to their colleagues when they need help or want them to stay informed about deals.
It can ensure and stick to deadlines with daily schedule lists. It can create tasks with a level of priority. It also assigns tasks to colleagues and sets notifications to get a reminder before the job.
The feature provides information about team activity and performance. The managers can track performers by the number of deals closed, revenue generated, processed, or emails sent. It also presents top-performing lead sources, the most effective marketing campaigns, and custom filters. The users can take data to make it more relevant and meaningful.
It benefits directly through integration with G Suite tools. It instantly connects their most-used apps via Zapier without any need for technical expertise.
Here the users can manage their relationships and sales operations very smoothly. It also closes deals from anywhere with a dedicated mobile app, which functions on Android and iOS devices.
Pricing
The cost of CRM NetHunt follows three editions for their customers, which they can easily access.
Firstly, it provides a 14-day free trial.
The Basic edition comprises teams looking to organize their customer base, boost sales and send bulk emails for campaigns. It starts from $24 per user per month, billed annually.
The Business edition provides the need to track business performance, enforce collaboration, and automate routine tasks. It starts from $48 per user per month, billed annually.
The Advanced edition enables the need to manage perplexed workflows with more clarity, automation, and proper integration. It starts with $96 per user per month, billed annually.
ZNICRM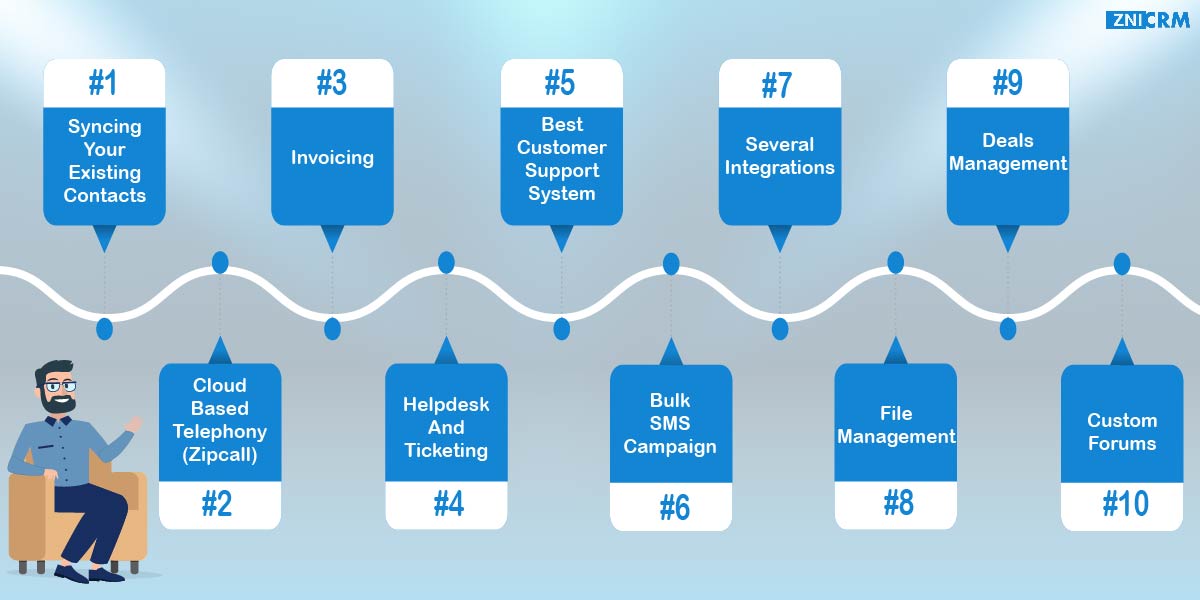 ZNICRM is automated, comprehensive & adaptable. It enables the most suitable platform to make up from the grass level to the zenith of success. This CRM takes charge of all the details, from logging emails, recording calls, and managing your data to boosting sales and operating marketing.
Beneficiaries
Syncing your existing contacts.
Cloud-based telephony (Zip Call)
Invoicing
Helpdesk and Ticketing
Best customer support system
Bulk SMS campaign
ZNI CRM provides several integrations that can be best for small businesses and startups
File Management
Deals Management
Custom Forums
As mentioned above, they are beneficial for small businesses. You can visit our website ZNICRM to find out more.
ZNICRM works in a more friendly and straightforward manner with your business. It is an apt choice for sales and marketing dealings during your business lifecycle. The efficient use of it creates an enriching surrounding in the sales department. Thus, application of it prepares a ground base for development in small businesses. Some of the benefits are:
It displays and organizes campaigns
ZNI has versatility in terms of its usage
Works effectively in Sales to boost your output
You can add unlimited users to the CRM regarding your business
It simplifies document management
Affordable pricing
Works in every field, whether Real-estate, Education or even Travel industry it supports everywhere.
It helps in maintaining leads
Help in proper data management
Workflow automation
In-app notification alerts
Pricing
A crucial topic to consider is the product's pricing, offering all such features.
Its pricing differs according to currencies for all features; A free trial is also available. The essential and most efficient element of ZNICRM is its approach to ease of doing business. For further details, you can visit ZNICRM.
ZNICRM acts as a Saviour for startups and evolving businesses. It plays an essential role in excelling the spheres of CRMs and cherishing its essence through the inculcation of its basic features.
Bloomerang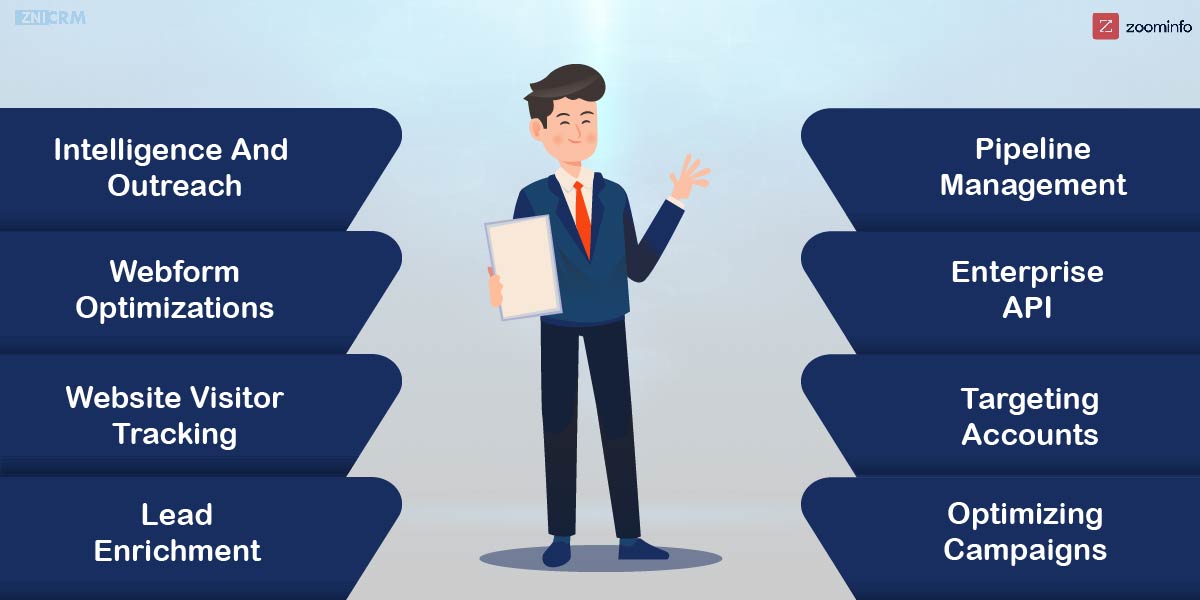 It is software that allows nonprofit organizations to manage donor relationships, events, and fundraising. It also emphasizes donor engagement and retention supports company growth.
It includes capabilities in email marketing, online giving grant tracking, donor surveys, data segmentation, dashboards, reporting, and prospect research. It also absolutely provides security and scalability. It's available in the U.S and Canadian organizations.
Features
The Bloomerang adjoins fundraising experts to ensure the perfect quality of essential features such as donor engagement surveys, analysis, written donor communication, social media, and email.
Retention of committed donors is essential. It accomplishes data through analytics, dashboards, engagement meter, an interactive timeline, trend reports and updates them all correctly.
Now it's easy to track the best donors through summary. As Adrian says, a fundraising expert, that summary leverages a proper proprietary algorithm. It uses a generosity score to rate the most vigorous supporter.
The environment that encourages grant funding by helping organizations become responsible donors makes them feel confident. The mark sheet is a quarterly survey that evaluates the institution's health and promotes strategies that lead to sustainability.
To evaluate the prospects, to create engagement strategies needs best-asking amounts by integrating with the DonorSearch platform. It can also generate wealth reports from more than 20 proprietary and public databases.
To keep proper acquaintance with the information outside the official website pages, like donation forms, Bloomerang helps you to do this very quickly.
It customizes your settings, enables you to record relevant information with custom fields and household fields to capture multiple phone numbers, emails, and addresses.
It ensures emails and letters focus on the donor and are easy to read.
It receives additional expert support and access to more tools through Bloomerang's extensive network of agencies, consultants, and software vendors.
It supports various spheres such as education, healthcare, social services, performing arts, environment, and religion.
It maximizes strong giving security and keeps processing fees low. It integrates customizable websites, supports multiple campaigns, automatically pulls in data captured in donor forms, and is customizable.
It reaches the constituents with the right content from within the platform- no need to integrate with a third-party application like Constant Contact. The features include a user-friendly editor, mobile-responsive format, scheduling, templates, analytics, receipts, and delivery validation.
It connects Bloomerang to best-of-breed solutions that provide wealth screening, data stewardship, fund accounting, social fundraising, donation processing, and website packages. However, the integrations aren't as extensive as Donor Perfect and Kindful competitors.
It shows engaged contacts to facilitate pursuing the best opportunities. It compiles information by donation frequency, email opens and clicks, website visits, event attendance, donation amounts, and social media interactions.
It assists effective Twitter engagement by providing a hub for monitoring interactions with an account, choosing hashtags, and finding new connections.
It encourages long-term relationships with constituents and identifies areas of improvement. They focus on existing and new donors.
It also helps monitor reports, custom fields, and task management and makes it easier to secure funding.
Pricing
The pricing of the CRM depends upon the size of the business. Whereas here, it provides plans for unlimited users along with paid plans.
Bloomerang Standard plan comes up with $99 per user per month, and the rest depends accordingly. So, you can visit this website to track it further, Bloomerang.
ZoomInfo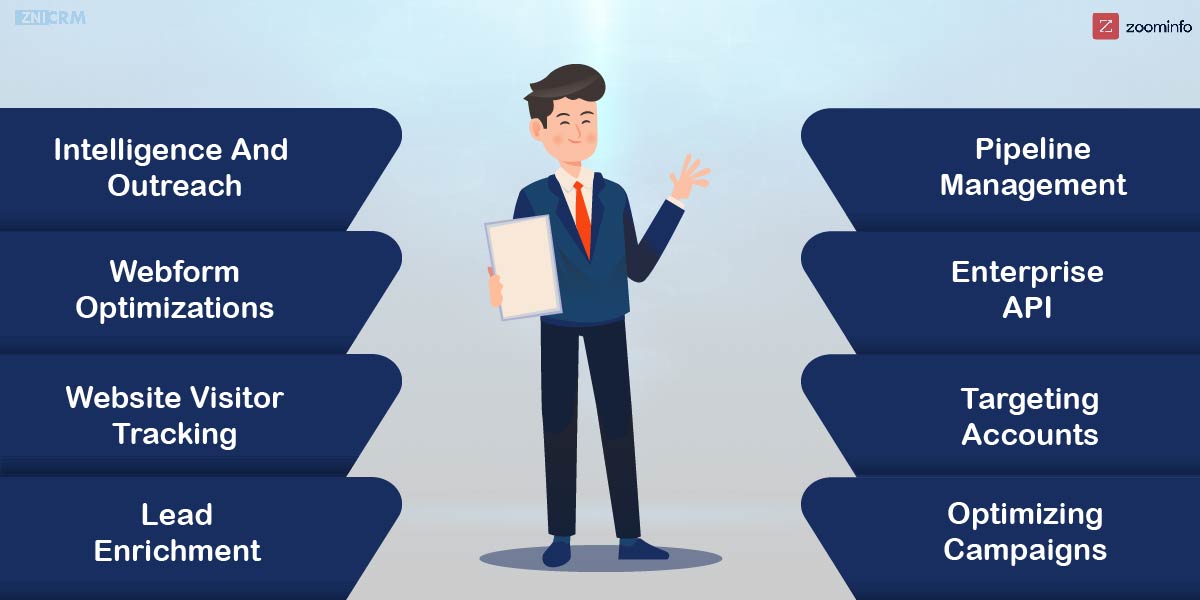 It provided a detailed contact directory for simplified marketing outreach. It supports lead generation, sales management, and revenue tracking and helps in improving productivity by systematizing work. Here, users can leverage analytics, prioritize marketing efforts sales prospects, and align teams for effective outcomes. It can locate and align required contacts from desired domains, reducing anonymity rates. It also helps businesses make insightful strategies, connect with the right audience, boost business growth and provide custom solutions.
Features
Intelligence and Outreach
The feature discusses that the users don't have to search or struggle with manual data updates. However, it can completely automate contact discoveries and company searches with precision.
The ZoomInfo form makes it easy for users to capture contact information without complex structures. All users need to grasp is the prospect's email address, and the rest of the data scores itself accordingly.
Here, the users can apply their intent into action with the software's website service, which tracks all unknown visitors to landing pages. The users never miss a visitor's responses again.
It has an enriched feature that prevents outdated and incomplete data by auto-correcting the data with new information. This process makes database management and leads management much more simplistic and smoother.
The inbuilt tool saves manual work time and quickly aligns the sales teams' email inboxes. This data sync allows you to have complete authority to engage the accounts and activities.
Here, managers can customize the workflow and data presentation. ZoomInfo's API helps search and attach existing data, so users never run out of contact discoveries.
It provides advanced targeting capabilities that allow users to reach key decision-makers. The account targeting watchlist guides account managers to access updated information that helps promote business growth.
The feature enables users to understand their target audience, cherish their data and develop hyper-targeted campaigns. It provides updated, accurate, and active CRM data to ensure successful outcomes.
Pricing
The cost of CRM software offers flexible packages across the portfolios of data-driven solutions and premium applications. So, here you can visit the site Zoominfo.
LionDesk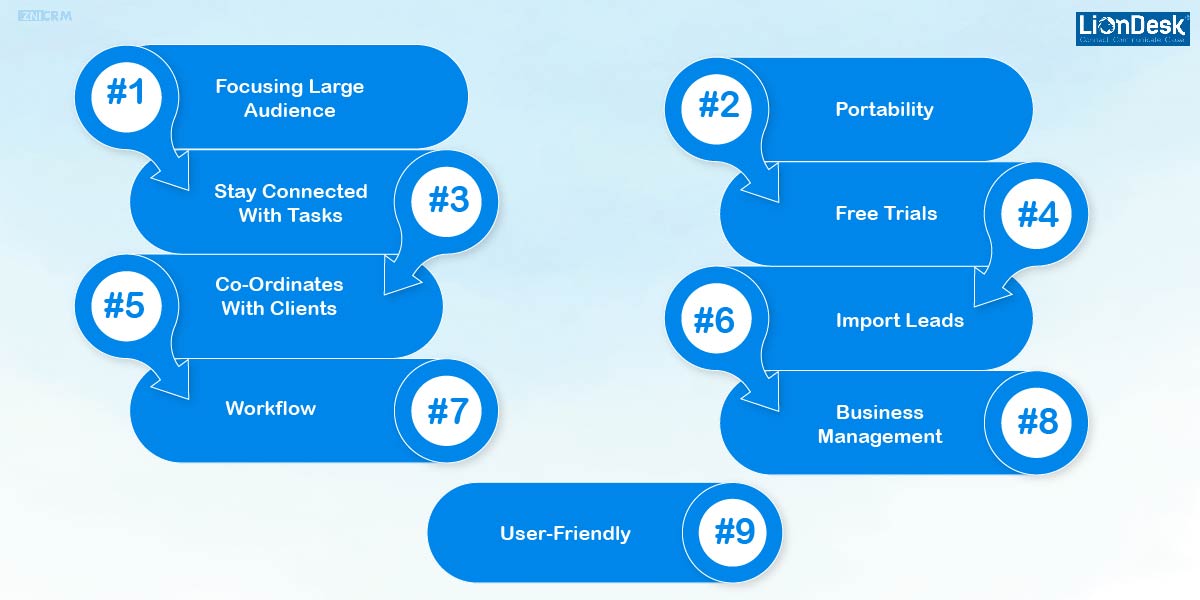 It is a cloud-based marketing and sales tool that features professionals in the real estate industry. It is perfectly suitable for individuals, teams, and brokerages, as it provides a single place to manage client relationships.
It encourages imported leads from other sources, organizes information, manages processes, and connects with clients. It also provides a place to manage client relationships.
It boosts closed deals and tracks tasks. The inbuilt feature includes contact management, property management, video emails and texts, pipeline management, automation, and marketing campaigns.
Features
It boosts efficacy and increases the number of connections by using features like bulk texts and emails.
It makes it very easy to work from anywhere you want as it has access from both iOS and Android devices.
Stay connected with Tasks.
It helps you to organize, create schedules and update calendar events. Everything it provides has a user-friendly interface.
It also provides access to the software for 30 days. This gives you an overview of the interface.
It easily connects with clients and generates leads through text messages or emails.
It generates, and import leads from Facebook ads directly into the CRM without paying.
It manages workflow very wisely without any obstruction.
The databases and lead information are nicely segmented.
The automation provided here is user-friendly and saves time. Increases productivity by automating tasks, texts, and contacts.
Pricing
The cost of CRM software divides itself into three editions.
The Starter edition $21 per month bills annually.
The Pro edition is $42 per month accounts annually.
The Elite edition $83 per month bills annually. Oliver: Just be with your positive attitude, and everything will happen at its correct pace.
Zendesk CRM software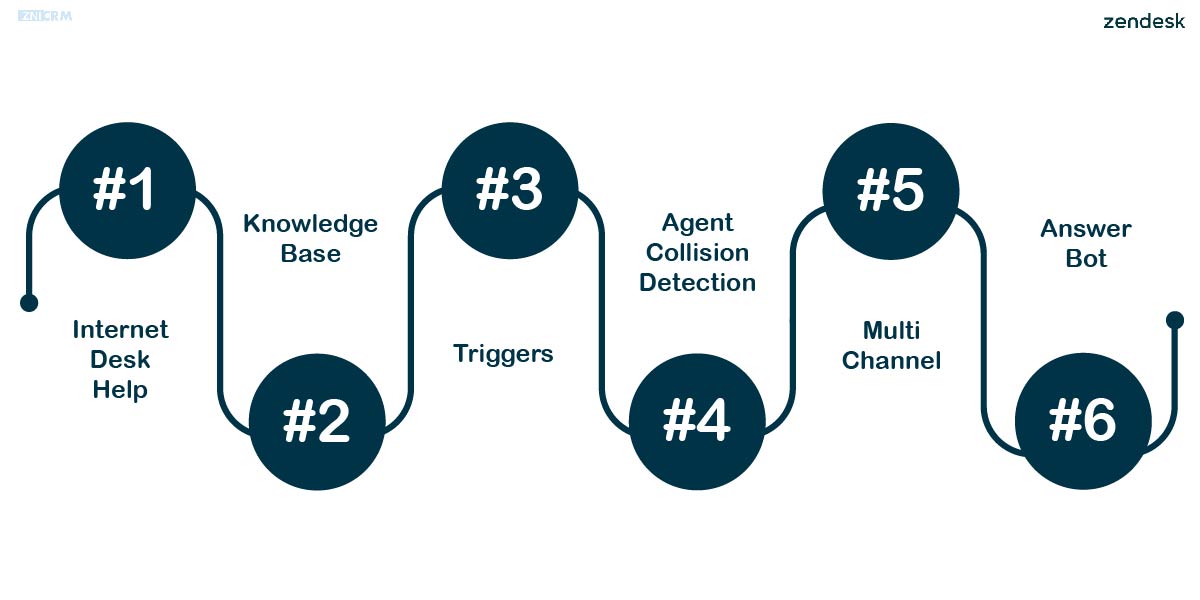 Zendesk CRM software is cloud-based software. It is an all-in-one Customer Support Platform that grows in various enterprises from large corporations to small businesses. You can use all the data from anywhere to access a comprehensive view of all the customers. Therefore, all the products available according to user collected through beta and Early Access Program (EAP).
Many businesses rely on Zendesk for customer support services to improve customer experiences. This platform provides complete customer service support solutions that are easy to use and scale the company based on users' choices. This software offers customizable tools to build customer service portals, knowledge base, and online communities.
The solutions include customizable front-end portal, live chat, and integrations of applications like Salesforce and Google Analytics. This platform is available across all industries like technology, government, media, and retail.
Zendesk's online customer support portal offers support agents to track the tickets raised and their status. The customer can also access these tickets if they have similar issues, and if they are not satisfied, they can raise their tickets in the portal. This platform is pretty good for those who want to offer the brand of support pages with business logos, themes, and brand images.
It is a platform that also provides businesses with the knowledge base to address some of the most prominent issues and queries. It will help the customers to go through this set of queries asked commonly. With this interface, businesses can also set up an online community for the customers to post queries and replies to the online threads.
Features
The Internet Desk Help feature allows businesses to help employees manage customer interactions and their issues quickly and efficiently respond to their queries. It is also a tool to assist the staff in increasing productivity to boost morale.
Zendesk's Knowledge Bask comprises many articles and business blogs for all the customers. The users can also limit these business blogs to a specific community. These contents translate into other languages to provide customers with a personalized experience.
Zendesk comes with pre-configured triggers that customers can change according to the capability to form the customized triggers. The triggers can start the workflow based on the particular actions or modifications made on the tickets.
Agent Collision Detection
This feature works when some other agent starts working on some issues or queries. Agent Collision Detector detects any active agents working on an issue or ticket. Besides this feature, Zendesk also facilitates real-time cooperation amongst support teams working on the same problem.
Agents can respond with tickets from various social media channels like Instagram, Facebook, forms, Emails, chats, etc. As a result, consumers can communicate with the brand through any channel.
It is a simple AI bot that uses machine learning that evaluates customer queries and gives possible responses. At the same time, if the customer is looking for any answer and if they receive a similar response, then requests are not sent to the agents. It will help agents to work on complex issues.
Pricing
The cost of CRM software varies according to the plans which customers choose. Support price starts at $19 per agent/ month, and Suite pricing starts at $49 per agent/month. A free trial is also available. To know the detailed information, you should visit ZENDESK.
Act! CRM Software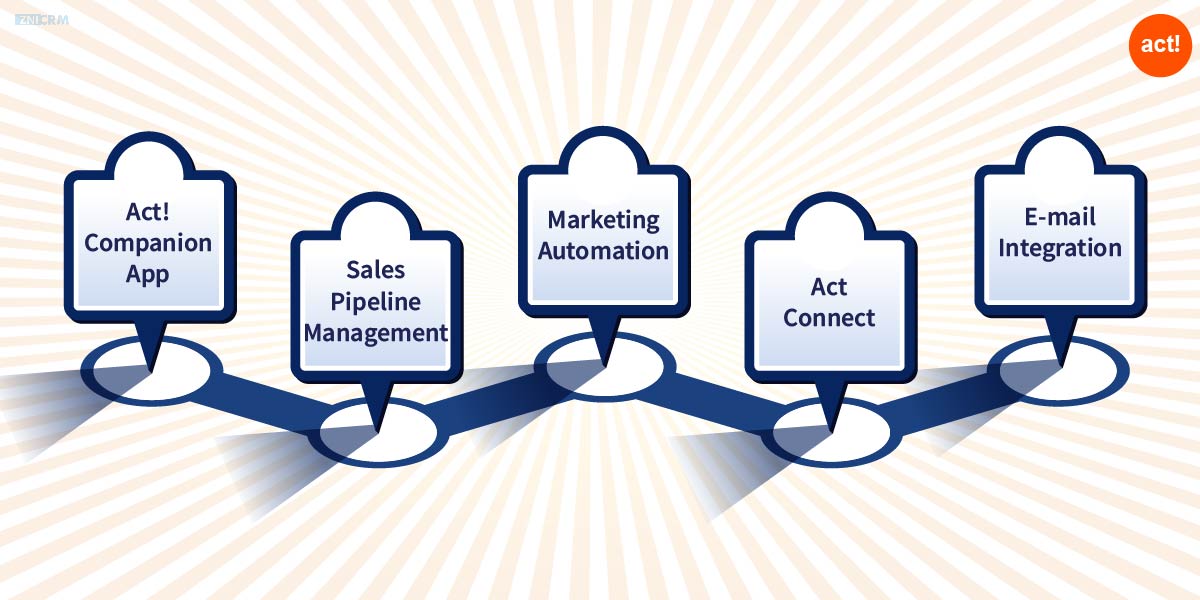 Act CRM is a customer relationship management solution that combines marketing automation and sales pipeline management into a single and centralized platform. This solution consists of specific sales process automation tools exclusively for small businesses. Teams can manage sales pipeline management, track interactions with leads and customers, access marketing automation tools and sales tools using Act CRM software.
This platform has built-in CRM features to enable businesses to track leads, manage and organize sales activities, emails, etc. Act CRM software is a contact management and customer relationship management system for small and mid-sized businesses. It is a CRM solution that grows your business by automating sales and marketing. Act CRM software was previously known as Sage Act that can build customer relationships using advanced contact management tools and email marketing campaigns.
The Act CRM software enables sales performance and enhances business profitability. This platform can also integrate with Microsoft Outlook and emails to build better relationships with the customer and organization. Act! Companion is a mobile application also available on iOS and Android phones.
Features of Act! CRM software
Using this application, you can easily access using a smart device with an intelligent connection. You can update the customer information, scan business cards and use powerful marketing and search tools. Interactive maps are also available in this feature, which can easily and quickly find nearby customers.
Sales Pipeline management
This feature helps to focus on sales revenue, adjust strategy and focus on your team's efforts where they matter the most. You can also obtain a visual presentation of all the sales strategies to get the proper insights into all the leads. You can also view the total count and value of all the opportunities in your pipeline with the interactive sales pipeline.
The Act CRM will furnish drip marketing campaigns that allow you to send emails and schedule activities using the activities tool. You can also send impactful and strong emails that promote your business or services without any big budgets.
You can also extend the reach with your customers by connecting hundreds of applications using Act CRM software. The application that connects to the Act includes Outlook, Gmail, Twitter, Shopify, etc.
Streamline the workflow, save time and keep a record of your interactions using Act CRM software. You can easily create history records from Outlook emails, attaching your email texts to your Act Contacts. You can easily track emails and also the workflow status.
Pricing
The cost of CRM software depends on which version you require and how many users you need. The pricing guide details categorize into Act! Pro, Act! Premium and Act! Premium Plus.
EngageBay Inc.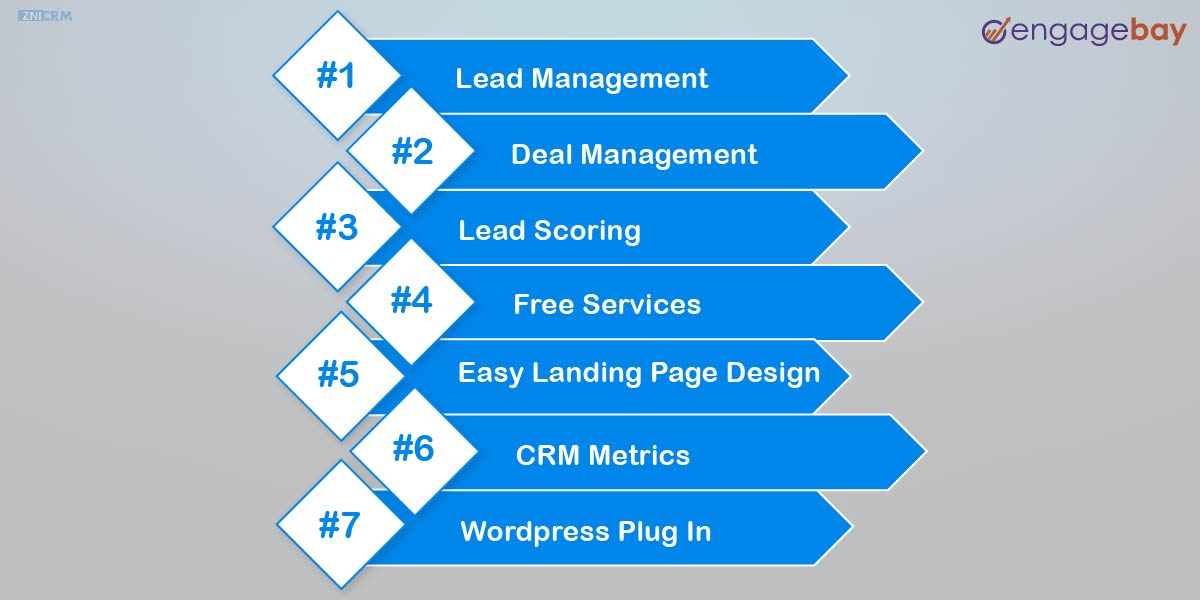 EngageBay is CRM software that integrates with marketing, sales, support, and CRM solution that helps to engage with the customers. This platform helps to acquire, engage and convert website visitors into customers. The cloud-based platform lets businesses build relationships with customers and retain potential customers. This platform has built-in features that allow managing and organizing all activities across customers deals as they proceed through the timeline. Furthermore, it also offers a marketing automation tool that can create customizable forms, email, templates, social media engagements, etc.
EngageBay integrates Zapier and Xero to integrate with other social media and third-party applications such as Salesforce, Intercom, etc. It is a simple, affordable, all-in-one platform for marketing and sales for small businesses and organizations.
Features of EngageBay Inc
The users can manage sales leads and track pipelines with specific features that include personalized outreach, automated lead distribution, sales pipeline, and various other tools that help to maximize sales.
The platform streamlines sales processes and enhances efficiency. EngageBay can also gain complete visibility across all the stages to monitor the deal status and progress. All this data makes data-driven decisions, sorting, filtering, and predicting closing dates.
Users can manage, organize, score all the leads that are the best fit for businesses. This feature defines which leads to pursue that can increase chances of conversion.
This software offers free services, unlimited usage of certain features, and access to all the data with a dedicated support team. It is a platform that can furnish free onboarding sessions.
EngageBay imparts drag-and-drop designs, SEO analytics, and reporting that can boost customer satisfaction. This feature is simple as it provides pre-recorded answers, standard responses and sets reply templates for real-time conversions.
This CRM software can bestow with single-view deals automated reports, increase growth and productivity. It will help to identify trends and to work with the latest trends.
You can increase revenue after plugging WordPress with the EngageBay platform. This access provides built-in contact forms, website landing pages, live chats, etc.
Pricing
The cost of CRM software is $14.99/ month/user (paid monthly) or $12.99/user/month (paid annually) or $10.79/ user/month (paid biennially)
The cost increases to $49.99/user/month (paid monthly) or $40.99/user/month (paid annually) or $35.99/user/month (paid biennially)
$79.99/month/user (paid monthly).
You can receive detailed information from the website.
Odoo CRM Software
Odoo CRM is Customer Relationship Management already present in the Odoo platform. It is software that manages from one stage to another allows you to see leads in one forum and analyze your results. It is a comprehensive suite of enterprise applications, including Customer Relationship Management (CRM), accounting, finance, human resources, and Point of Sale. Odoo CRM designs to manage and organize all existing and potential customers.
Odoo CRM system enables business managers and sales executives to manage and access all the information in one place. Furthermore, Odoo CRM helps reduce the workload and gives them access to segmentation and well-visualized data.
Features of Odoo CRM Software
Odoo CRM software has an easy-to-use interface built according to the needs of salespeople. Salespeople generally spend less time in the office and more time on fields, so they require sales dashboards that are simple to use. The dashboard provides a better and simple visualized database.
Minimize manual data entry
You can connect to the leads directly through emails and the internet. It means that leads automatically register in CRM when they connect through the internet or email. You can manage quotes and customers using your fingertips.
Your salesperson can update all the lead status using a mobile interface. Salespeople can also update all these leads without any access to the internet. This feature gives your company a real-time picture of the salesforce.
Odoo provides lead management software to keep track of all leads and nurture them. All the leads can go to various nurturing stages like opportunity, quotation, and sales order. Using this feature in Odoo CRM, you can get perspectives of the different sales teams.
You will receive various leads from several websites and can easily import them using CSV files.
You can easily acquire leads using various apps via your website, SEO tools, form builders, etc.
The IP address can help you identify nations, states, and localities. Furthermore, live chats enable to converse with the website visitors and convert them into potential customers.
Pricing
Odoo community edition is available for free. The enterprise edition costs $20/user/month (paid annually) and $25/user/month (paid monthly). All the applications integrate according to the customer's needs. To know the full price quote, you can visit Odoo.
Sendinblue CRM software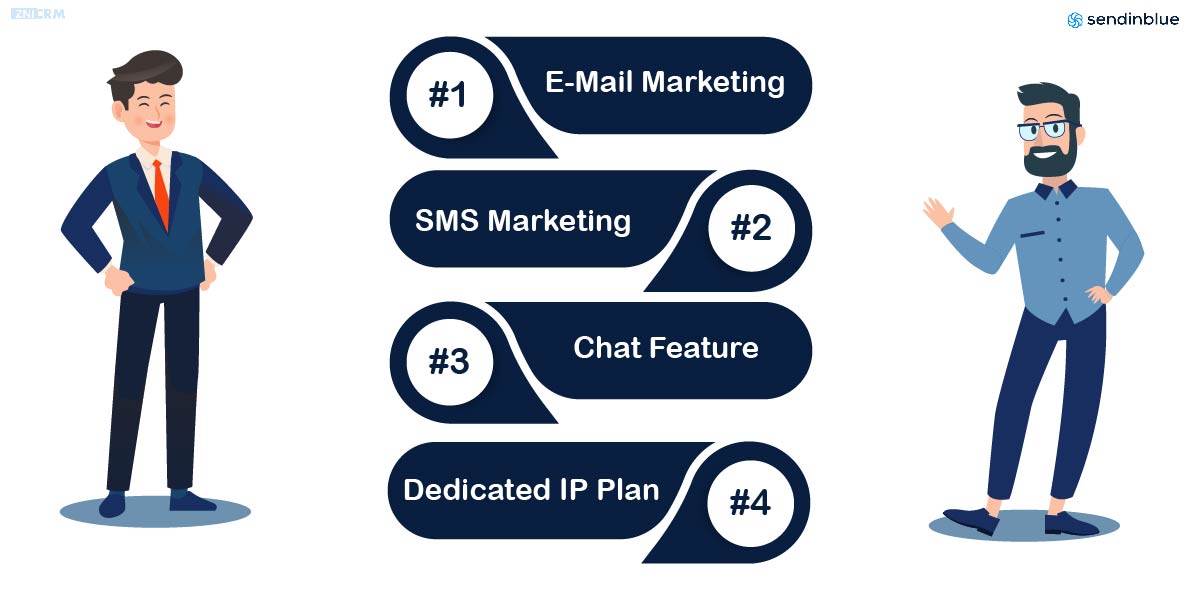 Over 180,000 businesses trust this software, an all-in-one marketing platform to engage with customers and build better relationships through targeted and meaningful communications. Marketing automation features include email marketing, SMS marketing, chats, Facebook pages, CRM, and various messages like SMS and emails. The unique feature of this platform is flexibility and versatile marketing automation.
The Sendinblue tracker helps track the web behavior from the contacts and uses this information as email engagement and data or information from the contacts to form marketing campaigns. These marketing campaigns are highly customizable and can quickly help you scale and grow your business.
The best part of the Sendinblue CRM software is that the pricing is not on the numeral of contacts but the number of emails per day. You can easily create an account without pricing, and it allows you to send at least 300 emails per day. Without breaking your bank, you can quickly upgrade to the plans as per your requirements.
In 2010 the company was established by Kapil Sharma and Armand Theberge. With it headquarter in Paris, France, the software house has more than 184 employees. They have customers from all over the nations, capitals, and states.
Features of Sendinblue CRM software
The central feature of Sendinblue CRM software is email marketing. You can send thousands of messages anytime and anywhere. The essential feature allows you to send 9000 emails in a month. The Lite plans are 40,000 per month, and the basic plan is 60,000 per month. You can also add custom emails as per your requirements.
SMS Marketing is also one feature that can help send the SMS about time-sensitive features. This component permits you to send bulk messages to your contact list. You can just craft the message, select the contact list and send all the messages. This feature also enables you to send critical messages to your customers.
This feature helps to connect with the customers from your website. It creates a seamless experience for visitors personalizing the user experience engagement. This tool also allows you to customize the chat feature and add your name and logo. With this feature, you can quickly answer your questions using this website.
In the advanced enterprise packaging, you can have a dedicated IP Plan. This plan allows you to create email campaigns using domain names and signatures. Using this feature, you can make the brand image and reach the maximum number of people.
Pricing
The cost of CRM software differs according to the customers' needs. You can get free services with 300 emails per day. The Lite plan has $25 per month to provide 40,000 emails monthly with no daily limits. The cost of the essential plan is $39 per month, which can provide 60,000 emails per month to the users. The price can differ for premium users. You can check the complete information on the Sendinblue website.
ClickUp CRM Software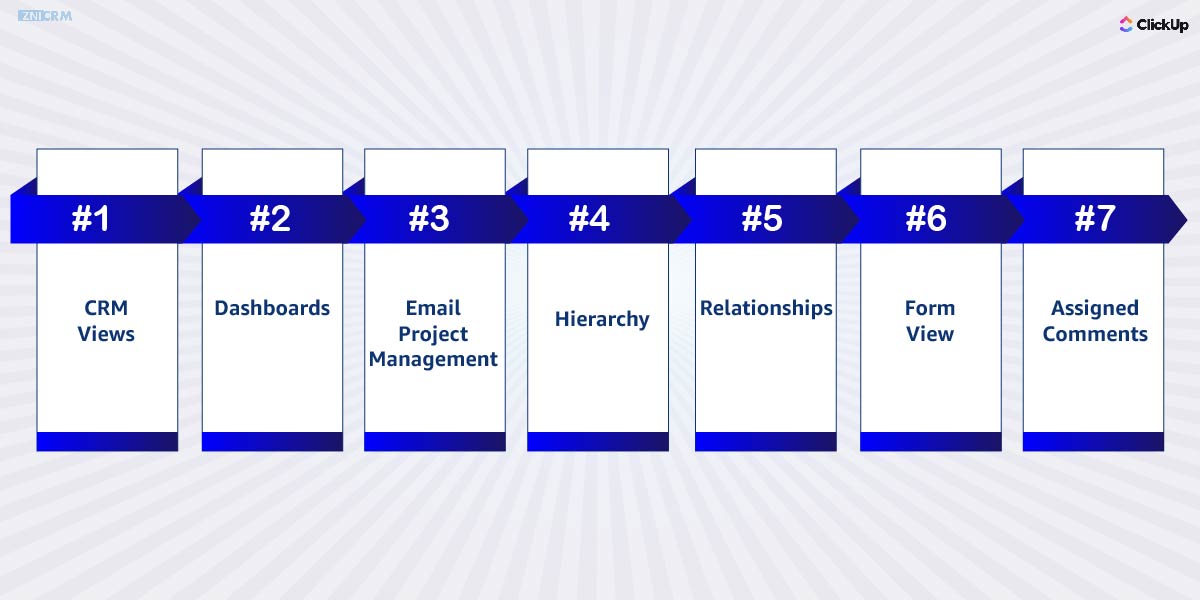 ClickUp is a cloud-based CRM software and project management tool suitable for all sizes of businesses and industries.
It is the highest-rated project management and CRM software that highly productive teams of companies use. The features include communication and collaboration, task assignments, alerts, and task toolbars. All the users can assign comments and tasks to specific teams and departments. Comments and tasks marked as progress or resolved, or users can create custom statuses. The activity task displays tasks as created, completed, or in progress in real-time.
The best thing about ClickUp CRM software is that it is like Elastgirl that is super flexible according to the basic needs of the customers. With a wide variety of ClickUp features, you can quickly help the project, customer success, sales, and finance teams.
In 2017 the ClickUp software was first launched by Chief Executive Zeb Evans as an internal tool before it launched publicly. This software ran in Silicon Valley before moving its headquarter to San Diego. In December 2020, the company raised $100 million in a Series B round.
Features of ClickUp CRM software
It chooses from 10+ views, including boards and tables, to visualize your clients, customer orders, or sales pipelines in any way you require.
The dashboard builds your mission to control and track control deal sizes, customer life cycles, and more.
The ClickUp software integrates with email to onboard customers, collaborates on deals, collaborates with clients from a centralized hub.
They use workspaces, spaces, folders, and lists to organize and manage all the customers for efficient management.
The essential feature is creating a database to store and analyze customer data.
You can make customized forms with design stunning to capture any information you require.
You can turn comments into actions to ensure nothing slips through the cracks.
Pricing
The cost of CRM software varies according to the different editions and plans. It offers a free version and has a free trial.
The price of ClickUp CRM software is $5/month. The website displays total billing prospects.
The cost of mid-sized teams is $9 per member/month.
The cost of business plans is $19/member/month.
Capsule CRM Software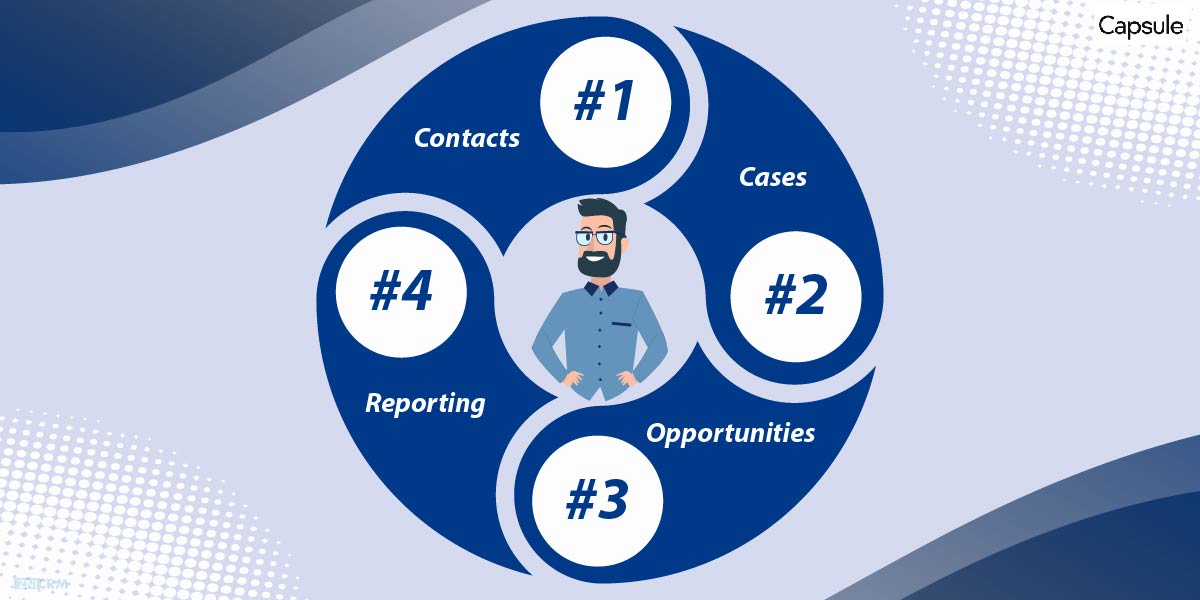 Capsule CRM software is a CRM software-as-a-service mobile application and a web application developed by Zestia. It is a privately owned company currently in Massachusets, United Kingdom, and launched in 2009. It caters all its services to companies of all sizes. The comprehensive services include sales pipeline management, contact management, and many more.
It is a cloud-based system that offers mobile functionality available on Android phones and iOS. The capsule is free for up to 2 users, and the premium option is available per user and month. It prioritizes the sales opportunities and customer interaction through CRM software to build for easy management and organization, third-party applications, and full integrations.
It offers a custom-build sales pipeline dashboard and also provides users with a monitor and predict sales opportunities and generate reports to maximize sales and revenue.
Features of Capsule CRM Software
When you are prospecting, you can quickly add, remove or import contacts from a spreadsheet you already have as it is in CSV format. It checks the fields in a CSV spreadsheet and uses it to create the areas in the software.
You can also create cases like contacts, attaching tasks and notes, so you know where the issues are. By associating cases with contacts with notes, you can easily and quickly view the contact's history whenever you require while resolving any issues.
You can specify opportunities like expected value, expected close dates, and milestones. This information automatically enters into the sales pipeline and portrays that you have opportunities. You can adjust to the different date ranges of prospects.
This software produces reports on forecast sales, conversion rates, spot trends, works on the latest trends for marketing and sales.
Pricing
The capsule has a free version for the limits of up to 2 users and has 10 megabytes of storage and 250 contacts. So, yes, it is pretty limited. The price range of professional enterprises is $12/month per user, and you can get free for 30 days. Additionally, you can get 50,000 contacts and two gigabytes per-user storage.
Apptivo CRM Software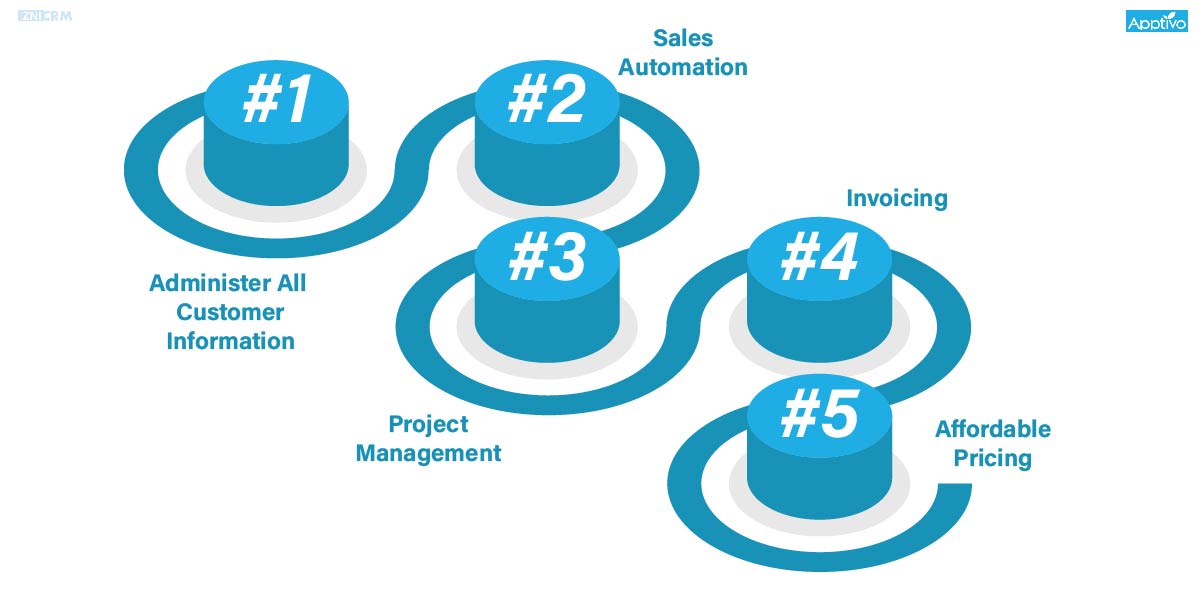 Apptivo is a CRM software that is a cloud-based suite of applications designed to help small businesses.
It manages a range of functions, including financial, human resources, and supply chain management. It is web-based online software and enterprise planning software that consists of apps-based business solutions. Currently, this software is in Fremont, California, and has a development team in Madurai, India.
All businesses are distributed as Software-as-a-service and have 40 cloud-based business applications available for small businesses. Apptivo's revenue comes from paid plans. The paid plans offer customizable options. The software is also available from Google apps. Apptivo is a platform that provides more than CRM, such as helpdesk, invoicing, project management, procurement, and more. It also provides a 360° view of each customer.
Features of Apptivo CRM Software
Administer all customer information
The best way to streamline all the workflows is to organize and document all customer information, log all the customer information and send essential records for approval.
Apptivo has a sales pipeline and sales qualification process that helps organize sales managers and salespeople to monitor the performance of the leads. The automated sales funnel assists in comprehending the sales funnel in each stage.
Collaborate on the tasks projects and manage all the timesheets. The application includes "Quick Project," a user-friendly graphic interface feature that creates a simple project. It has an interface that provides step-by-step directions and clean screenshots on the dashboards. The projects are easily searchable.
The invoicing feature is unique in this platform. You can create the invoices and send them out to the clients.
Apptivo's invoice integrates with several other applications like Google Check Out PayPal.
Apptivo has different pricing slabs like Free, Lite, Premium, Ultimate, and Enterprise Plans. All these plans are based on subscriptions and have no such contracts, and users can cancel a subscription.
Pricing
The cost of CRM software has multiple plans with access to specific applications and features in each plan. The starting price is $10/month/feature with free trials and a free version. The entire slabs are already on the website.
Ontraport CRM software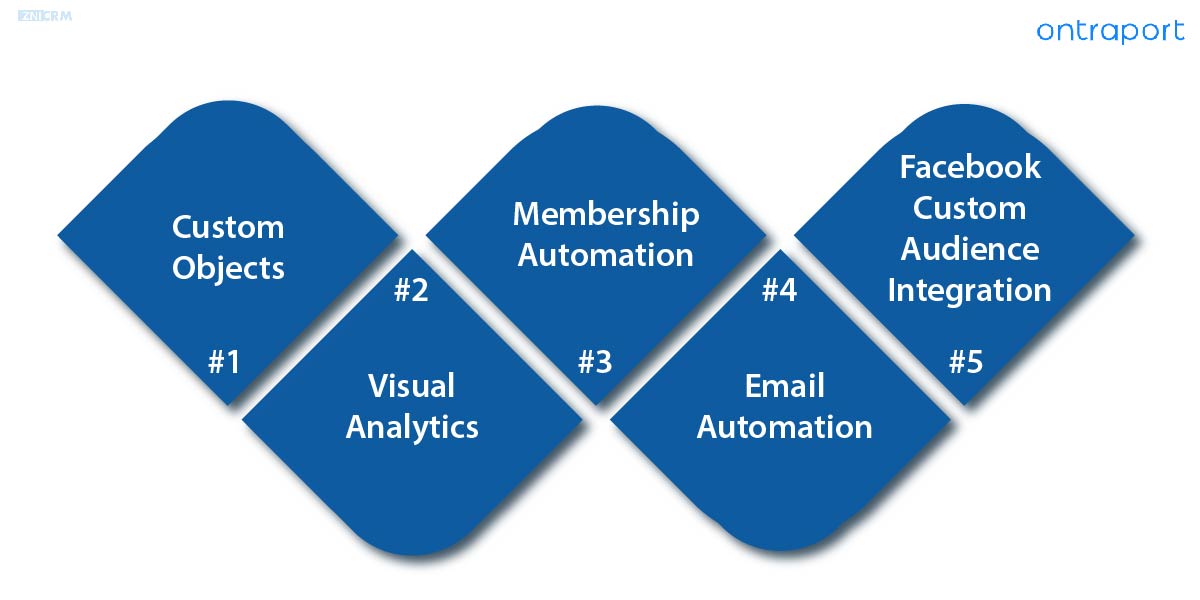 Ontraport started as a bootstrapped business back in 2006. It came a long way from how this software started in a backyard yurt in Santa Barbara by three co-founders, Landon Ray, Pin Chen, and Steven Schneider. Ontraport went through with lots of mini-growth in 2006 and 2011 as it upgraded its OfficeAutopilot and the entry-level SendPepper products before it rebranded to Ontraport in 2012. Since 2012, this software has upgraded itself with various features and added infrastructure support and marketing staff and is the most prominent voice for women in business.
Ontraport is an all-in-one business automation platform. This platform can handle various business processes in budding or big organizations. This feature comprises multiple business solutions like Pipedrive, MailChimp, Unbounce, and GetAmbassador that resolve various customers' needs. These solutions also implement lots of different solutions known as "stacks."
Features of Ontraport CRM Software
Custom objects are CRM records linked to various entries and used to manage relationships. It is a feature that tracks customer activities and connects them to the business. It also creates a detailed database for all the customers. As a result of this tool, you can easily understand the type of relationships you require for each type of customer. This feature makes customized customer activities and can make effective decisions.
Every department has different tasks and activities, so each department makes records of all the customers' information. The marketing department will have information regarding campaigns, and the sales department will have information on purchase habits. Ontraport collects all the data and visualizes all of it to make sense. This information will allow you to step up email marketing and improve customer relationships.
This software provides users straightforward and effective membership system. You can use it to make personalized Content for your customers to improve the customer experience. This feature helps maintain the membership system that can handle the entire task without requiring any third-party framework.
Customer relationships are the best ways to increase sales and revenue. Most companies use newsletters or similar email marketing campaigns to maintain this customer experience. Ontraport is good at collecting data on customers' behavior. So, it provides a tool that can help to make personalized Content. To make all these things better, Ontraport offers automated emails. You can create automated emails to make newsletters, replies, promotional emails for your customers.
Facebook Custom Audience Integration
This feature keeps your Facebook contact list clean and organized. This platform optimizes your Facebook audience to focus on Facebook Marketing. Ontaport's Facebook Custom Audience Integration can make your life more manageable and help your business to furnish.
Pricing
The cost of CRM software increases as you move from primary to enterprise and the more customized form. Ontraport comes in four levels Basic, Plus, Pro and Enterprise. Custom pricing plans are for those whose requirements are beyond the enterprise plans.
The cost of the basic plan is $79 per month.
The value of the Plus plan is $147 per month.
The cost of the Pro Plan increases from the Plus to $297 per month.
$497 per month is for those who choose Enterprise plans.
To know the detailed description of each plan, visit the website.
Less Annoying CRM Software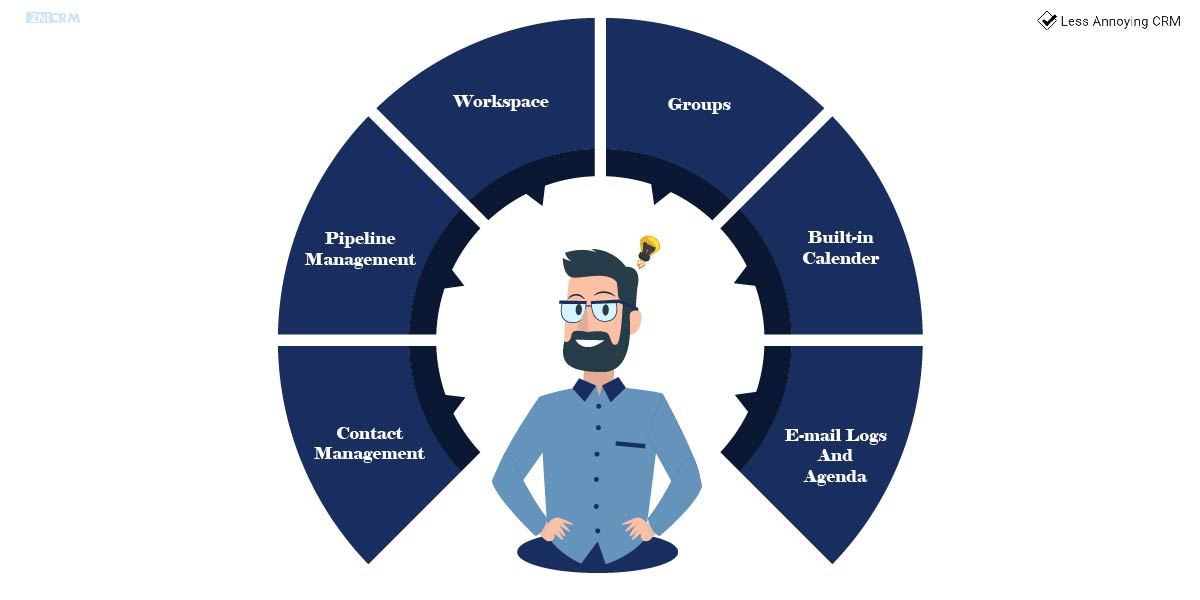 Less Annoying CRM is a simple customer relationship management built for small businesses and startups. It is also for the startups to grow and build a better customer experience. It is a clean, yet intuitive user interface with comprehensive feature sets and great platform support to customers. It is aimed basically at small businesses and has affordable prices. Less Annoying CRM Software lunches in 2009 are in San Francisco, CA.
This software manages your contacts, leads, notes, calendars, to-dos, and more from one single web application. Less Annoying CRM Software has three core principles: simplicity, affordability, and best customer service. Simplicity means that you do not have to train yourself for the CRM to use it. This software is straightforward to use and can eliminate all the learning curves. All the information and contacts are easy to find on the website.
Affordability is one such thing for small businesses and startups. For the cost of a single launch, you can use tools that can make your life easy and simple and can even help co-workers. You can start the 30-day free trial after the launch.
Excellent customer service means the customers are always available by phone or email for free. This platform treats every customer as a companion and provides help anywhere they want.
Features of Less Annoying CRM Software
Store all the contacts, including individuals or businesses, in a centralized place. Filter all the views to quickly find the contacts or group the different contacts in one place. You can easily store contacts' names, company names, contact info, activity lists, and tasks.
In this software, you can add four default pipelines with the add more option. You can also use editable templates for specific templates like orders, projects, and other scenarios. After adding contacts to the pipeline, you can add tasks for other days.
This feature acts like the summary dashboard. You can overview all the tasks to the activities and day's events to the pipeline report.
Segment contacts into the different groups or attach to the existing group. You can also email this segmented contact using Mailchimp to sync an audience to a specific group.
Make activities and tasks using the Calendar feature in this platform. Sub calendars are also unique features to categorize all the different tasks and move to the different levels of the task priorities.
You can store email conversations and attach them to the contact records with the complete history of interactions.
Pricing
Less Annoying CRM software costs $15/per month/per user. It is the lowest price and is suitable for all small businesses and startups.
Scoro CRM Software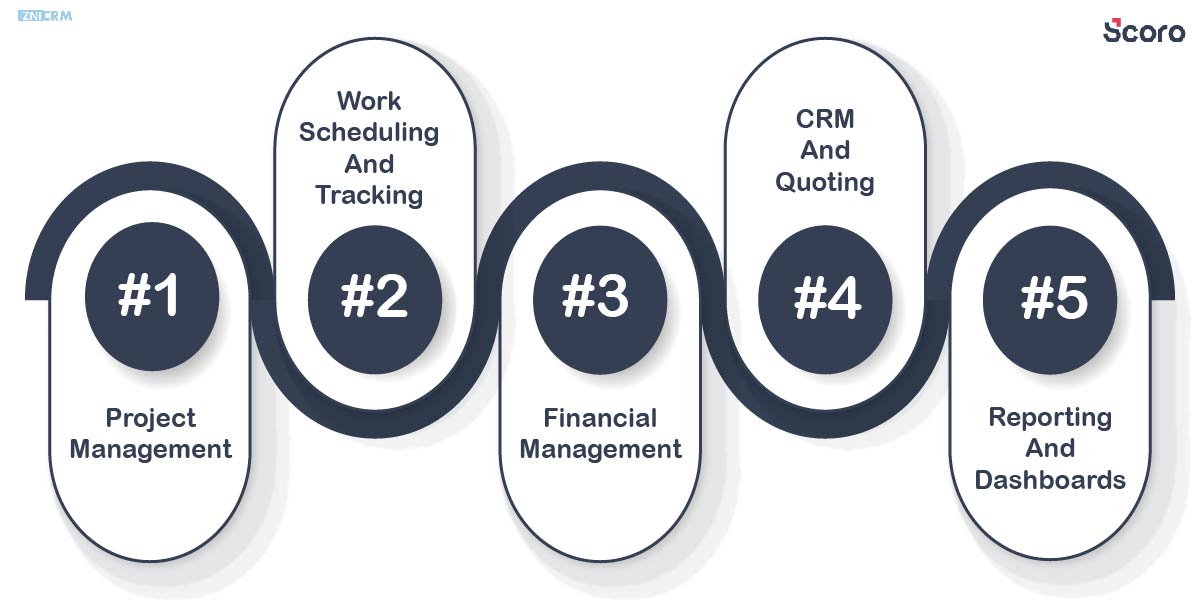 Scoro CRM Software is customer relationship management that helps every aspect of the businesses from work. It is business management software that is also loved by agencies and consultancies worldwide. This software began in 2013 that can make the job simple. It has several features like project management, CRM, billing, reporting, and any other feature in one place. These features will run the business smoothly and efficiently from sales to billing and insights.
This software is pretty easy. You can shuffle from different tools without changing the tabs. The score has clients in more than 50 countries worldwide with a strong customer base that manages the relationship between the organization and customers. It is a cloud-based professional services solution that helps small to the midsize organization. This software helps consulting, IT, and other industries. The solution offers a control hub that displays the pending tasks, scheduling, calendars, and various other features that can help businesses worldwide.
Features of Scoro CRM Software
You can manage everything about a project on one page, including time spent, billed, invoices, meetings and expenses, comments, and various other activities in one place. Allocation of billable and non-billable work, and you can monitor how your team is doing in real-time. You can also manage the project portfolio according to configurable status.
Work Scheduling and Tracking
Schedule work and tasks according to Scoro's planner. You can have an instant outline of everyone's work, deadline, potential workloads, and available slots. You can schedule a meeting in the team and share it with the individuals and customers for a 360° view. You can easily monitor and track the team's calendar events and completed tasks to receive work reports.
You can automate late invoices reminders, scheduling, and recurring invoices. You can maintain track of all the purchases and costs. The unique function of this feature is that you can compare the budget with the actual costs, revenues or profits so that this software can forecast based on scheduled invoices.
You can get all the contact information in one place. It includes contact details, communication history, invoices, call history, quotes, orders, and purchasing behavior.
You can gather quotes and send them as beautiful PDF files in just a few clicks. You can also get customized quotes and invoices within a few seconds.
You can keep an eye on your KPIs, actionable items, and conversion in these beautiful dashboards. You can get a detailed overview of all the activities of the employees and customers. View all the projects in real-time and the status of all the projects, whether they are complete, pending, or in progress.
Scoro's Pricing
You can tour the website with 14 days free trial and no credit card required. Furthermore, various plans start from $26/month for five users as an Essential Plan. You can see full pricing details on the website.
WORKetc CRM Software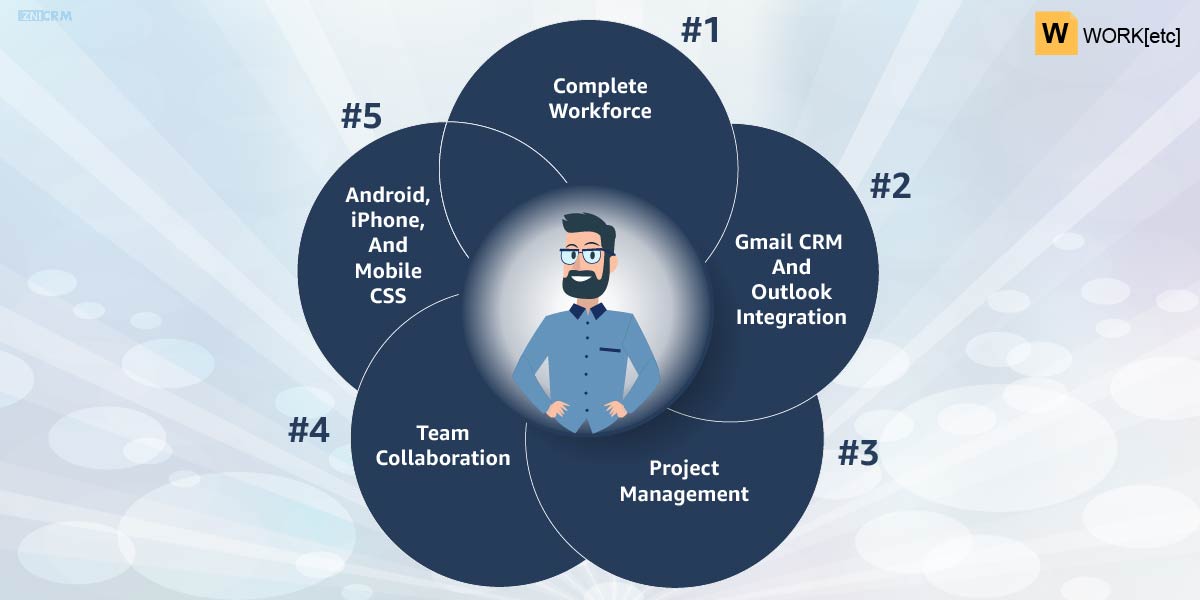 WORKetc is a single cloud-computing platform with integrated CRM, project management, helpdesk, invoicing, help desk, sales, and marketing automation modules helping businesses grow and enhance efficiency. This platform supports collaboration between sales, support, project finance, and management to improve customer visibility. This software offers all the features to small and midsize businesses. It was founded in 2009 by Daniel Bernett.
WORKetc is in Sydney, Australia.
The software keeps track of all the billable and non-billable accounts across the business with company-wide billing, trackable overdue accounts, payment gateways, taxes, and document management. This platform can integrate with G Suite, Xero, QuickBooks, etc.
Features of WORKetc CRM Software
Every activity and task filter. You can browse timelines or search and filter records.
Gmail CRM and Outlook integration
Run your business inside Gmail and Outlook with WORKetc Plugin. You can create a lead, share the contacts, update activities and tasks, assign projects, and support all customers. You can share Google docs inside this software and sync it with Google contacts.
Using WORKetc, you can manage and organize all the projects with meaningful web-based projects, billing, and more into a single businesses management solution. You can conserve time and effort by automatically converting sales leads into projects project templates and sharing all the projects with the designated teams and individuals.
You can design a project's collaboration within WORKetc's collaboration is simple. It is simple and easy to communicate information with each other and can make changes according to the requirements. You can even collaborate with your customers, clients, and contractors.
Android, iPhone, and Mobile CSS
You can access your entire WORKetc software on Android, iPhone, and Mobile CSS. This feature will help the employees to work efficiently with save time.
Pricing
The starting cost of CRM software varies according to the users and its requirements. The starting price of WORKetc is $78 per month. The free trials are available for all users.
ActiveCampaign CRM Software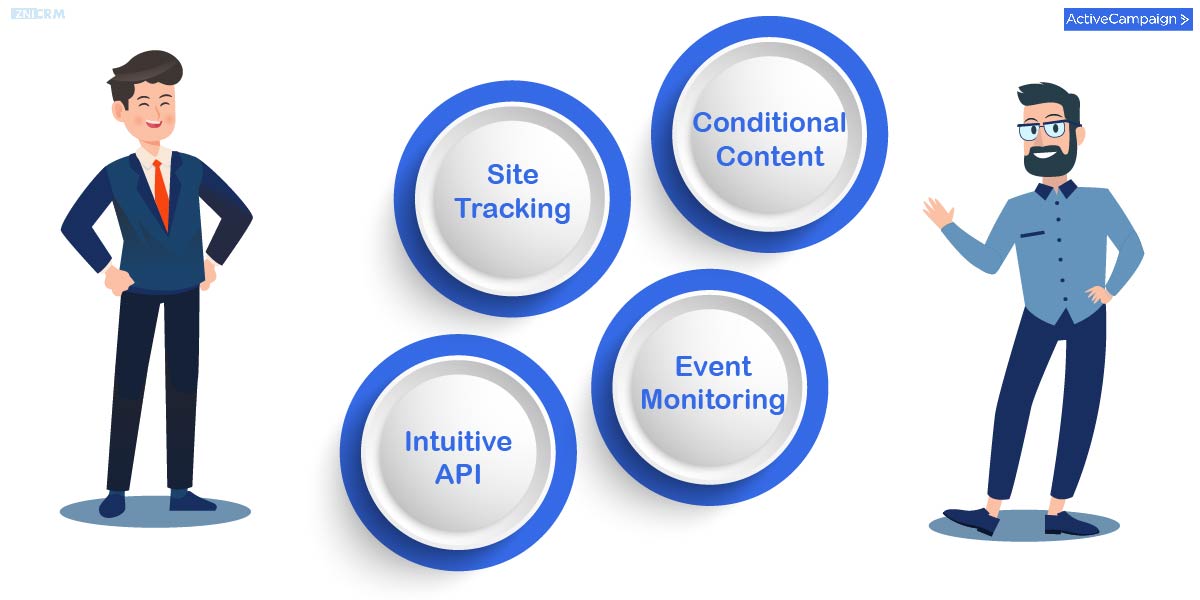 ActiveCampaign is a cloud-based software that is in Chicago, Illinois. This company offers excellent customer support experience that combines email marketing, marketing automation, and sales automation. It helps over 130,000 businesses all over 170 countries and engages with customers. This platform gives companies of all sizes access to 500+ pre-build automation, including marketing, sales, and email.
This platform also offers lead scoring web analytics, a CRM platform with a live chat messaging platform called conversations. It is a platform that integrates with 850 applications, including WordPress, Salesforce, etc. ActiveCampaign CRM Software offers free customer service like live chat, phone support, and broad knowledge base sections. It also provides one-on-one consulting free custom design services for customer experiences.
Features of ActiveCampaign CRM Software
Site Tracking is a feature that connects marketing to specific contact details. It helps the users respond to the customers according to their purchasing behavior. In this way, they will adapt to the customers based on what they are doing on the website. It will help to resolve all the issues quickly. Site Tracking enables the system to track what the customers are doing on the user's site.
Conditional Content means the Content dynamically changes on a per-contact basis. This feature is also useful when sending notifications of sales contacts via emails when displaying certain products while searching for them on the website.
The essential feature of this software is the ease of use of its API. It allows users to integrate the system with the app's ecosystem fully.
Event monitoring enables communication with the customers about the specific tasks that may have already taken place. This information then helps to make highly personalized marketing quickly.
Pricing
The ActiveCampaign CRM software already has four plans starting at $9/month.
The starter plan has email marketing and marketing automation. Higher goals automatically add the feature to the system. The pricing details are already on the website to make your decision fair and reasonable.