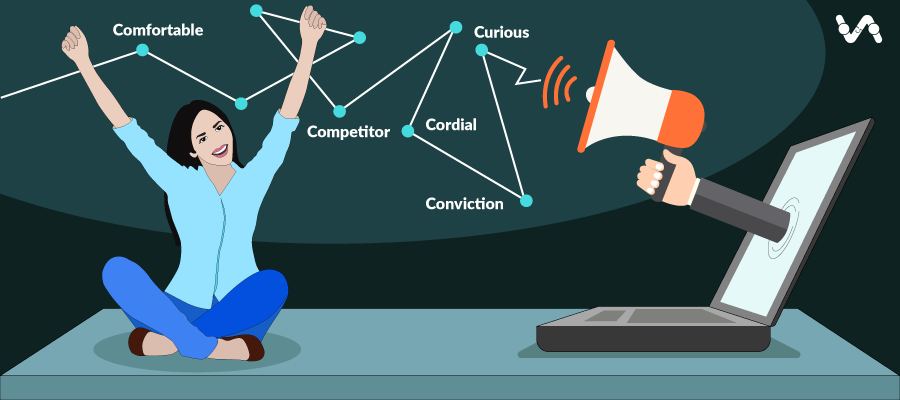 Like the other business owner, you may also think, more engagement means more conversion. But, be prudent, more engagement doesn't always mean more conversion.
The study shows by Kissmetrics – 96% of first-time visitors to company websites won't return.
The truth is, there is no shortage of competition online to engage people with your website that means more engagement can be bad sometimes because if you will focus to engage people, you may lose the information that you want to convey through your website. Hence, fail to convert them into the lead.
You may think if there is a risk, so why to take that risk. Is there any point to engaging your customer ? Yeah.. there is.. !!
Let's talk why you should engage your customer:
5C will help you in it 😉 Interesting.. ?? 😀
Comfortable
If you want to build the superb relationship with your visitor, for that you have to make them comfortable with your business.
Curious
To connect with your guest you have to make them inquisitive so that they also want to hook up with you. Only when they would be interested in your services or products.
Cordial
You always try to make your guest friendly, so that they never hesitate to ask you for something. Same applies for the visitor.
Competitor
Don't let your guest think about the other's hospitality, they just lost the way you greet them means your visitor do not have a chance to even think about your competitor's product, they just want to purchase the one you have.
Conviction
Through the testimonials and reviews of the happy customers make your visitor trust on you.
Just engaging your customer is not enough, you also have to convert them into leads for profit.
Here, we will discuss the kind of user engagement that leads to the conversion… 🙂
Talk
Provide 'Contact us' form, so that your visitor can get in touch with you and answer all the questions at their doorstep.
Positive Image
With the help of 'Social Media Bar' you can present a good and real image to make them believe you.
Doubtless
Clear every doubt of your visitor because fear did not let them buy your services or goods.
Exhilarate
Show your offers without disturbing your visitor. So, if they need any proposal, they don't have to find it out everywhere on the website.
Extraordinary offer
This can be shown by an 'exit-intent' means when your visitor did not find anything suitable and just going to move from the website, this will show to generate their interest again.
Evidence
Display testimonials to present how others are happy by using your services or goods.
Always remember..!! When you engage your customers, you create a relationship with them. If you build goodwill, you'll become a destination for them that they want to come to.
'Scrap.me' is a tool that can help you for free. Just leave your comment to know more and let us know how you've started engaging your customers. We would love to hear from you!