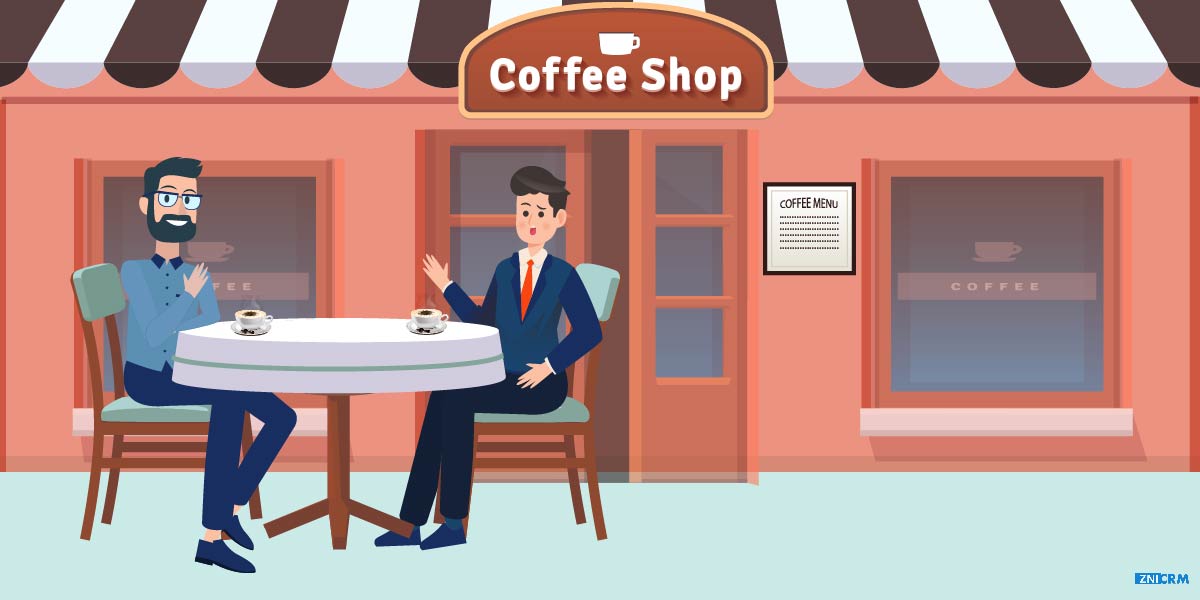 Check other parts of the series to get full list
Part-1: https://znicrm.com/resources/151/50-best-crm-in-2022-how-to-decide-best-one-for-your-business-part-1
Part-2: https://znicrm.com/resources/153/50-best-crm-in-2022-how-to-decide-best-one-for-your-business-part-2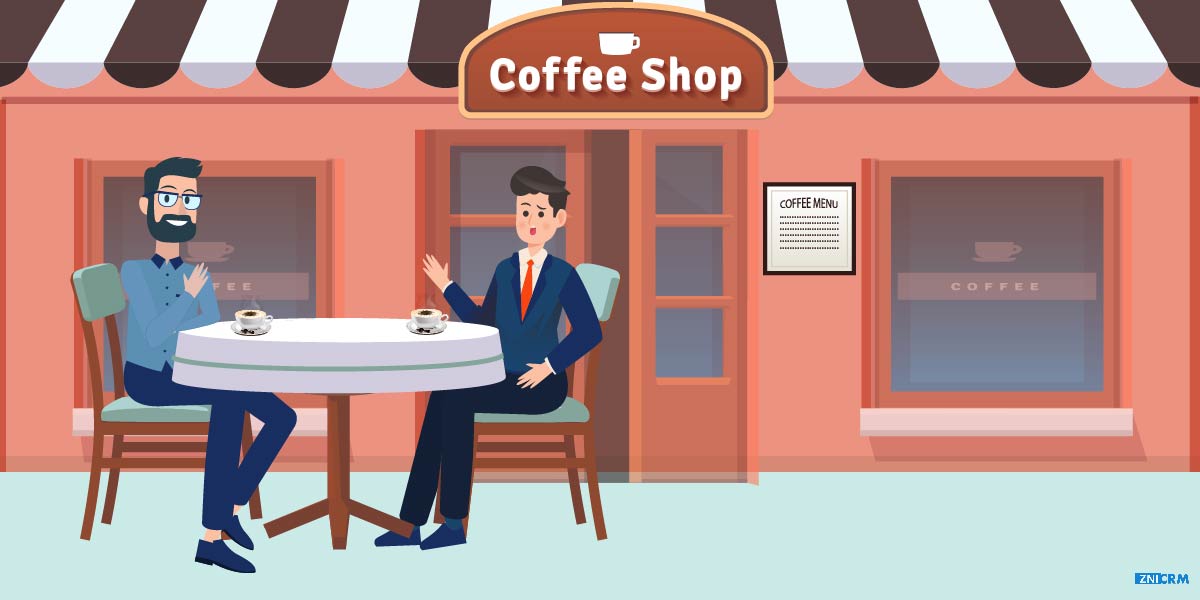 Shawn: Hi-Yaa, Oliver, let's walk to the coffee shop and freshen up our minds.
Oliver: Ya sure! By the way, Shawn, a CRM's name came into my mind from your refreshing gesture.
Shawn: OH! Nice please share this information with me.
Oliver: So, now I am going to refresh you with this CRM software and coffee as well.
Freshsales CRM software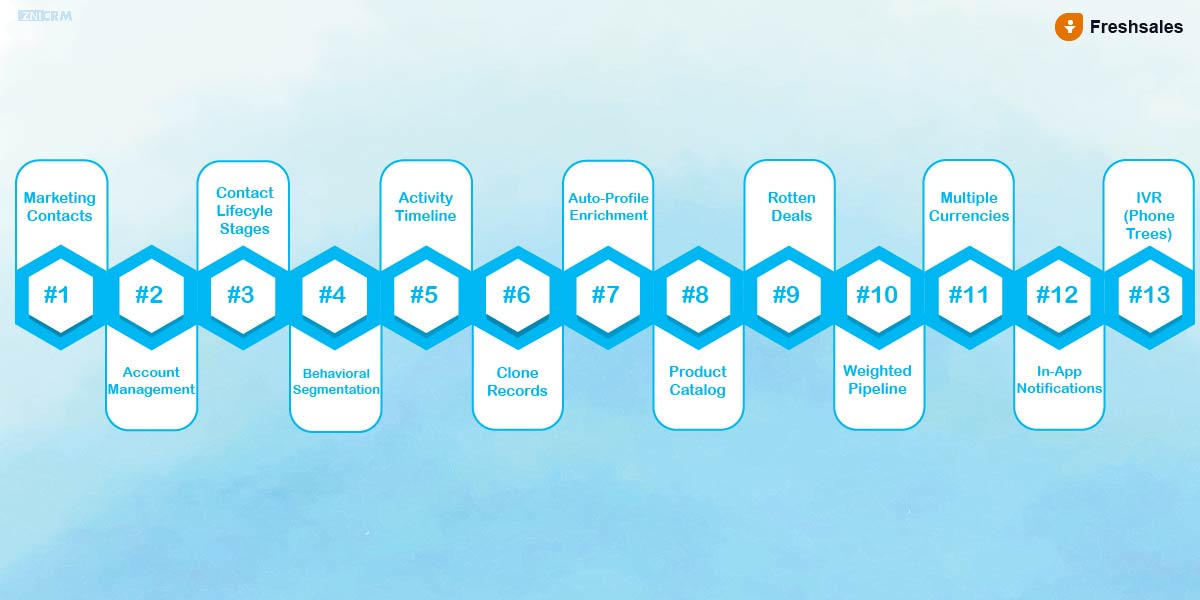 Freshsales CRM software is a full-fledged platform created only for the sales team. It has a sales force automation solution that can benefit the sales team and boost productivity. It offers everything that a salesperson requires, including engaging with leads and various contextual conversations. It drives deals with AI-powered insights, and can also nurture customer relationships. The platform has built-in emails, chats, telephony, that aid to empowers the sales team using automated tools.
Freshsales is a cloud-based CRM software that can engage with customers to build better relationships with the organization. It is software that helps businesses take the next step using the pipeline management tool. It can help the companies to manage the verticals to existing and potential customers.
Features for Freshsales CRM software
You can actively upload the contacts and do marketing modules using this tool. You can segment the contacts according to the various parameters, journeys, and mails.
Manage all the information of the business with which you are dealing. Using all the tools in this section, you can handle all the accounts hierarchy, manage and view 360° of all information and contacts.
Freshsales will furnish the complete lifecycle of the buyer. It includes stages to represent how far contact has moved. It is an essential feature that will build a comprehensive buyer portfolio.
Freshsales can segment the audience based on behavior and activities like page submission. It encompasses several events like cart abandonment or confusion before taking any subscription plans.
You can view the full-detailed chronological activities, including page views, email activities, form actions, unsubscription, confusion while buying the product.
The best and essential feature of Freshsales is to have records of the clone. You c an easily make records from the clones of the existing records.
Automatically make a social profile and update the lead, contacts, and accounts available on the internet. You can create a social profile without any delay. It will help to enrich the leads.
You can create a list of product information with the pricing scheme and add them automatically to your deals.
Set the age of every deal to diminish the real deals if the winning ratio is low.
Add weights to every stage of the pipeline so that you can understand and acknowledge the chances of winning the deals. It is essential as it gives proper analysis and forecasts of every deal.
With the help of Freshsales, you can easily handle all the deals in multiple currencies.
You can receive notifications of any updates of the CRM, lead assignments, emails, and other applications.
IVR is a phone tree that can route your customer calls directly to the concerned departments. All these tools are highly customized call flow mechanisms.
Pricing
You can try Freshsales basic features for free forever.
During the growth phase of your business, which means it has small and fast-growing teams, the cost of CRM software is $15 per user per month.
For larger teams, the cost of CRM software can increment to $39 per user per month.
For enterprises, the price is $69 per user per month.
Hence, the value of CRM software varies according to several parameters.
Shawn: I am thrilled while discussing this topic.
Oliver: Ok, then our coffee is over, so let's walk out of the café.
Shawn: Yep! Sure.
Oliver: My friend, I am a Google lover, so I have always desired to use Google products.
Shawn: Oh! No need to get disheartened, my friend. I know about the two best G-Suite solutions.
Oliver: Hurray! I am eager to hear from you.
Copper CRM software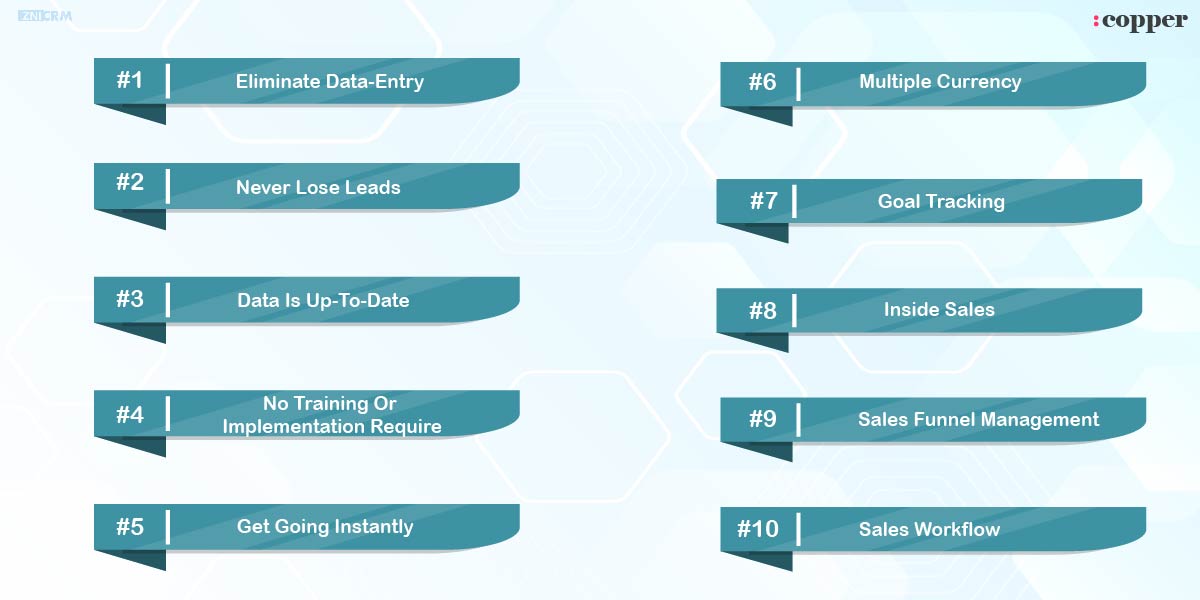 Copper CRM software, formally known as ProsperWorks CRM, exclusively enhances the team's productivity. This software is for those companies that love G-suite and use solutions like Gmails, calendar, and Google Sheets.
No manual data is necessary for the Copper software as you can easily import all the information from Google products. All the data is brought together in the same platform to focus on closing deals.
It is the only CRM built for Google, created by Google, and recommended by Google. For all the users who readily support Google and try to work on the same platform, then Copper CRM software is highly recommended. It integrates all the Google products and assists the team effectively.
Features of Copper CRM software
This platform automatically links all the related files, calendars, and other products that can eliminate data entry manually. This tool will automatically help to save time.
The best thing about Copper CRM software is that it never loses leads. It will automatically send alerts whenever any leads fall off the cracks.
The data constantly updates because Copper syncs with the Google products. So, any changes in the information of Google will automatically make updates on the platform.
No training or implementation require.
Honestly, saying the Copper platform is easily accessible. You do not require any training or implementation. If you know how to use Gmail, you know how to use the Copper platform. Copper CRM interface is user-friendly because the whole forum builds using G-suite materials.
Implementation Copper is so easy and fast that you can use this platform within minutes after taking the subscription. All your data automatically syncs with Gmail, and it is easy to configure them.
Record, report, and manage opportunities or deals in various currencies. You can get real-time currency conversions.
See how your sales number is tracking and when these deals can end against your goals. It is a critical feature that manages your goals too.
Get complete access and view of the inside sales by tracking all the customer data and work opportunities more efficiently.
Manage, track, qualify and measure the opportunities in your sales funnel. In this way, you can nurture the sales funnel and capture it.
Automate the tasks and activities with repetitive sales to avoid tedious work. Using sales workflow, you can drive efficiency throughout your sales processes.
Pricing
The cost of CRM software categorizes into three plans basic, professional, and business. The basic plan is fully Google integrated with limitations of only three seats, and the cost is $25 per user per month paid annually.
The professional plan is the most popular. You can save time with full integrations of applications, and the cost is $59 per month per user paid annually.
The cost of a business plan is $119 that can store unlimited contacts, marketing tools, and customization.
Insightly CRM Software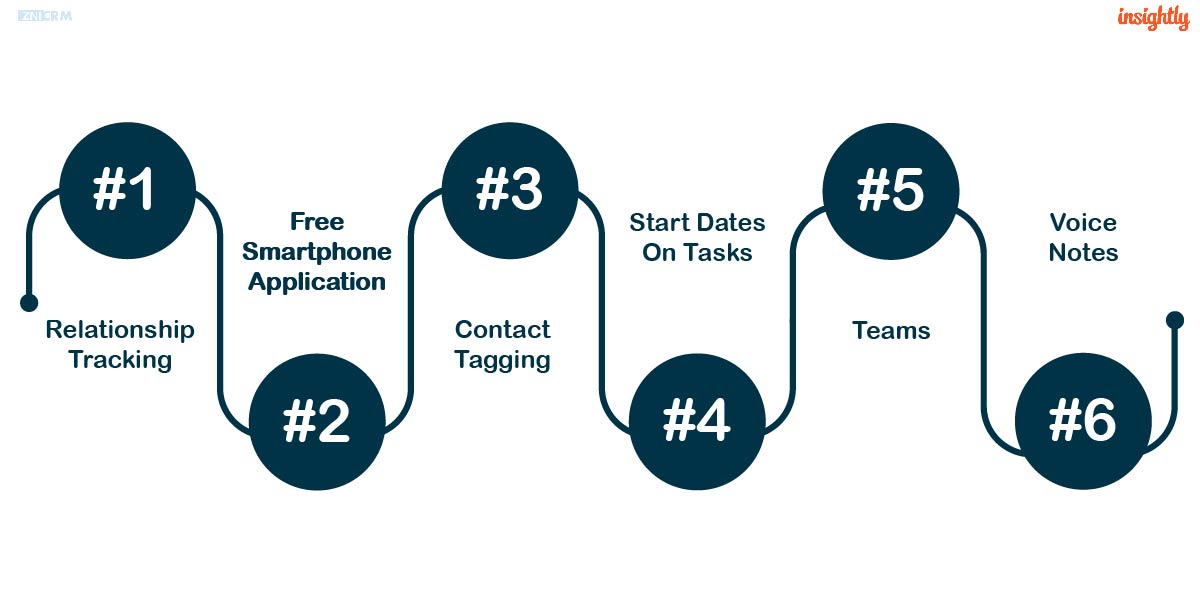 Insightly CRM software is a cloud-based customer relationship management that helps businesses of all sizes and across various industries. The industries include marketing, advertising, consulting, professional services, and others. Insightly CRM software has become the world's most popular CRM software for Microsoft and Google users.
It is a private company currently is in San Francisco, California. Insightly started in 2009, and it has begun developing various ways to help clients and customers. Insightly got backing of $50 million in funding from various leading companies. Different businesses use this software to manage contacts at every stage, track customer relationships, monitor their sales pipeline, etc. It is a platform that has moved further and supports various industries.
You can receive all critical information like leads, Emails, events, projects, tasks, sales opportunities, and reports on one platform and available on the web and mobile applications. It is a fact that if your whole team has all the data at their fingertips, then you can receive maximum sales.
Features of Insightly CRM software
Insightly offers unique features like relationship tracking. You can scroll down to the "link" section for any contact that saves in the software. After which, you can add the relationship you have with that contact like "boss," "friends," etc. You can create your custom relationship in your Insightly using System Settings.
Free Smartphone Application
You do not have to wait until you go to your desk; simply download the mobile application. With this application, you can add new records, search, review pending tasks, filter, and add updates.
It is a feature that can categorize all the contacts according to the categories. If the client is a decision-maker, influencer, and Support Staff, you might form an identification for each grouping, making it more comfortable to filter contacts based on the influence. This feature will help categorize all the connections that will assist the company in the future.
Insightly can manage all the tasks in a better way. Unlike other software, it imparts only the start date without any due date. This feature will then set realistic expectations. Instead of waiting for your tasks to complete past the due date, a start date protects the integrity of the time-sensitive commitments.
After creating Insightly teams, you will be able to assign the tasks to the whole team from one platform. No more confusion or overlapping conversations. You can easily assign to the team, and Insightly can handle the rest.
Insightly offers audio notes that can help the organization. You can record one hour of the content for any contact, lead, organization, or project. It is a feature that can reduce the time to make notes of every call and content. You can save time and use that time to expand the business.
Pricing
You can use Insightly CRM software at no cost. The free plan will include all the basic features.
The cost of CRM software increases to Rs.864/ user/month, which bills annually. This plan comprises all the free plans and other integrations.
The plus plan contains basic features and email scheduling. The price increases to Rs. 2088 /user/month. Visit the website for detailed information on the pricing structure.
Oliver: Thanks a lot, Shawn. I am grateful that you shared this credential as I am a Google lover.
Shawn: Pleasure is all mine. But I have an issue regarding brand images and marketing campaigns. I am just stuck selecting software.
Oliver: OH! Okay, I know about well-admired software which can resolve your issue.
Microsoft Dynamics 365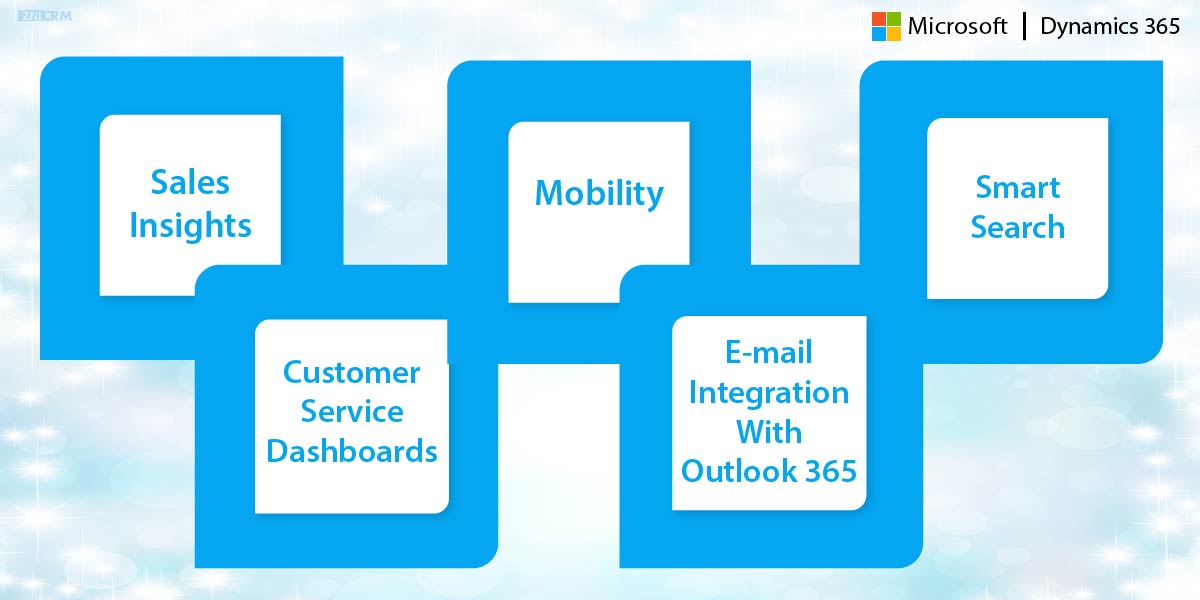 Microsoft Dynamics 365 hinges on cloud technology. Customer Relationship Management focuses on maintaining the relationship with the customers. The product focuses on marketing, sales, and customer services, and Microsoft treats Dynamics CRM as an XRM platform. This software encourages its partners to use its .NET framework to customize it. This platform offers a growing and mid-size organization a powerful solution to manage relationships and retain customers.
The pragmatic approach allows employees to be more productive and knowledgeable. It gives executives deeper insights that can enhance the team from within. The sales and marketing features streamline the business communication with customers, prospects, and team members. It is a product line of enterprise resource planning (ERP), customer relationship management (CRM), productivity applications, and artificial intelligence tools. Microsoft was first announced in July 2016 and launched on November 1, 2016. Microsoft is the first vendor to connect both ERP and CRM.
Features of Microsoft Dynamics 365
Microsoft Dynamics 365 delivers sales insights that can analyze the latest trends and opportunities for the development of the accounts. Microsoft can easily guide your daily priorities by analyzing your communication and activities while keeping you in control.
Dynamics 365 offers a mobile application that accesses all the leads, contacts, and activities. While on the road, you can also receive the overall real-time customer service alerts and provide an overview of the sales channel.
Email integration with Outlook 365
Outlook 365 enables your CRM to integrate with Microsoft Email fully. Using this feature, you can easily access all the information of the contacts and can send any emails using it. The application also delivers access to email templates and attachments vital to this feature.
Customer Service dashboards
Customer Service dashboards allow managers to access the most urgent cases and the status of the requests made. You can also predict the following steps based on customer experience in past conversations.
The unique and intelligent features like Smart Search can help find any records, information, templates, and stored opportunities. The intelligence behind the search engine can make the teams work efficiently and save a considerable amount of time.
Dynamics 365 Pricing
Microsoft Dynamics 365 provide the two pricing features that customer typically prefer. The business edition of the Microsoft Dynamics 365 license retails for $40 per user per month for application access. The Enterprise edition provides more options ranging from $210 per user per month to entirely using all applications. The price range can come down to $40 if you use fewer applications and features.
Nutshell CRM Software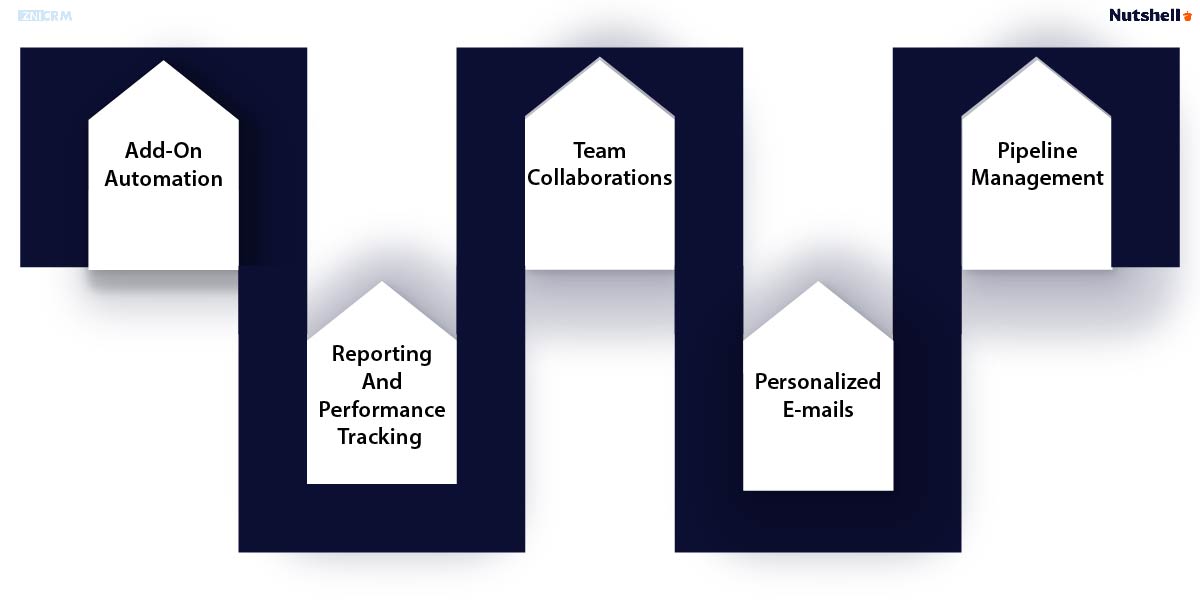 Nutshell is a CRM software that is an all-in-one CRM and marketing platform that helps organizations work for more sales. No wonder Nutshell builds for those who are already tired of moving to different platforms for marketing and sales. It is also crucial for those people who do not want to pay for a full-time subscription using all these tools.
Nutshell subscription plans include unlimited full-time contacts and deals, data storage, fully customizable reports, free migration tools, and world-class live reports at affordable prices. All these features are accessible on the same platform.
Nutshell is quite different from all other software. This platform integrates with small businesses like Microsoft Office, Google Workspace/ Gmail, QuickBooks Outline, Intercom, and Slack. This software is also available for iOS, and Android users to create, edit and add the sale reps while you are on the road.
Nutshell started in 2010, and since then, it has become quite popular among the business. This software has become the top CRM for both affordability and user-friendliness. Recently, Nutshell started marketing tools that can create beautiful templates, marketing emails, and automated drip sequences. Nutshell marketing tools can target customers and can reach more prominent people.
Features of Nutshell
Nutshell pro adds the extra benefit of sales automation that can accelerate all the sales. It can increase sales and revenue, which can grow the organization to different heights.
Reporting and Performance Tracking
It shows what is working and needs to improve by capturing and reporting sales performance, team performance, and productivity. You can also receive ready-to-use charts and presentations.
Tag, collaborate, and communicate with colleagues without missing out on any notifications from clients. Organize and respond to the conversations from anywhere at any time.
You can send customers any personalized emails by creating and scheduling using sales drip campaigns that will help capture leads. Personalized emails will help to retain potential customers.
Nutshell provides drag-and-drop features to progress leads to the following stages and marks them as won, pending, or canceled. You can organize and manage all the tips during their stages.
Pricing
The cost of CRM software varies according to the plans mentioned on the website.
Nutshell already has two plans for the customers' Nutshell Starter and Pro.
Nutshell Starter comprises some primary features, and the cost includes $19/user/month, paid annually.
The pro method consists of all the features of Starter and some add-on features. Nutshell Pro starts at $35/user/month, paid annually.
The customers can pay the fees either monthly or yearly.
Shawn: You are incredible, Oliver. You have thrown light on my concerns.
Oliver: Anytime for you.
Shawn: Oliver, I was thinking of internationalizing my business, and for that, I need to have a multilingual platform and handle several website integrations on one platform
Oliver: I can guide you about it. Can I have your ears, please?
Shawn: Ya Ya !! It's all yours.
Creatio (bpm online)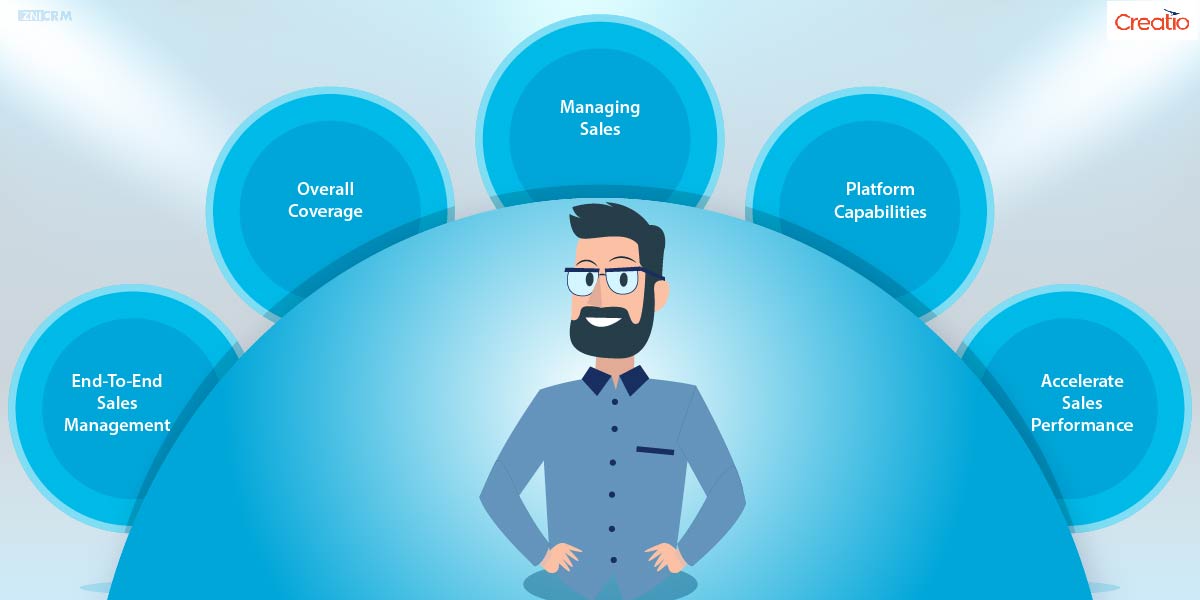 Creatio a Software as a Service (SaaS) platform low-code solution for process management and CRM. The Creatio solution stack consists of Studio Creatio, a low code platform. Sales Creatio (sales force automation software), Marketing Creatio (marketing automation tool), and Service Creatio (help desk software) are all present in this software. Initially released in 2011, It originally got its release in 2021. Its headquarters are in Boston, MA, and has six office locations across six countries. Its unique feature is available in 17 languages, whether Arabic, German, English, Polish, etc.
Creatio can be used to automate business tasks, implement rules and develop third-party integrations. It also provides a free tool for managing business processes and building applications under Creatio Studio.
It is a global vendor of one platform to automate industry workflows and CRM with no code and a maximum degree of freedom. They provide help to customers through digitizing workflows, magnifying customer and employee experiences, and boosting the efficacy of commercial and operational teams.
Features
End-to-end sales management
It accelerates the sales process of any complexity during sales dealings.
It builds 360 degrees views on customers' profiles to make it comprehensively work. It protects and creates engagement to keep relationships on track. It also analyzes the customer database to identify the top clients that can fuel a company's growth.
Sales process automation is one of the significant features of CRM. It efficiently automat types of deals for any organization. Creatio's tool contains leads. It also automates B2B and B2C long and short sales cycles using built-in best-practice sales processes or creates custom ones with efficient low-code tools.
Accelerate sales performance
It comes up with intelligent goal setting, forecasting, and analytics functions that allow for viewing up-to-date sales metrics-from general company-wide indicators to territory, team, and individual metrics.
Creatio easily customizes sales and extends the built-in functionality with add-ons, connectors, and vertical solutions from the Creatio Marketplace.
Pricing
The cost of CRM software, Creatio differs as per the size of your business and the edition you select as they have divided it into three categories.
It is a perfect fit for small and medium businesses with direct sales teams, $30 per user per month, and cloud-based.
It is a complete set of tools for short sale cycles and e-commerce. As recommended, $35 per user per month you can explore it.
This is a sophisticated tool for medium and large enterprises to handle all sales channels. It is available at $60 per user per month.
SugarCRM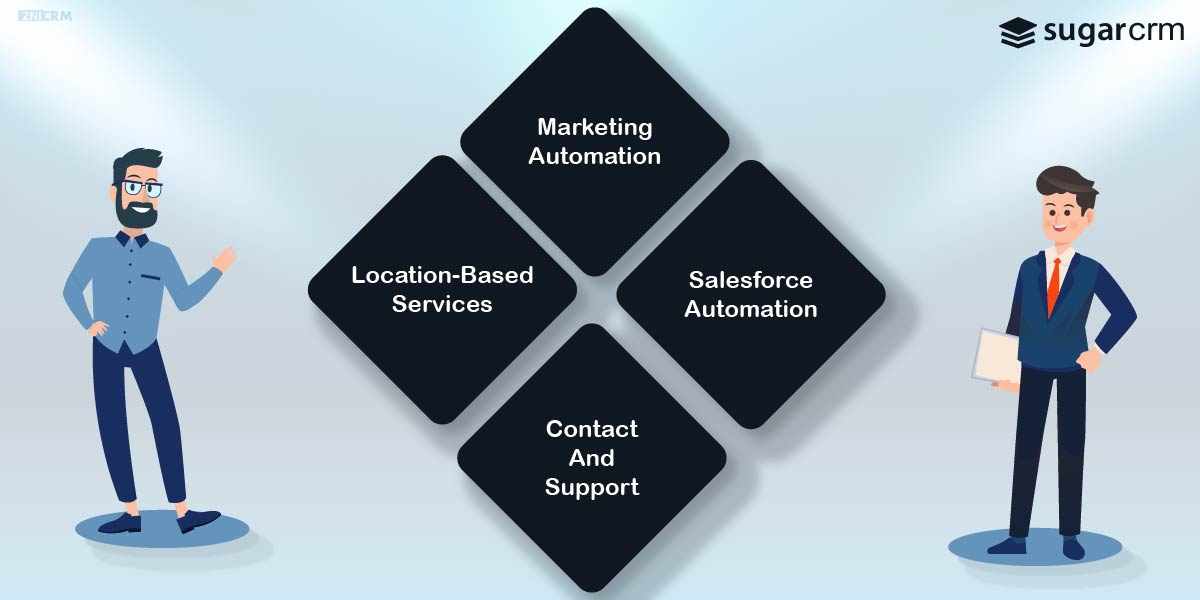 SugarCRM is a software company (2004) based in Cupertino, California. Its primary function is to produce the web application Sugar, a customer relationship management (CRM) system. Founding Fathers are Clint Oram, John Roberts, and Jacob Taylor.
Its headquarters is in Cupertino, California. Its functionality includes sales-force automation, marketing campaigns, customer support, collaboration, Mobile CRM, Social CRM, and reporting.
The organization handles several websites, including its commercial website, Sugarcrm.com, and Sugar Exchange, for third-party extensions.
Features
It helps the sales and marketing team find more details in less time and almost little manual effort. Customers' data is available in the central dashboard of SugarCRM. It makes it easy for the marketing team to access customer insights and target audiences.
It enables the sales team to access customer information throughout the day, which makes sense to centralize them in one place. The primary motive of the CRM is to convert leads and generate revenue. In that case, SugarCRM will help you trace your fresh and existing business leads. It also converts these leads into opportunities and relates these new opportunities to the accounts.
The customers are the heart and soul of a business. It is essential to focus on a customer-centric approach to enhance your business. So, the integrated multi-channel system is available in SugarCRM. It helps you to identify your work and creates efficiency.
SugarCRM can track and locate access to records and leads on Google maps. It potentially results in boosting your business. This GPS helps you find the best route from the source to the destination.
Pricing
The costs of CRM software depend upon its edition. They are as listed below:
SugarCRM Professional Edition
This includes sales automation, marketing lead management, unlimited online support, and all. For small and medium businesses, $40 per user per month.
SugarCRM Enterprise Edition
It has more advanced features for revenue line item- tracking and forecasting. It is $65 per user per month.
SugarCRM Ultimate Edition
It provides customers with technical support whenever he\she desire. It is $200 per user per month for the usage.
Shawn: Yep! I appreciate your efforts.
Oliver: Well, Shawn, you were asking about a comprehensive suite of enterprise applications, as well as trackable template outreaches, which quickly provide you with real-time updates.
Shawn: Oh yes! I have researched them, so I am sharing my information with you.
Vtiger CRM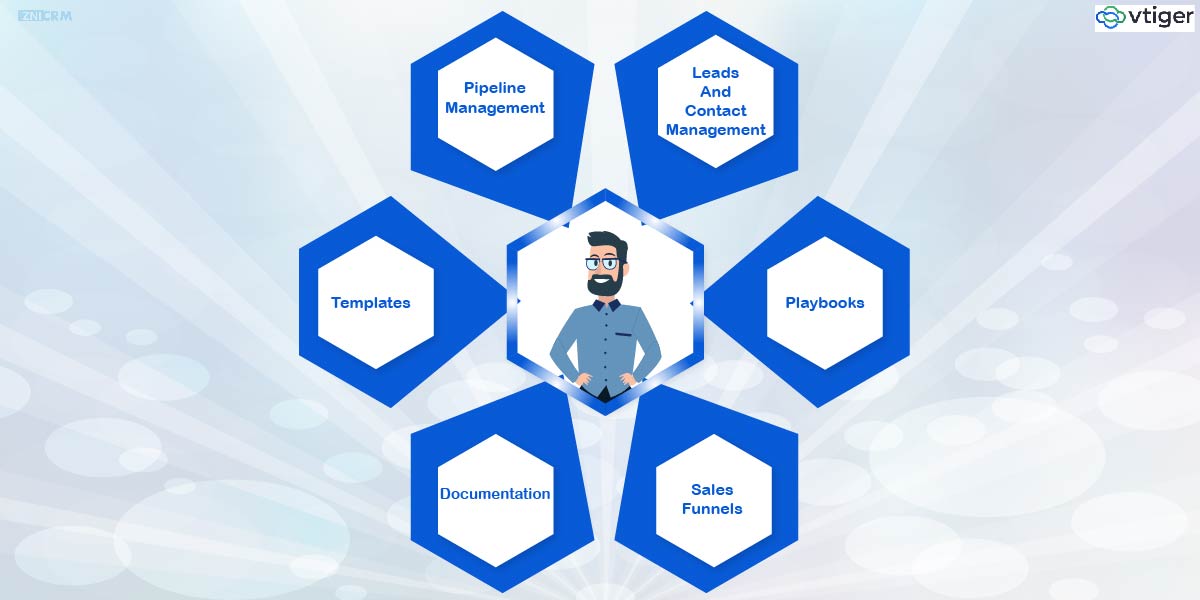 It is an Indian software company. Its headquarters is in Bangalore, India. It is well known for its CRM software that unifies customer data and increases sales. vtiger CRM comes with a comprehensive suite of enterprise applications. It was launched by Sridhar Vembu, CEO of AdventNet, in 2004. The company comes up with professional services such as training, implementation, integration, and customization. It helps enhance performance by providing quality tools and functionality across Sales, Help desk, and Marketing teams.
Features
Leads and contact management
A complete view of all your clients, including name, phone number, prior interactions, and account history.
It consists of playbooks that sequence settles down tasks to deal stage and monitors a deal's progress.
It helps to acquire leads and build lasting relationships. It also uses landing pages, web forms, emails to generate and nurture leads.
Representatives from Sales can quickly check out the statistics for client engagement with essential documents such as quotes, emails, or marketing collateral.
It enables a wide range of preloaded email templates in Vtiger, saves time, and helps in sending personalized emails. The benefit of printing makes it customizable and efficient to work.
It keeps track of your deals stands with opportunity management. It makes it easy to check out the current status, cases, previous conversations, and scheduled meetings.
Pricing
The costs of Vtiger CRM are according to its edition.
The Standard edition begins with Rs2100 per user per month.
The Single App edition begins with Rs1400 per user per month.
The standard edition begins with Rs2940 per user per month.
The Single App edition begins with Rs2100 per user per month.
Nimble CRM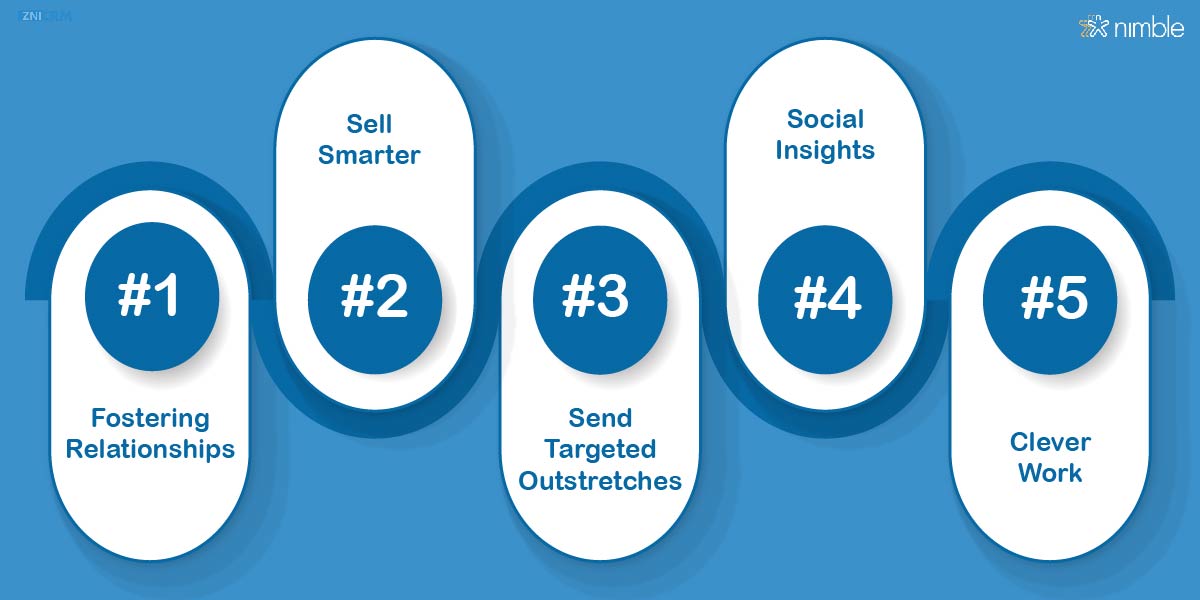 It is a social sales and marketing CRM that help you to store and organize your contacts. It creates tasks for follow-up reminders sends trackable template outreach to targeted lists. It tracks to-do's, manages multiple pipelines simultaneously, and much more. It helps you build a proper relationship with your potential and existing customers.
Features
It helps you to add your contacts and emails to one centralized location. Nimble lets you keep track of your most important leads, sync appropriate profile data, create segmented contact groups, and schedule follow-up reminders.
The ability to track your outstanding sales scheme and manage your team's deal helps you to enable the ability to generate reports.
Send Targeted Outstretches
The emails outreach feature allows you to send templated messages to communicate personally, with tracking skills.
The ability to nutrition all contacts with relevant social data during the business cycle provides you with insight. It provides a roadmap to learn more about your prospects.
It accesses critical insights directly from the social media platforms, emails, and SaaS apps everywhere you engage customers with the Nimble browser extension.
Pricing
Nimble offers a free 14-day trial with all the business plan features. For more details, you can visit www.nimble.com\pricing
Oliver: uh-oh! It was eloquent to hear.
Shawn: My partner, I yearn to know about the software that leverages upon latest mobile and social technologies.
Oliver: Yeah! I know one platform that directly connects with external product distributors' service partners.
Xiaoshouyi (Neocrm)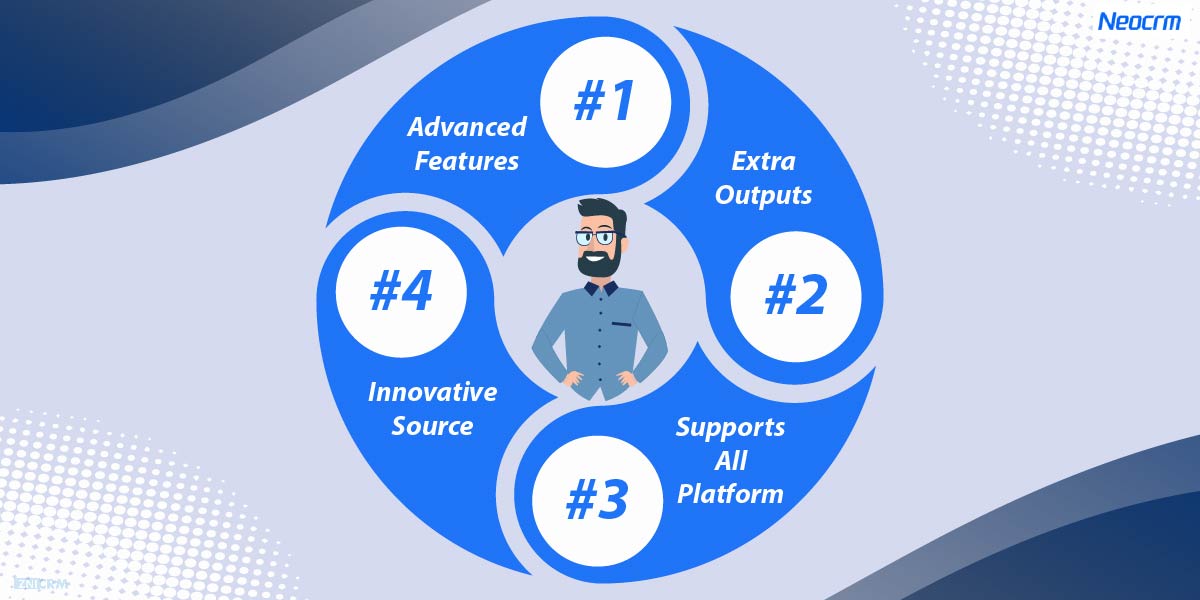 It is an innovative CRM solution vendor in the mobile internet era. Beijing Renke Interactive Network Technology co, Ltd owns Neocrm. It is also a new-generation Saas customer relationship management (CRM) software that leverages upon latest mobile and social technologies. It dedicates itself to digitizing the end-to-end interaction between businesses and their customers, helping users improve customer satisfaction and achieve sustainable growth.
It supports complete business process automation from marketing, Sales to Service. Neocrm supports full business process automation from marketing sales to service. It also leverages social, mobile, and IoT technologies to help companies directly connect with external product distributors' service partners.
From the day of its establishment, Neocrm has dedicated itself to its mission of applying new technologies to CRM. In contrast, it enhances the productivity of customer-centric business processes for sales, marketing, customer services, etc.
Features
It offers automatic data capture, lead management, opportunity management, case management, and task management.
It has many valuable extras like automatic data capture, Lead management, Configurable reports, and dashboards.
It supports many third-party trading platforms. As well as it enables access to various markets worldwide. It also promotes trade with the assistance of expert advisors or a customizable automatic trading strategy.
When it comes to innovation, Neocrm is the most creative among all as it always looks forward to improving itself.
Pricing
The cost of Neocrm provides competitive pricing.
For small businesses free per month
For mid-market $3 per month to $2000 range.
Shawn: phew! Oliver, you are just dazzling. But now I am worn out.
Oliver: Haha! Ya, I am also feeling sapped.
Shawn: Let me accompany you to my firm. I want you to make an office tour.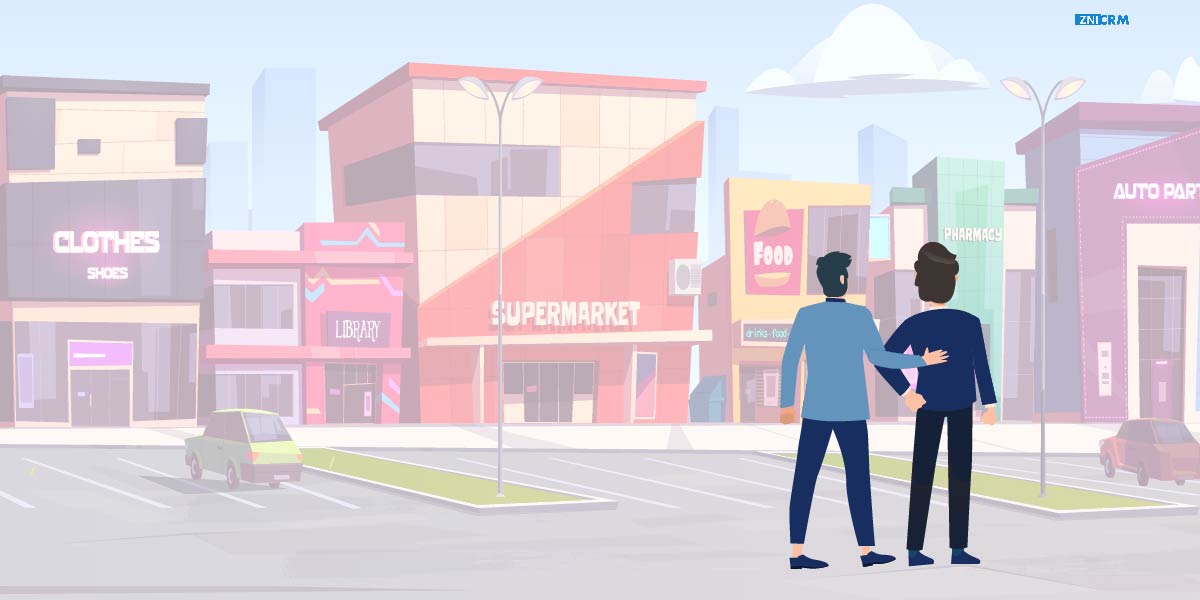 Go to Part-4 https://znicrm.com/resources/157/50-best-crm-in-2022-how-to-decide-best-one-for-your-business-part-4