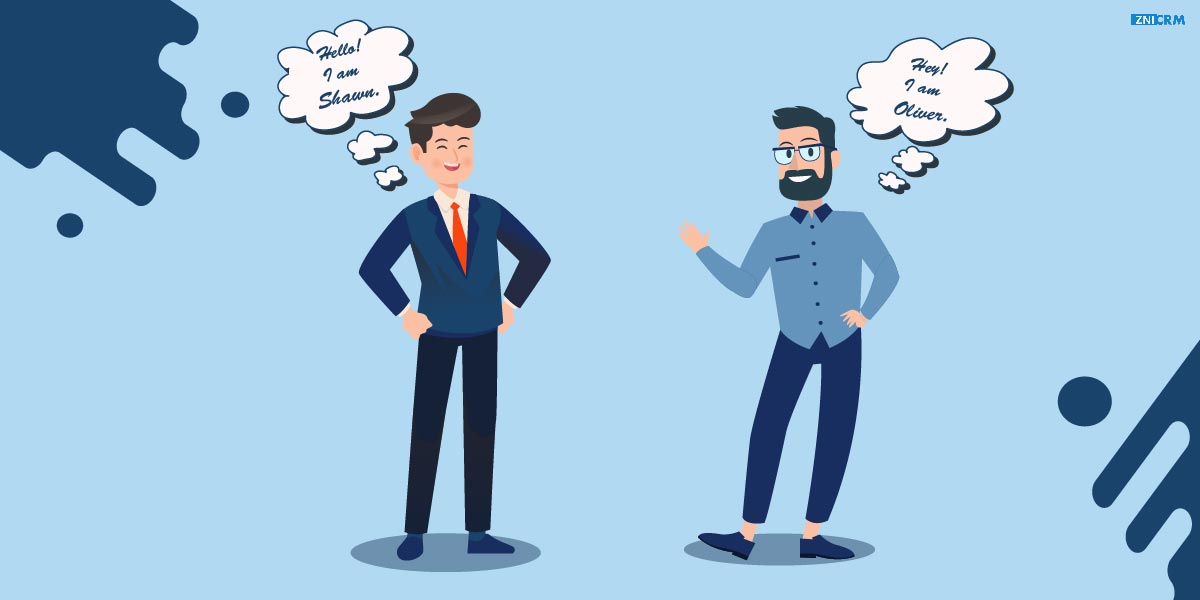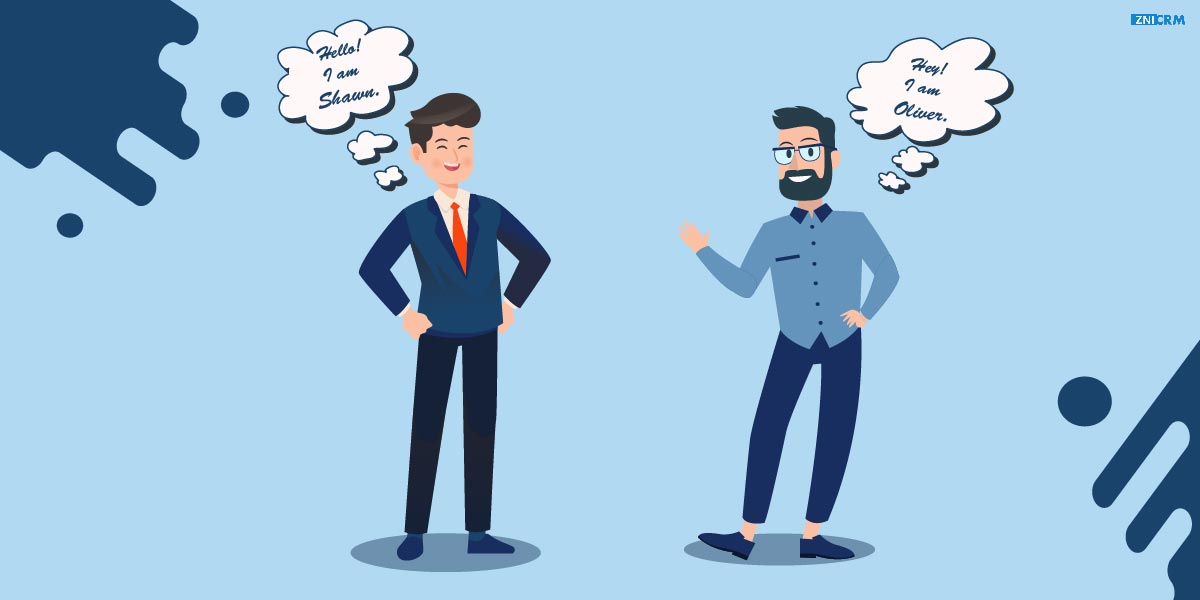 Oliver: Hey! Shawn, Congratulations on being featured in the business magazine.
Shawn: Thank you, man, but I am struggling to organize everything
Oliver: Oh! Tell me maybe I can help you out.
Shawn: Actually, I cannot manage customers, just so stressed.
Oliver: Shawn, you can use CRM for such issues. Customer relationship management is a process to administer your business through managing the company's relationships and interactions with customers. It typically uses data analysis to study significant information.
Shawn: That's great, my friend, but can you tell me about their prices and what all they comprise?
Oliver: Yeah! I will provide you with a list of CRMs containing various features and prices.
Shawn: Yes, please, I am ready to go through this rollercoaster.
Oliver: Well, Shawn, trying to determine the actual CRM cost is a daunting task. Every vendor would list their prices in a perfect world with a per-user breakdown. It isn't an ideal world, and not all vendors are entirely forthcoming about their costs.
Here, I will tell you the parameters that will decide the software costs.
What Are the Factors Which Decide The Costs Of CRM Software?
According to the company's size, the cost of CRM software varies. However, other parameters can also affect the cost of CRM software. If a company renews its license, then extra charges are added. There is few CRM software that require a minimum of three-year contract licensing. Based on the organization's need, CRM software can cost up to $6000 – $ 16000.
Aside from all the initial costs, we will discuss the prices divided into two sub-categories. It includes:
Renewal fees
These fees are similar to the initial costs. It means that they can occur once per year.
Additional users/ licenses
You have to initially negotiate the costs during purchasing. Additional charges applied according to the number of users.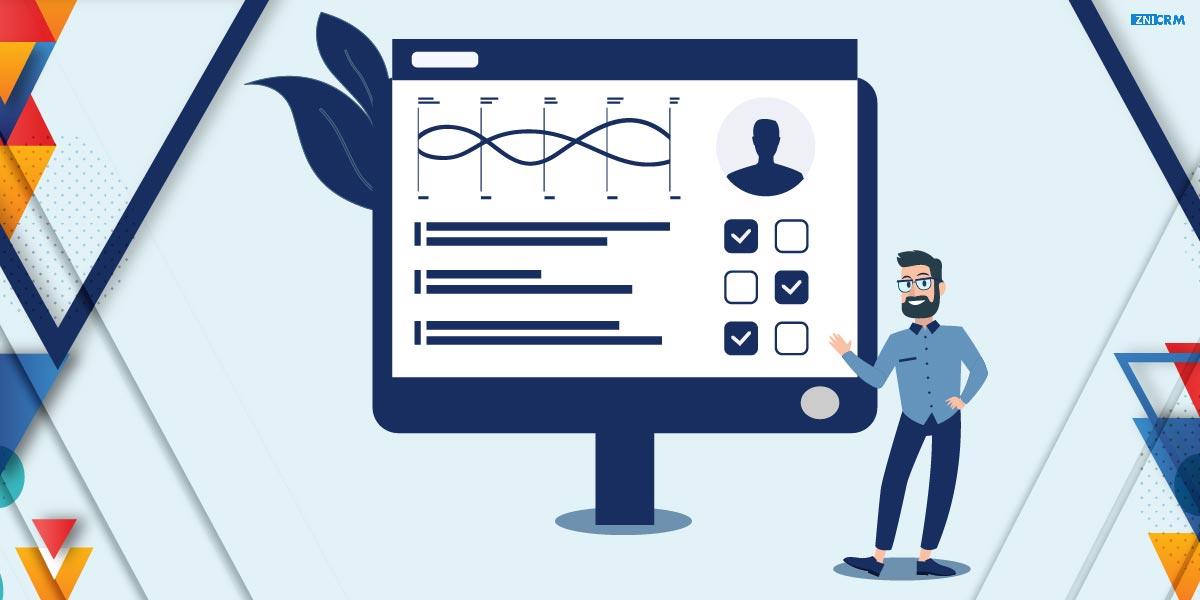 Shawn: Oh! Now I am excited to know more about it.
Oliver: Yes, my friend, as we are on this topic, you should know that CRM software works accordingly online\offline. It also provides licenses to other companies on a "per user per month" basis, along with implementation costs. These costs vary and depend on the market segments, typically depending on the number of users and company sizes.
Furthermore, let's discuss other parameters that decide the costs of CRM software.
Shawn: Sounds worthy. Please elaborate on this, Oliver.
Oliver: Yes, here it goes.
It depends on the company size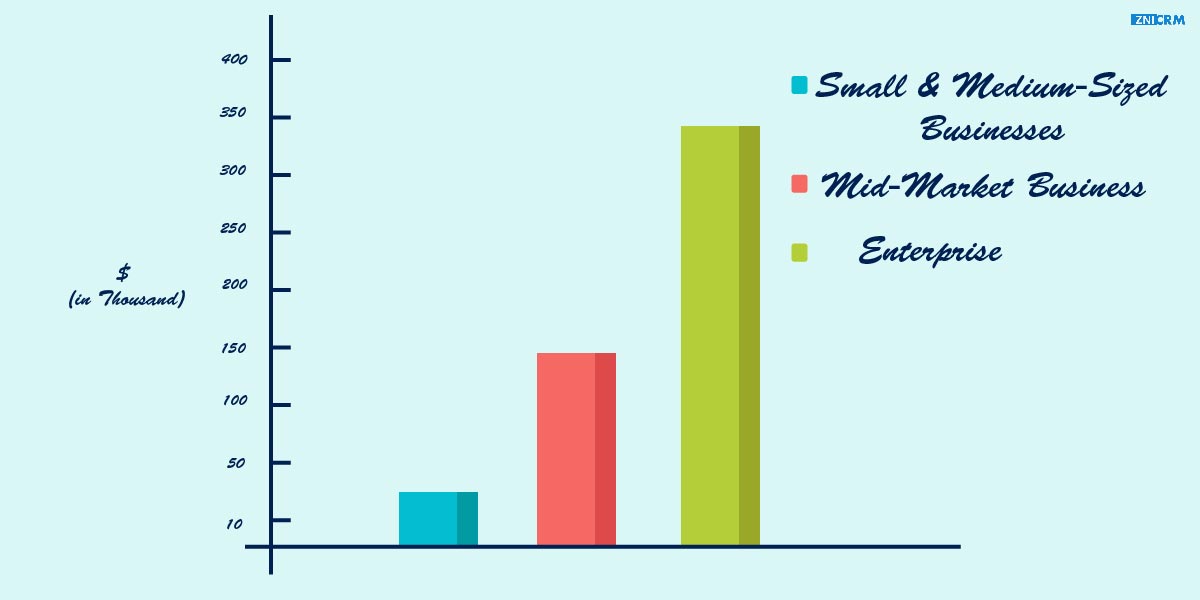 You can decide your implementation costs based on the company's size, whether online or offline. It is simple mathematics, right? If you have many employees, you require more user licenses, and if you have fewer employees, then fewer user licenses. The costs of the CRM software are directly proportional to the number of employees.
You can decide your implementation cost based on the company's size, whether online or offline. Below we will discuss the price range of every criterion and sub-category. After ranging them into several categories, we can list several questions addressed further in this article.
Shawn: Why is the price range so wide? How much do we have to pay per user? How much is the discount of the multi-user agreements?
Oliver: Oh! Shawn, you are too curious. Just wait, all these questions are necessary, and the answers to these questions vary from company to company. As the size of the company differs. So, here I am explaining it to you.
Small and medium-sized businesses
The investment is relatively small for an average CRM implementation cost. It is $10,000 to $18,000.
Mid-market business
21-100 users
CRM implementation costs are $25,000 to $1,50,000
Enterprise
100+ users
CRM implementation costs range from $150,000 to $3,50,00
Aside from these initiatives and implementation costs, various other CRM essential services can provide additional charges.
Necessary basic services
Company typically makes mistakes in choosing CRM. Therefore, they have CRM software but not according to their needs. CRM implementation is useless and worthless if you do not check your basic requirements. It generally means that you must have the necessities to implement your CRM software. Consultants or other demos are available to clarify which CRM software with some basic service will fit your business.
After acknowledging your requirements, you can set up your CRM software and configure with those essential services. Without these services, your software is not fit for anyone, and your team will also not understand how to use this CRM software for your business.
Shawn: Okay, Oliver, I am interested in applying it, so guide me more.
Oliver: Yes, here is the list of essential services that you should know before installing CRM software
Requirements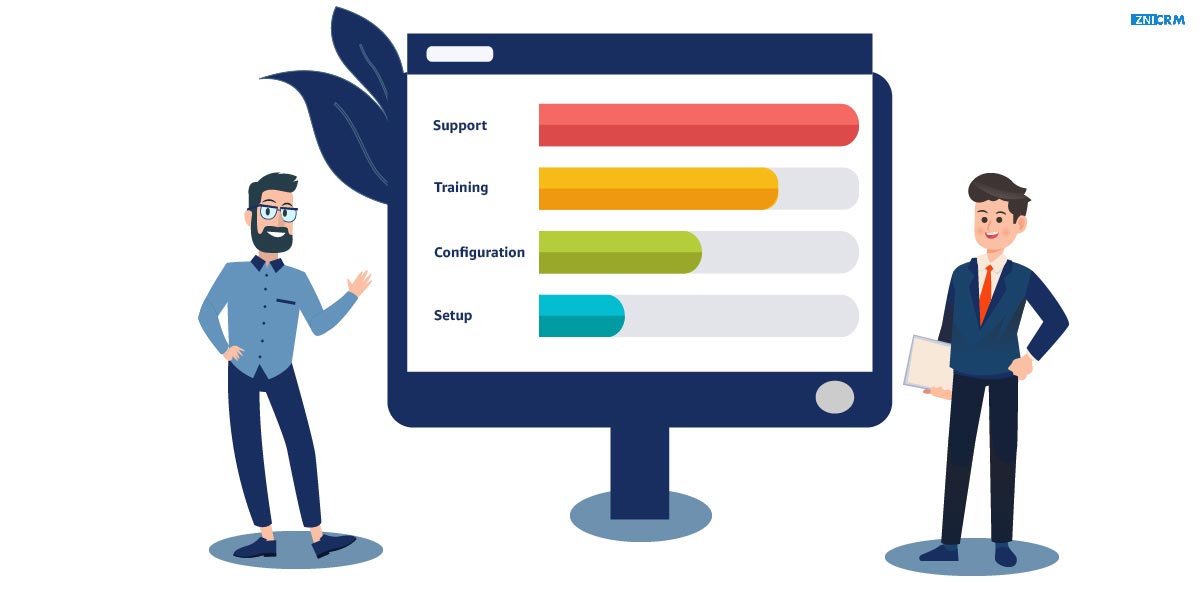 It is essential to use CRM software according to your requirements. If your company's condition is in developing phase, you do not need CRM software that plans and requires a more advanced phase. However, many businesses use CRM software to function more advanced than essential functions. In all these cases, it's necessary to implement CRM with a requirement and planning phase. You should establish a clear vision of your CRM and how your team will work on it or use it. After acknowledging your needs, you will understand any conflicts and resolve all of them.
For instance, you realize that you require customization and integrations as essential features in your CRM software planning phase. You will quickly consult the related company and receive all these features.
The cost of all the requirements is purely on the following factors
Number of departments
Number of workshops design
Number of integrations
The number of data migrations.
These requirements cost estimates as 10k to 75k based on the above factors.
Setup
The CRM software configurations are generally basic. So, the cost of CRM software can be $5000. However, this range can also increase to $20,000 based on complexity and the security you require.
Configuration
You can have additional costs for all the different modules of the configuration. The price ranges from $6000 to $10,000.
Training
Training is crucial, and the training costs differ according to the number of users who will get training. Training typically costs around $1,500 per user. The minimum price is $10,000 plus $150 per user for customized training.
Support
You also require customer service support with all the training, configuration, and other setups. It means that it supports email or portals. However, if you are working with consultants, all you need is a support system that is more user-friendly and personalized. Although supports are free, CRM providers cost with some implementation charges. For support/continuous improvement costs 10%-20% more of your implementation costs.
Oliver: After implementing and planning CRM software, there are additional charges for whatever services add to your purchase. Here is the list which you can require according to your needs.
Shawn: ok, discuss it further.
Optional CRM costs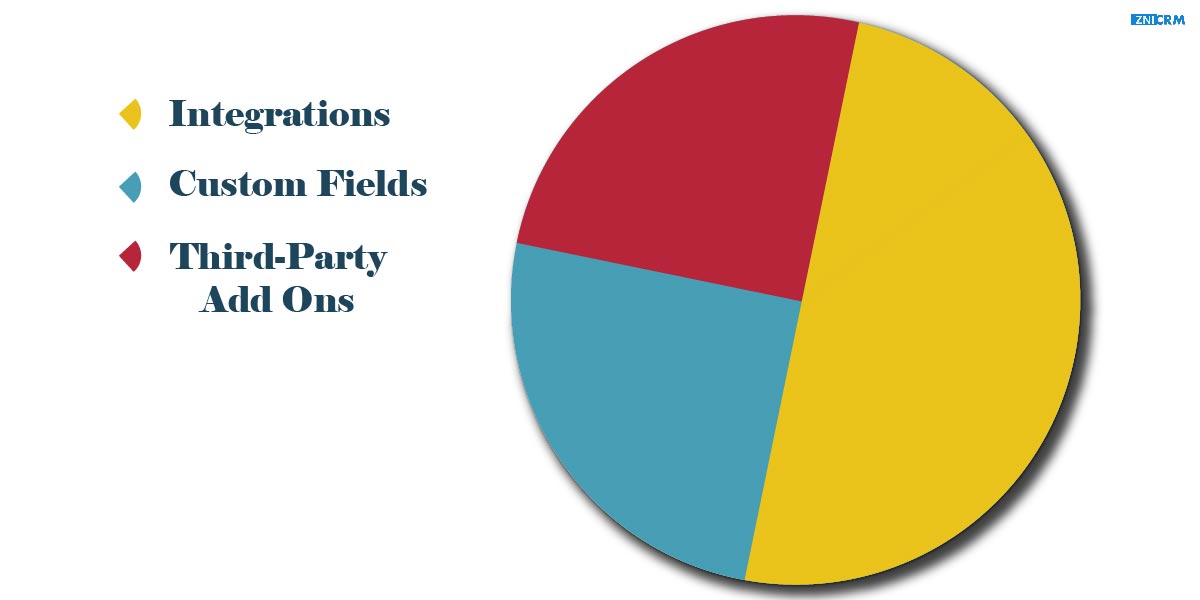 Many CRM users require integrations of third-party apps like Facebook, WhatsApp, or any other social media platform. The requirement of add-on services is entirely dependent on the type of business. Using all the information that is available between the system teams can have an understanding of customers and can have essential of all the customers.
CRM integration costs about $5000 to $20,000 per integrations. It is also dependent on two factors legacy system and web service. For legacy system integrations, your budget is higher, whereas, in web services, the budget is lower.
Custom fields and functions require a simple CRM solution. It is a service that adapts how your company works and is an essential part of its operations. For instance, your team requires personalized templates or customs to communicate with the customers. Then, we recommend $500 per custom and $50 per field.
Third-party add Ons or third-party applications to fill the gap instead of customization. Third-party add Ons are practical applications like accounting, financing, or any tally platforms. Pricing is quite confusing but we can predict $10 per user per month. The prices can increase as per the complications.
Shawn: That's all fine, my friend, but there is many CRM software out in the market. How will I differentiate among them?
Oliver: Don't worry about it; here is the list of 50 leading CRM software with their pricing.
OpenCRM software
OpenCRM software helps the users to maintain good relationships with customers. It is software that is fully featured and customized. Cloud CRM solutions will help boost revenues and grow business without paying enormous costs. It is an affordable tool that can manage your sales, customer support, contacts, finances, events, etc.
You can even look around or access all the features on the website. No hidden fees are on the website. You can access all these features or use this tool whenever you want and wherever you want. It is a fully CRM software for startups and entrepreneurs. It offers end-to-end solutions specially designed for Windows.
It offers Calendar Management, Territory Integrations, Reminders, Lead Scoring, Integral Chat Segmentation all in one place.
It is a UK provider hoisted in the EU with exceptional customer services, and pricing is pretty cool.
Pricing
OpenCRM software costs £33 per month/user. With one user per month, you will receive everything. You will receive functionality, features, user permissions, file storage, EU database, and other components at this cost. The price of CRM software is not that high, and you will receive features that can help grow your business.
Features of OpenCRM software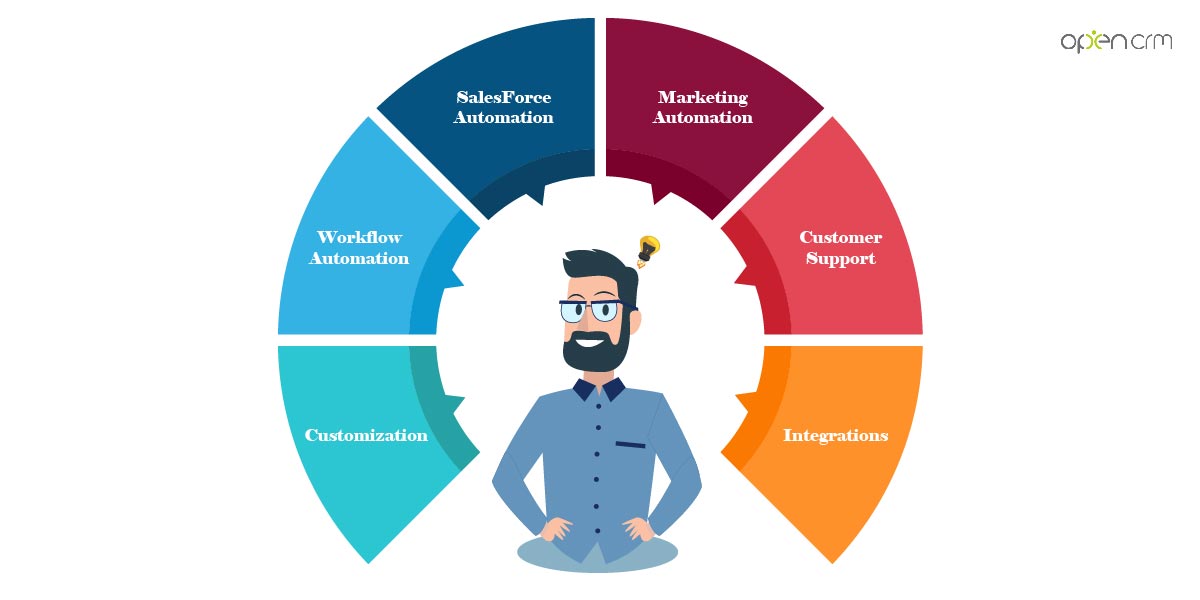 The OpenCRM software allows to customize or administer their unique processes. It includes creating custom objects, fields, rules, calculations, etc.
It is a software tool that helps automate a series of steps that typically require lots of intervention. An administrator can write rules for who and when to complete all the steps. It can also notify when they need to take action.
OpenCRM software can boost sales using all the tools in the sales force automation. It includes contact and account management, task management, quote management, customer contact management, and various other fields. It is a software tool that can also generate lead and organize it specifically,
OpenCRM software can help automate marketing tasks and organize all the marketing leads from different channels. It is a tool that can help manage and handle all the email marketing, lead management, and personalized campaigns. Subsequently, you can also have insights into each customer and the effectiveness of all the marketing tactics.
Customer is the core of every business, whether small or big. We require excellent customer support that can resolve issues of the customer.
In OpenCRM software, you can also add on third-party integrations. The applications include social media platforms, accounts, tally, or other applications suitable for businesses.
PipelineDeals
PipelineDeals CRM software looks like a spreadsheet solution. Its primary purpose is to improve the efficiency of the sales team. It is a tool aiming for small and medium-sized business.
Sales pipeline management, this software integrates deal tracking and other features. It is a tool with a limited number of third-party software like Microsoft office. PipelineDeals have premium software deals that offer various other features. It is a software tool with a dedicated account manager, advanced security, and sales acceleration component.
It is a software tool mainly created for the sales department. PipelineDeals is a tool that is exportable to Microsoft Excel. It is also available on Android and iOS. It also helps to track deals faster. The sales team can manage critical yields, milestones, and deadlines.
Pricing
Starting PipelineDeals CRM software pricing is $29/user/month. It can manage its leads effectively.
PipelineDeals cost of CRM software for development is $39/user/month. This CRM software accelerates to development or management of relationships with the customer.
PipelineDeals pricing is $59/user/month if you want to grow your business. It is a CRM process that automates advanced analytics.
All these costs have no extra charges. It includes free US-based call support along with various reports and dashboards.
Features of PipelineDeals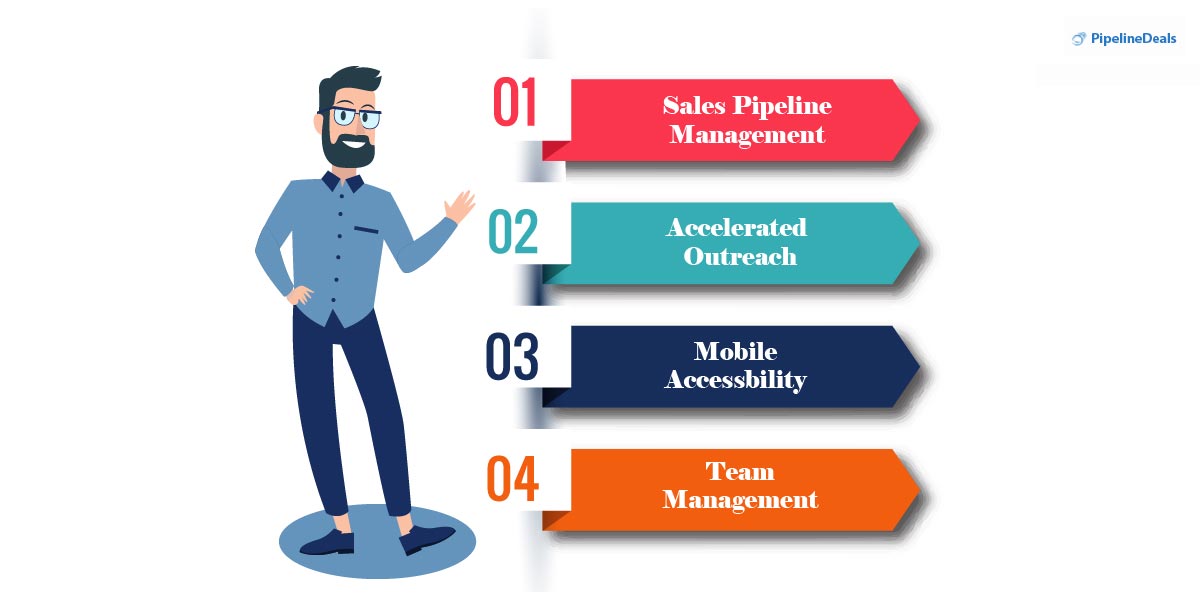 Sales pipeline management-
It is a CRM software that helps the sales team to manage all the leads. The CRM software tool is available to help the sales team to drive sales and productivity.
Using PipelineDeals software, you can manage all the prospects or time accordingly. With sales automation and integrated email campaigns, you can easily find all the prospects.
PipelineDeals software offers iOS and Android applications. It is software that has complete mobile browser optimization.
Using the PipelineDeals software, you can easily and quickly manage all the team members effectively. It will help to move your team in the right direction.
Shawn: Okay, that's great. I have also searched for some CRM tools and looked at them.
Oliver: Sure, continue.
Oracle Siebel
The term Oracle itself means 'prophecy': a kind of forecasting about the future. So, as its name, it prepared itself for the future and established itself as unrivaled customized and integrated capabilities. The open architecture for a personalized user experience deploys either on-premises or the cloud. It's a key feature of Oracle's customer experience (CX) and industry solution strategy.
While traveling over time, we learned that Siebel CRM is a tool company. It principally engages in the designs, developments, marketing, and support of customer relationship management applications- notably Siebel CRM. It is headquartered in San Mateo, California, United States.
The company founded by Thomas Siebel and Patricia House in 1993. The company extended it into the broader CRM market. By the late 1990s, the dominant CRM vendor was Siebel Systems, peaking at 45% market share in 2002. Later on, in 2005, Oracle Corporation announced to buy Siebel Systems for $5.8 billion.
Therefore, "Siebel" is now a brand name owned by Oracle Corporation. Siebel Systems is Oracle's- premises CRM system, and Oracle's cloud applications for CRM are Oracle Advertising and customer experience.
Facts and features
Oracle Siebel CRM is the most renowned, complete customer relationship management solution. Siebel's interface is available in many varieties of modulations, tailored to the specific needs of specified industries. It covers the management of the following processes, sales, services, contact centers, marketing hubs, customer loyalty management, as well as partner management in the following market :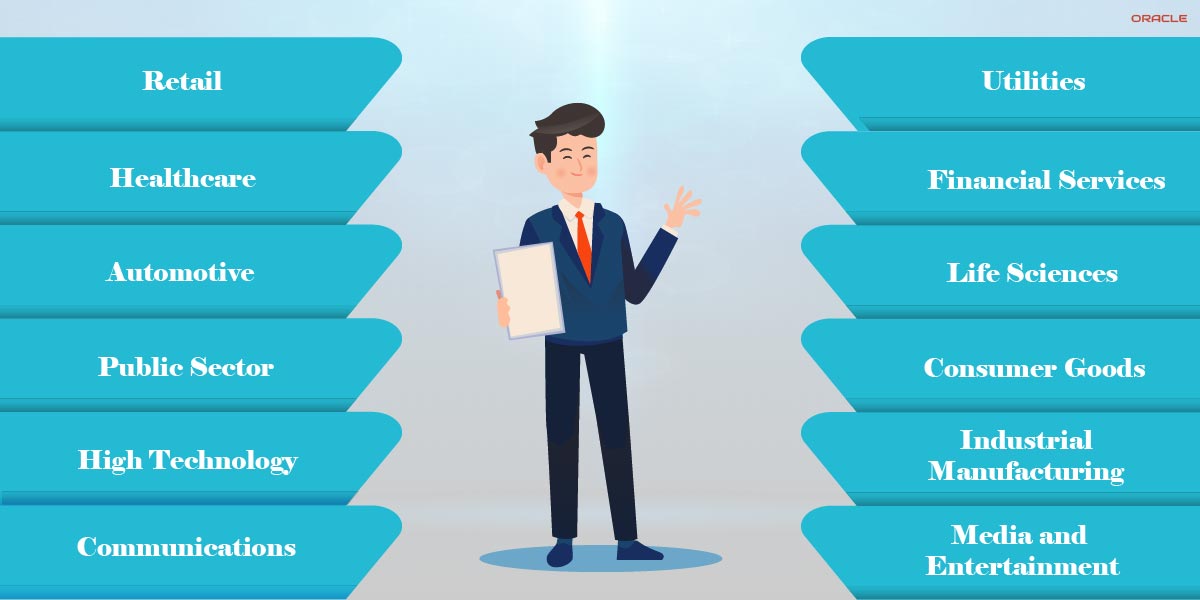 Utilities
Retail
Healthcare
Automotive
Public sector
High technology
Communications
Financial services
Life sciences
Travel and transportation
Media and entertainment
Industrial Manufacturing
Consumer goods
Our Oracle Siebel enables many functional solutions with several other functions. While many system modules to the requirements of a specific industry are modified. At first glance, it creates the impression of the incredible complexity of the system. Still, in practice, it is invaluable for the accurate propagation of the customer's specific business model in the CRM system. It is also convenient to access ready-made successful business models and best practices worldwide. The management of such a business categorizes into modules.
The Modules are as follows:
Sales
Mobile
Quote and order capture
Sales
Analytics
Integration with Microsoft share point
Partner and channel management
Offers and Orders
Dynamic catalog
Product and catalog management
Dynamic pricing
Product and pricing analytics
Quote order lifecycle management
Pricing Management
It starts at $3,750 per license, targeting typical customers, whether small, medium, or large size businesses. Most CRM software in the market is priced on a per-user, per-month basis, although companies can expect to pay between the range of $10 to $200 per user monthly. There are various CRM products with annual prices and others with perpetual licenses.
Versatile pricing
Deal management
Elevated pricing
Customer Service
Siebel Help desk
Siebel field server
Siebel contact center
Siebel mobile solutions
Oracle CRM call center
Marketing and Loyalty Systems
Campaign\ dialogue management
Loyalty management
Email marketing
Web marketing
Marketing analytics
Self-Service And e-Invoicing
E-support
E-commerce
I-store
Self-service E-billing
Partners Management
Partner portal
Partner manager
Partner analytics
Corporate Intelligence
Our Oracle business intelligence applications support more than ten functional areas through fully integrated best practices for analysis. Its key indicators are metrics, and workflows for analysis.
The intelligence provides access to essential information, usually to everyone. The required legalities thereby ensure a solid basis for making faster and better business decisions. However, they are mostly related to optimizing resources, reducing costs, improving operationists. In a wide range of processes- from sales through human resource management to purchasing.
Although an allrounder system, Oracle Siebel tries to fulfill the multiple tasks of its demands. It sharply focuses upon development, deployment, integration, productivity, and mobile services.
Pega Customer Engagement Suite
It is an interface that enables everything without complexities, confusions, and manipulations. Pega delivers innovative software that crushes business complexity. The motive of maximizing customer lifetime value is to streamline services to boost efficiency. It manages in leading brands, solve problems promptly and transforms for the near future.
Pega clients make better decision and get work done with real-time artificial intelligence and intelligent automation. From 1983, it has built a reliable architecture and low-code platform to stay ahead of rapid change. The solutions provided save time for clients, employees, and customers, who can get back to what all matters most.
Pega Marketing leads the world towards the next step in evolving the customer engagement platform. Its integration is enlightened to analyze customer analytics and business rules in real-time.
It constantly evaluates the context of each customer interaction and insists on the most relevant offer, content, channel, and action to take. When you are in relation with Pega, your connection becomes deeper with customers. It keeps on moving beyond segments and campaigns to focus on customer experience management across different channels.
Nature
Pega , delivers on the promise of personalized customer engagement. With the analysis of streaming data, tracking patterns, and triggering actions for the right channel in real-time. You can perform the optimum best action based on a clear understanding of your business goals and what the customer wants.
Features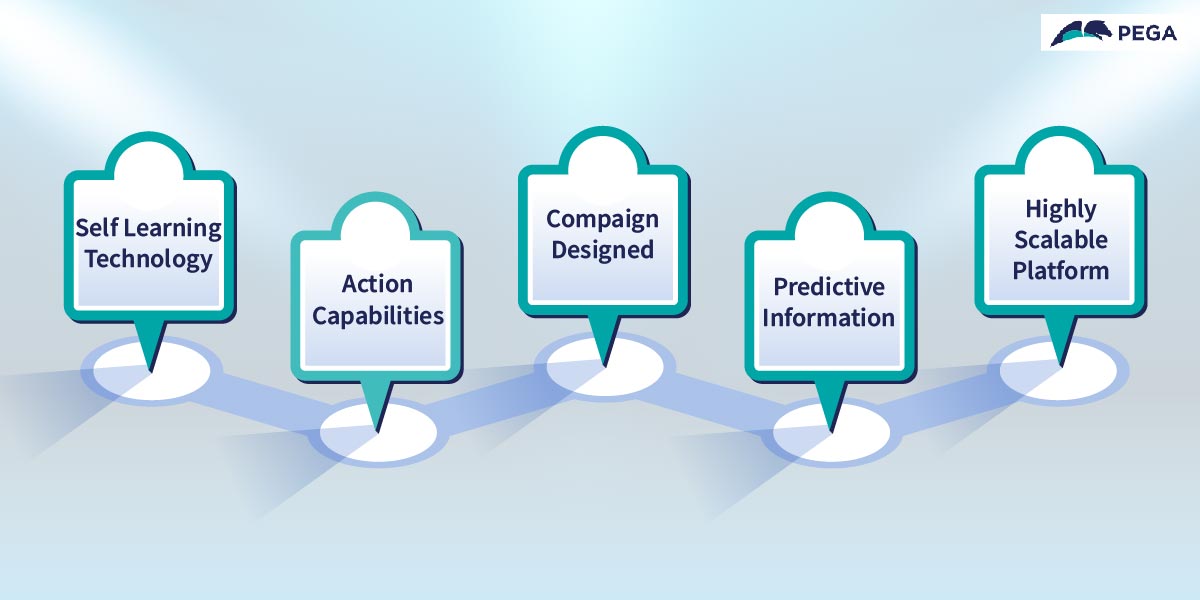 Self-learning technology enables you to inbuilt relations with customers., along with the minimal real-time need for data experts.
Action capabilities that can foresee customer needs in exact timings.
Campaign-designed tools let you quickly design, build and execute strategy across coordinated campaigns.
Predictive information lets you know proper customer behavior.
The Ultra-fast and highly scalable platform enables you to maximize your technology. The investments ensure fastest time-to-value by easy integration of the legacy of marketing.
The Pega Customer engagement platform inbuilt several features and made it the most readily applicable for its client using it. It comes up with improvement of customer conversations, which elaborates its usage with contextual messaging, branding, and nurturing. It conducts the function in which it automatically drives offers, through the fulfillment of demands. Its most important feature is to improve customer lifetime value, as it turns every interaction into an opportunity to build trust and value. The inbuilt feature manages to upsell and cross-sell strategies and makes the right offer on the right channel at the right time. It also improves customer retention, with stats that enables retention management.
Pricing
The pricing plan varies as the minimum price goes on, from $25 per month to $115 per month. At the same time, the pricing may differ from listed pricing.
Oliver: I am glad, Shawn, that you are participating. It will be great listening to each other.
Shawn: Hurray! We will enjoy our companionship.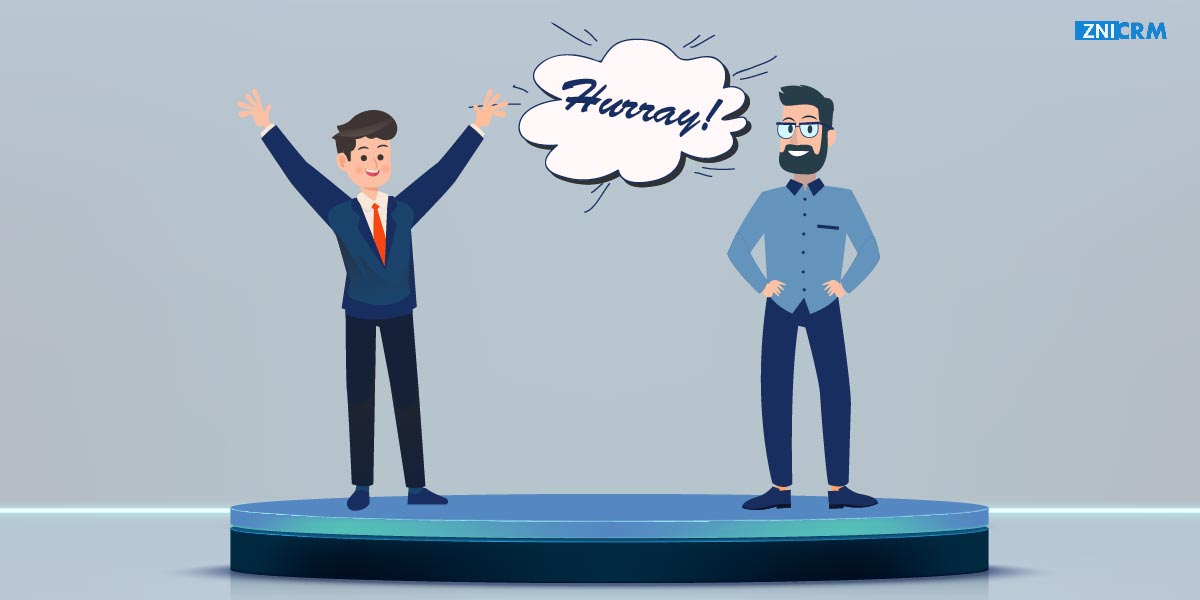 Go to part-2 https://znicrm.com/resources/153/50-best-crm-in-2022-how-to-decide-best-one-for-your-business-part-2