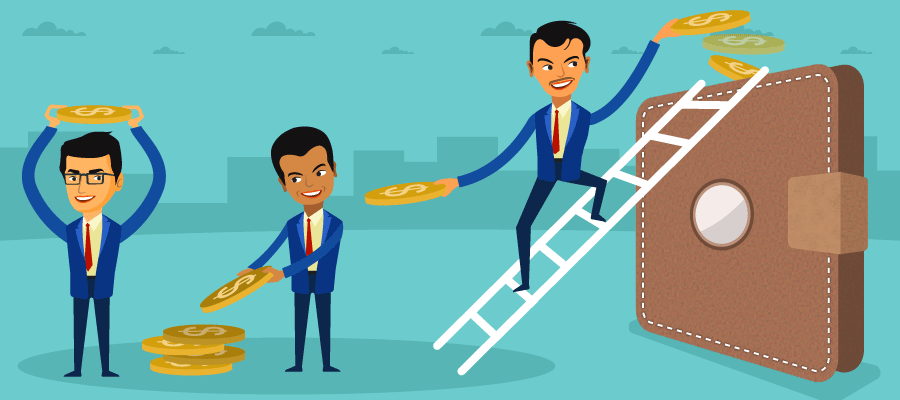 The financial management is the backbone of any business process. Or else, you may never make sure where your business is heading towards? To be bluntly honest, profit is what a business is meant for. So unless, you know what is the minimum expenditure that gets you to the sale, you will end up doing. So don't you think that you are actually donating that 'extra expenditure' from your profit. Let me reveal how you can be saving millions by a better route planning of your field force?
After manufacturing and packaging of a product or service, the second major process is sales. While how cost efficient you are in manufacturing the product doesn't offer much flexibility, but somehow, the efficiency of the sales process can vary by greater extents. This is basically about how cost effective you could possibly be in closing a sale. Many business never think about it as such and end up leaking much more in the sales process that they could have been saved.
For a Business, Saving Means 'More' Profit!
We all know the importance of saving the money by avoiding unnecessary expenditures as backup in cases when unexpected crisis or in a sudden emergency. Such savings are real saviors that serve you in difficult times.
But, in case of business, you will need to invest on preparing a product and then sell it at a customer friendly price, and then, you may reap profit. And if you end up investing too much amount before the sales, you just end up paying for those 'unnecessary expenditure' (which by the way was not the part of your pricing strategy) by cutting that much from your own profit.
And if you could save even a bit from what you have been, that would save extra amount for your profit that you would be making on each sales. So even if you reduce the average expenditure per customer by the slightest margin, it gives you more profit on every sale that you have been making.
Why Should You Leverage Field Route Planning?
Many businesses need field outreach, it may be for sales or to provide services. The basic aim is to reach the field for the specific purpose. Thereupon, things often tend to go out of hand. Business often end up spending much more capital than what they should be supposedly doing on their field tasks. To get employees all over the field is easy but to manage their productivity is arguably the most dreadful task that most business have to face.
After sorting the various prospective targets of the region, the field team is assigned to reach most possible number of prospects for sale/service. But that involves more investment and without much control. By proper planning of routes that each field staff is assigned, you can target every prospect within the least possible expenditure.
These are few important Savings that a proper route planning can yield for the Betterment of your business-
Save Conveyance Charges – When you plan a route, a smarter choice of map can do wonders. There are certain circumstances that increase the conveyance which is to be given to an employee while working on the field. If you use geographical boundaries of each field staff and plan his route in such a way that selectively follows a certain way to reach the location without getting into traffic jams or any other possible interference, it will sharply restrict the conveyance to not leap beyond a certain limit.
Save Traveled Distance – By shortening the travel distance, you can save much of the fuel expenditures that is otherwise unmanaged and poorly regulated it at all. Many cases of hiking have been witnessed in the figures of distance covered presented and actually traveled. Keeping an employee within a specific boundary decreases the distance to a great extent.
Save Time – The best part of route planning is that you can make sure that an employee is not unable to waste his time on traveling from one place to another at much distance. When you make sure that the time is not being wasted in traveling, the meetings can be scheduled more fluently and much more numbers could be reached within less time.
Save Effort Per Prospect – The best part about it is that you can save your employees from the stress which is always there in the field task. Many circumstantial fluctuations add to the efforts that an employee has to put at finishing a task. The weather is nonetheless a big concern that you can never control. These added efforts are often the reason why many field employees end up lowly on the scales of productivity.
How to Implement a Route Plans of Your 'Field Force'?
Sales process must be cost efficient and equally effective because it adds to the cost which you bear for the product/service . And I hope you have not forgotten that you have to keep your margin intact. Even if you spend more, yet you cannot set the price more than what the market  competition allows.
So, it is much better if you use your resources productively or else your business ought to suffer. Either it is poor profitability or pricing it higher than your competitors. So are you able to manage your field staff properly? Did you save every unnecessary expenditure that is not needed in sales?
Field Planning is one solution that can help. You need to allocate a route after a well thought and researched strategy. You must make sure that your employees work productively. You need to save anything that you can and do everything that is needed to close sales.
But here arrives the big problem. You may plan to the best of your abilities, but you can hardly make sure that the same is followed. Once your staff leaves for the field, they get completely out of your radar and the same is true about the expenditures. This dearly hurts a business.
You can do this very easily by using field automation services which use real time monitoring and accessibility to keep the management in your complete control and implement your strategy as it has been planned.
But do your sales team follow a very tactically planned route maps which saves you from unnecessary expenditure. Are you really able to restrict your sales expenditure to minimum?
Have you ever wondered how could the same sales process of yours, be carried out within a lesser expenditure. Try Teamspoor app and help your business save millions by reducing the field expenditures. It simply tracks all your employees in the real time and keeps you informed about their work progress as it happens. It is just amazingly perfect for Field Force Management! Try it to get the feel of being blessed with a real time management system…