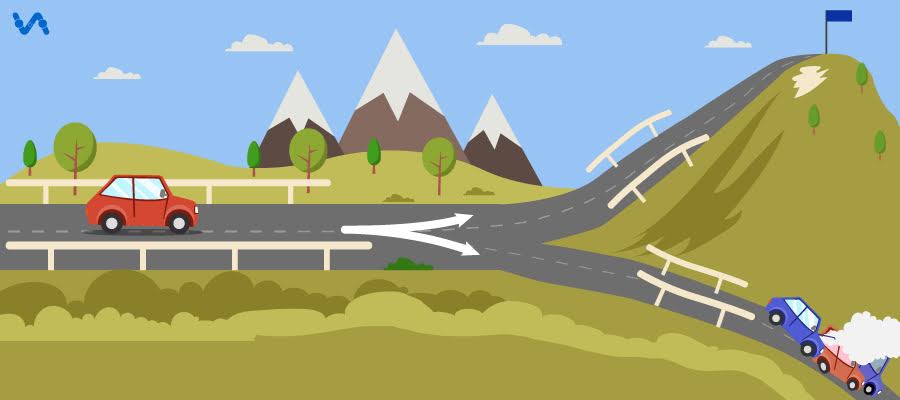 Of late, Internet has changed the fortune of many small businesses and startups for better. Using your website as a continuous sales conversions and grow your business. How easy does it sound? But to the horror of most, only a handful actually benefit from and others are lost in the crowd of millions of website on hundreds of domains without a trace.
Website conversion rate is the most proficient asset for any small business or startup to reap profits without having to do that million dollar advertising campaigns which bigger brands luxuriously afford. There are many people who suggest converting your website traffic into sales. But most of them don't figure out the right way to do it. And however much you try, you won't actually know the tricks to get the meaningful way of doing it.
They will tell you to follow things which don't clarify the process but the generic rhetoric of good content. Nobody can ever tell you about how to do it. And with blunt honesty, the results are no different. Almost 90% startup websites consistently fail to convert their traffic into sales and instead end up collapsing within 12 months after an obvious financial burden due to poor sales.
What Did You Do To Increase Website Conversions?
Every action that we do, has a consequence which entirely depends upon the nature of our actions. If you grow a banana plant in your garden, then no matter how much you hope, you will not get pineapples from that plant. And by expecting pineapples, you are fooling no one but yourself.
One can't build muscles without proper exercise necessary for achieving the aim. So, physical exercises are the action and you may choose from many possible ways of performing your action. It can be done by hitting a gym or through weight training or Yoga or any other exercise. Exercise should be the primary aim. You can choose the way to your suitability.
One of my cousins was stuck with a wish of building a toned muscular body after looking at the massive transformation of his friend. But, he was too impatient, to begin with, and started to find shortcuts of doing it. He got into the trap of a food supplement provider who promised that his product would boost his muscle growth by two times.
My cousin soon left exercising and left his hopes on the supplement to do it for him. The result was unsurprisingly negative. There are supplements which can effectively boost the process but there is no way one can achieve physical fitness by just eating those supplements alone. It might work as just an additional help and can never replace the role of primary action i.e. physical training.
When people use Lead Conversion tools in hope to boost the conversion rates, they are actually behaving pretty similarly to my cousin. He assumed more priority to supplements instead of exercise and such people adjudge Lead Conversion tools as their primary action for conversions. If an action is not leading to a specific consequence on its own, it is not primary.
Understanding the Conceptual Priorities in Website Conversions
While you want to use your website to attract customers and increase sales. But in the process, you can not ignore the fact that when a person visits a website for the first time, he is there to fetch information about something he wishes to know about. Any sensible person will not purchase the service on his first visit. It is rare that a first-time visitor converts into sales during the first visit itself.
If you only keep conversion in your mind while building a website, you ought to fail. Why? Because here, conversion is a consequence and your user-engagement is the action. If your website is not presenting what the customer wants, he would jump off to some other page that serves him the information which he seeks.
Do you actually believe a person will stay on a page that only cares about sales? Leave anybody else and just answer think about it from your perspective. You want to know about some information about a writer and land on the writer's website. The website to persistently oblige you to purchase his latest book. What will you do?
Be clear in your approach, never mince words or make untoward claims for immediate success. Website Conversion is not a magic but a process. So get ready for a consistent effort with an affirmative approach.
Serve The User Intent For a Better 'Product Value'
Let's set things straight, your website is never going to help if you are blindly promoting yourself. Why? Just don't tell me that you love to watch commercial advertisements before purchasing any product. It doesn't work like that. There are numerous other places to advertise yourself and yield productive results. Your website is not the right platform to advertise your own products.
You should rather emphasize on the purpose which the website is primarily aimed at i.e. satisfy the user intent. It is a platform for you to share information that can assist the user in choosing a right product for his requirements. While you do so, you can actually highlight the values of your product without being promotional if at all.
Most probably, the user will go through your content because you offered that information which user was looking for.
While doing it, you will not only keep your user engaged but also convey the value of your product/service along with the information which the user wanted. So, respect the fact that a website is not the right place to promote your product. Therefore try to build your product value which makes your product a desirable one.
Make User Engagement Your Immediate Priority
So, the user has arrived on your website while searching for some information that is relevant to your offerings. What will you do to keep him engaged? Most people talk about healthy content but people generally don't understand what should be a healthy content that can boost the conversion rates?
A healthy content is more about the value proposition which the user finds relevant. For a matter fact, using friendly language is much better than using tricky or complicated phrases. Almost 78% people don't go to a page if they don't feel attracted by the Headline. So, never compromise for a generic headline that could turn of the user interest.
You can use the google analytics to selectively choose the words that people often use. Using popular phrases increases the chance of a visitor reading your content. Always makes sure to incorporate a surprise element with the help of engagement tools. Using engagement tools can increase the chances of sales by 70%. That is more than enough for you to miss out on leverage offered by engagement tools?
Customize your engagement tools as per the user intent and make sure to time them perfectly so that they can provide the impact which you want to generate from them. Always Remember, your website is not to sell the product but to attract customers. So make sure that users enjoy the experience and don't hesitate to convert.
Try To Control The Bounce Rate By Targeting The Leave Intent
When a person hits your mobile screen he usually makes up his mind whether to explore more about your website within the initial 8 seconds. No matter how good you are, 8 seconds is too less time to implement your engagement strategy or your flawless content to induce an interest. So what should you try?
In such cases, you can try to target the 'Leave Intent' of your user by placing a pop-up tool as soon as the user tries to escape out of the page. There are many ways to attractively influence your user with such pop-up content. The most successful way is to make any offer which is hard to ignore. Use catchy headings to make it appealing and use the graphic to curate the content for a better impact.
And there you go… You will not only convert your visitors into customers but it will also bring more trust to your name. All the efforts which you put to engage the user's website will not show instant results. The results are gradual but consistent in the beginning and start to burst exponentially after a certain threshold barrier. So, it will definitely bear fruits, more often, it will come sooner rather than later.