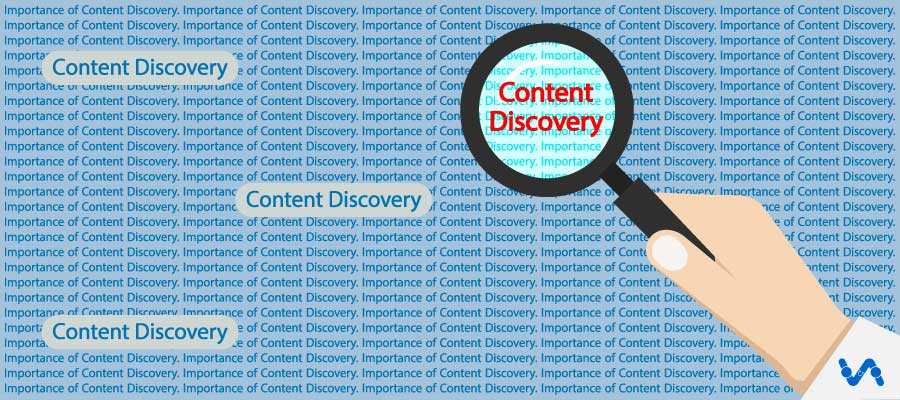 The increasing role of the website in the success of a business has made it an unwarranted demand of successful branding campaign. While a website is as much impressive as the users find it to be. If you have a good product, you need to present it even better if you want to succeed. That's how the market works.
The website has to simply outperform beyond every visitor's expectation and leave the user mesmerized by its charm and affection. But this is more of a theory than practical. Most websites are too busy to project their business in a certain manner. But there's no point of having a website if you are making it to your convenience rather than the visitor. What if the visitor isn't able to see unique factors or more popularly known as 'sales triggers' and gets away from your business without leaving a trace?
Content Discovery makes sure that your content is easy-to-explore and your audience is seamlessly gliding through your website content discovering the content of their choice while getting those 'sales triggers' in between. This makes them stick to a website and get to know more about its product and get impressed by the business on whole. It should be effortless and people should realize the same.
Once I wanted to buy a ball specially designed for dogs and went to a mall in search of it. Even after spending an hour or so, they still couldn't get me what I asked for. Though the staff kept repeating that they had the product but unable to spot the same. In the end, when they gave up. I went to the next store and bought it from there.
I felt really frustrated to have wasted much time on the previous store, which could find the product they are selling. Though a mall must work hard to carefully place all their products in a planned way so that the customers may mind the product of their choice with ease. And if your store is all disorganized then you can't expect your customer to find the product of his choice with ease.
When I returned to the same shop again, the staff was very keen to sell that same product to me again. But unfortunately, they couldn't because I no more needed it?
But being a content strategist the incident made me wonder why should we be so reluctant in showing only the content which matters and that is pretty much similar to the way Content Discovery works. If you use content strategy, you must build it around the prospects that sell. And to highlight those prospects, content discovery tool is just an ideal asset.
Why do you need a Content-Discovery Tool?
You don't want to be that same messed up store which I went to. They 'had' which a customer asked for and yet could not sell it because they couldn't present it to the customer when he asked for it. In the same way, you need to present your product and business at the time when the user chooses and if you can't, then users have a plenty of options available.
Similarly, you need to tell those selling points of your products to your visitors whenever he chooses to visit your website. And within the time user could stay, so that's where user engagement tools come into play a role and ensure that content which is being offered to the customer has been optimized to his choice and it also includes those invaluable points which can trigger the sale.
That is how a business website should work, right! So, that makes Content Discovery a  really important tool to ensure that you present yourself your image in a manner that suits the user and customized to his choice.
Why does the Content Discovery work?
When your visitor lands on your website, adopt user engagement tools to keep him engaged. The user's analytics data will be suitably used to customize the experience to his choice. You need to make sure that there is no diversion in between the entire process to make sure that the user experience is smooth and subtle.
The entire process gets wasted if your 'key-selling' content aren't shown to your visitor. The influence which you want for sales may not materialize. If you curate a really good content and yet you are it isn't able to impress the user then it can be because your content was not discovered by the visitor's eye.
This is actually a weird scenario. Your customer was in front of you and you being well prepared to fetch the customers are still unable to fetch him just because your content showed everything but what user wanted. There is no point of having good website traffic if you can't convert them. The problem is you didn't care to make your content discoverable.
How to make the content easy to discover?
It is about being relevant to the user. If you want to sell a product, you need to have those users who demand a similar product.
There is one particular incident which comes to my mind when I think of it. I had purchased a new motorbike for my brother a few days back. We went to the Vehicle Shop and clearly knew we are there to purchase a two wheeler. Though the salesperson was consistently trying to sell a four-wheeler, and I admit that his presentation kept us amused but never once did I thought of buying it. I must accept he was really good in his pitching and if I had no interest buying a four wheeler at that time. So, all his very well calibrated act couldn't materialize as we the customers didn't find that product relevant?
So, you have to make sure that the content you show must be drawn according to the user's choice rather than wasting time on irrelevant or ill leads.
It is your business and it is your responsibility to make sure that your visitors know about those key aspects which make the product more appealing to the visitors. Here it is also important to understand that you show the user what he wants and don't waste time forcing your other product on him. Or else, he will simply jump off to some other option which cares for the user more than anything else, he has many other options on the internet. This is has been very elaborately and interestingly explained in my article 'Build your website around visitor psychology, it works'.
The best way of extracting your customers out of the crowd is by showing them the content that they want to see. In this way, you can make more people see your content and convey them your product effortlessly. Now, at least you will be assured that your users will know why they should choose you?
Do you make sure that a visitor who has been on your website knows about the key reasons that make you more preferable than your competitors?
Trust me this factor has a very major role in the decision-making process. A person is more likely to prefer a brand which has successfully conveyed its pros to the visitors. This makes a long lasting and more importantly a decisive impression on the mind of the user. User Engagement makes the job, even more, easier. (Learn more about User Engagement)