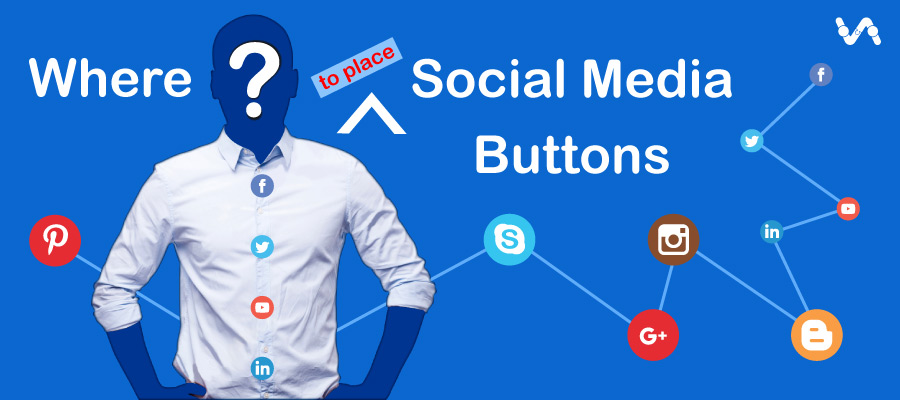 This is a common question to all, but the answer is very complicated and sometimes very confusing than it might seem at first. Places vary person to person, whether it is developer or owner. Some say button should be at the top, some say it should be at the bottom or middle.
What if I say these buttons will show on the every landing page. Interesting..??
Yeah, you read it right. Now social media buttons can be available at your every page on the website.
Now the question is – if it is on every page so where to place that looks suitable and do not annoy the visitor?
The study says visitor's eyes move to the right corner a little more than other parts of the web page. So,
Utilize that space to show your social presence and contact details (email id or phone number), do not place that valuable buttons on the footer. But,
In some cases, you do so if you do not have to scroll down the page to see the one.
And if you are opting the right corner then how do you provide the every right corner for these buttons?
The solution is 'Intueri Incorporation'. Yeah, Intueri Inc. is the company that provides us a product called "Scrap.me". This product gives us many facilities. Social media button facility is one of them.
Let's see what scrap.me do's and don'ts:
Do's
You can fix it yourself, do not need any developer.
You can do all the amendments, as per your requirement. (which button you want like facebook, twitter etc.)
Don'ts
Do not hide your content, adjust accordingly.
Do not destroy your website design.
Do not annoy the visitor.
Benefits of social media button
Social media buttons indicate to the visitor that you care about the social presence of the website. In addition, these buttons help your customer to go to your social media profiles and ask questions related to their queries and appreciate you to solve them prettier and in a very short span of time.
Do you know the fact of the B2B companies about social media? No?
B2B companies, social media content is the most popular content. 🙂
And never forget to link your website to the social media as you link the social media profile to your website because this will help the visitors and search engines to identify what you have different from others on the internet. So that, whenever someone searches your brand name, google love to give you the priority. This will help you to maintain your online reputation and move your negative reviews (if any). Also, place Google+ button with your social media buttons, that will help in google rankings.
Share your thoughts with us below to tell how do you decide where to place your social sharing buttons?