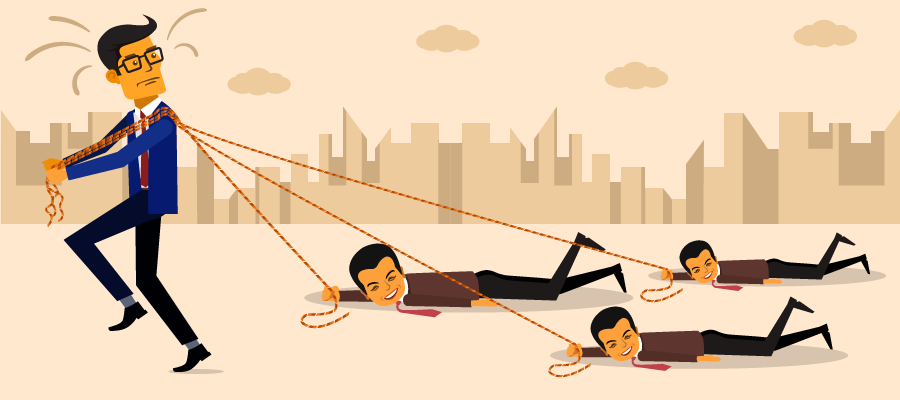 A few months ago, Murphy(acronym) bagged an opportunity to work as the Sales Head for a renowned Retail brand. Happy as hell, everything in his life seemed falling into place. But he had just started the good run and a breaker intervened to halt him, then and there. His team gave a horrible sales in his very first month. He tried all means, by hook or crook but there was nothing he could do to improve the employee productivity.
The problem of stagnant field sales is deplorable for any business. There are rare things that help the cause while a bundle of issues is always ready to lend more problems. This isn't about one or two steps of the management. It intervenes throughout the management process and is an inseparable part of it.
But then you will ask about those sales managers who deliver astounding results and do it really consistently too. This inevitably makes you believe that there are certain practices which are helping those managers increase the productivity of their employees and extract prolific results time and time again.
But first of all, you need to understand the basic problems in field management. These problems are hindrances in managing employee productivity. The field work has a lot of factors which are nevertheless drawback of a Manager. This makes it really hard for the managers to screen all the problems at once and increase employee productivity.
What Does a Great Manager Do To Increase Employee Productivity?
They Introduce Transparency at Work

Mostly, good managers like to maintain an organized working process that is convenient to look after. If your work is complex and involves several layers of operation, the management would certainly become a lot more convoluted task. This reluctantly inhibits the control of a manager over his employees.

Field management is serious flawed because of the lack of transparency at work. It is obvious that a manager can't reach everywhere along with his team individuals. He is supposed to monitor the staff from a remote location while his team is always on the move. This issue is of prime importance for any manager who wants to regulate the productivity of his employees.

The trick to Resolve – When a manager is not with his team, he could still track the activities of his team members with the help of GPS location tracker which is a readily available and can be easily utilized through the smartphones in today's age of technology. Thus, a manager can trace his constantly moving field force conveniently. The manager will know the places where his team members visited during a day. So, no chance of wasting the time at irrelevant areas where one is supposed to be covering.

They Rely on Precise Data Inputs

The second aspect of the field work is the inaccuracy of compiled data. Many field employees are found to present non-verified data and the thing which makes it worst is that there is no way a manager could testify the exaggerated claims.

It is ought to create hamper the work productiveness. The data figures like a number of visits made in a day, the amount of time spent with the clients, the number of active hours of the employee and the total distance which one covered in a day are some of the common examples that can be tweaked without being caught.

Trick to Resolve – The sales activity trackers are employed by many managers to keep a track of employees activities during the whole day along with the locations he has visited. The use of a timer before starting a meeting with client finds out the time which the team member interacted with his each client. A good manager is always keen to ensure that every single minute of the day is being utilized without getting distracted from work and if the case is, he could simply spot the data figures which are not in accordance with the activities of an employee.

Adopts Automated Reporting System

There is a certain problem with the reporting system of field task in general and any manager would always feel helpless after getting the sales report. The problem is the delayed and slow reporting which is often submitted at the end of the day and in some cases, reports are to given after two or three days.

This is irritating for any field manager. It keeps a manager deprived of being reported about the work after it has been over and there is no way to help in changing the results for the better. This lag ensures that a manager is hardly able to manage the performance of his employees while they are actually at work.

Trick to Resolve – The new technology of automation has revitalized many processes and thankfully Sales has got a share in it too. The sales automation system offers a reporting system that is fast and concurrent to the proceedings of the staff. As soon as a meeting gets over, a smart manager can get the sales report immediately. Thus, it provides him an ample opportunity to plan his moves accordingly.

Loves to Have Real-Time Accessibility

For a manager, real time access has always been an unfulfilled dream that is essential for maneuvering his resources for enhanced sales. But even after a major development in the sector of technology, there remains a hollow implication to interact with his team.

The managers are totally dependent upon the fact that whether his employee picks his call or reads his message as there is no surety of it. This is exclusively a choice of the employee if he wishes to pick up the call or takes out his mobile to check inbox messages when a manager wants him to do.

The trick to Resolve – The introduction of automated sales management system makes it compulsory for an employee to actively use the app while he is moving on the field. A smart manager uses the same system to effectively guide and assist his team in case that helps. The cloud-based messaging system is not necessarily dependent on network and thereby providing a standard way to communicate when the manager wishes to do so.

He Thrives on Flexibility

The ongoing process of field sales is hectic and volatile, to say the least. The numerous changes which are enforced by the field conditions play the role of spoilsport in many cases. Such things are neither a part of the plan and nobody could ever plan for them unless one has the godly power to forecast the future prior to occurrence.

There are limits of field work as external factors never wait for the field work to get completed. The unintended halts due to reasons such as climatic disturbances, traffic conditions, sudden emergency or anything that you never thought about. These things keep the staff from being productivity.

Trick to Resolve – A great manager is the one who is always prepared to take on challenges and beat them to a pulp. He uses the transparency, real-time accessibility, data fluency and sales automation to best use in such circumstances. He closely evaluates the conditions and cleverly adapts his plans and mobilizes his resources in the most productive manner. This not only helps him in overcoming those challenges but the great managers are known to make it look like a blessing in disguise.