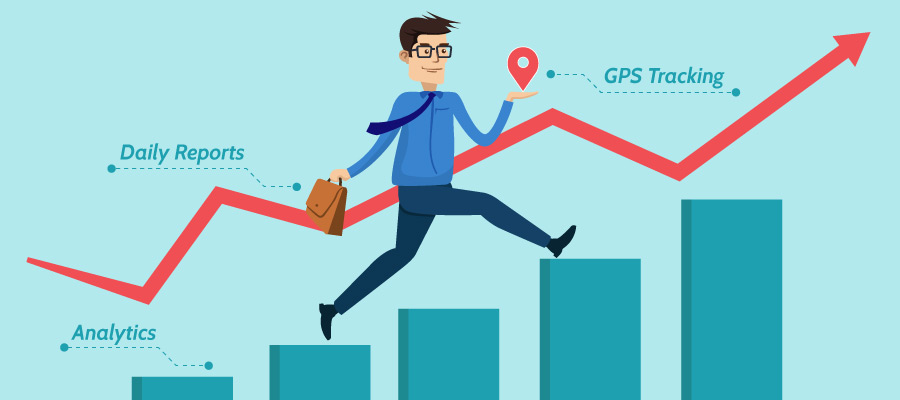 To track your team is not an easy task. No one can do anything worthwhile alone. It is essential to get the right team together and track their daily updates to ensure the maximum productivity. But how can you ensure that your on-field staff is actually productive when they are on ground.
The pervasive use of smart phone of your employees can help you to track their daily updates. How?? With the help of Team Tracking Application available for all android phone users, you can track your team's daily updates and their whereabouts.
"What Gets tracked, Gets Done"!!
Here I mention the top ways and features of the Application which can help you collaborate with your team more effectively:
Instead of just counting the number of minutes people spend on their laptops, count the task they are completing. The application aims to keep the productivity focus on the achievement of goals.
You can measure your team's task with this efficient team tracking Application and can easily get all the updates of your team and know what tasks are being performed by them.
Record 'Real-Time' order updates
Your team is the foundation of your business and its growth. Order updates are done on a regular basis by outside sales representative. You can track your sales executives real-time location and all the updates.
The real-time updates of your employees help in recording your sales executive real-time location and keep real track records.
Gets 'Daily Reports' of your employees
To maintain a daily record of your sales executive is a tricky thing. You have to be very attentive and punctual while tracking your staff. Your this load of work can be released with the team tracking application. You can record your sales executive real-time location with accurate information and can easily check on their every minor details.
Analytics gives you the potential for outside sales rep tracking on a whole. You can track outside sales reps no matter how many you have employed. You can get access to their report that whether they have done the work and reported on time or not.
This helps in ensuring you that your sales executive is doing the work with efficiency or not.
Last but not the least, GPS tracking is one of the best outside sales representative tracking technique which every sales manager will have to establish. Knowing your sales rep's location in real time through the tracking App, it will let you know about their promptness in attending meetings and appointments.
This will allow you to easily track your sales team with all the minor details by providing a street level map to see your object so that you can get detail data.
Thus, It helps in managing deadlines and keep tab on your sales productivity
Well, by now you must be clear with all the features and ways on how to manage and track your team working outside. Now, you can manage your deadlines easily and can keep a tab on your sales productivity by tracking your employee's whereabouts.
Choose this smart way of chasing your staff and keep an eye on them..!