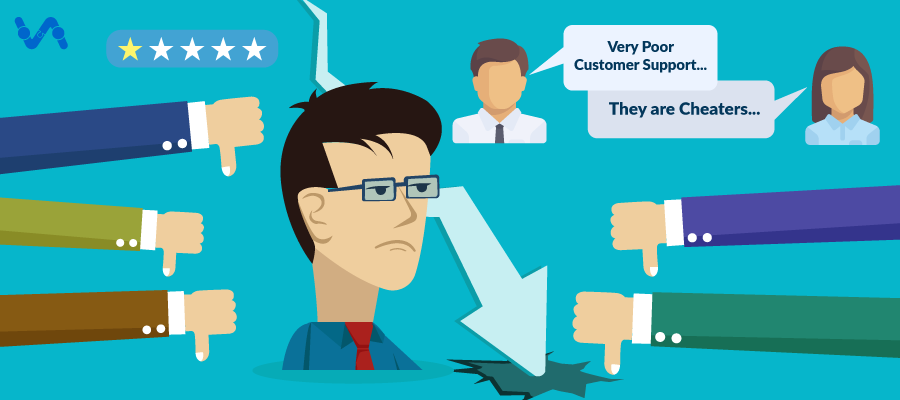 The Institute of Customer Service researched about the social comments and found that complaints made on social media have increased 800% since January 2014.
Dealing with social media is equivalent to a relationship with a spouse.
Do you find it comical…? Yeah….? The first time I also reacted like this only. But let me tell you the fact, there is nothing like hilarious, it is actually serious.
The relationship I explained above – Tell me, can you live without it or with it..? At this time your answer may be different but the truth is you can't live, in both the conditions. You have to deal with the situation whether you like it or not.
The same concept follows when you talk about the social media in respect of small business owners, they have to actively use social media for business marketing, even if they do not want. They have to stay engaged to make sure their business image is not being defamed, which can hurt their business.
Here are the reason, why your business unluckily faces the negative publicity:
Customer's bad experience: and they want to express it in public.
Had already a better option: and want to tell the whole world that your product is worst..!! 🙁
Suggestions: Sometimes customer want an improvement but unfortunately say it in negative fashion publicly.
Now, how will you neutralize it all..? Here I described some steps that not only neutralize it even make a positive situation for your business as well:
Evaluate
Monitor and see what is being said firstly and prepare yourself to properly respond by exploring, establishing, and engaging.
Welcome
Before responding to the negative comments, welcome and acknowledge the customer and his complaint as it is. But do not accept your mistake. The act of acknowledging will calm down the customer, that is what you want.
Inquire
It is important to inquire about everything around the situation before any action because the more information you have, the better chances of the good response and this also convince other customers that you are taking the client's feedback seriously and willing to do whatever it requires to satisfy them.
Confess
The best way to soothe your customer is to say these powerful words – "I am Sorry". You don't have to acknowledge that it was your mistake. Instead of, by empathizing your customer, you will say something like….. 'If it is truly your mistake you do want to accept the responsibility and promise to make it better.'
Action
After You have inquired about the situation and have confessed, it's time to take a suitable action. It could be in the form of refund or a coupon for the next purchase but before doing anything first ask from the customer, what he wants because this is not the time to be prudent and extravagant.
Assert
Sometimes customers are not aware of the business policies and expected something different, that the business is not offering. So, by asserting to the customer you will let everyone know that it was not your mistake.
Waive
After the above steps, most customer will be soothed, even they will be thankful to you for the added care of the situation so swiftly and pleasantly.
However, some customers have the different intentions. It is better to let him go and move on because this is not worth fighting.
So, don't wait to become news, be the news. Begin with full of enthusiasm. Talk about what you and your company are doing. Get out into your society and talk about what you offer, about your goods and services.