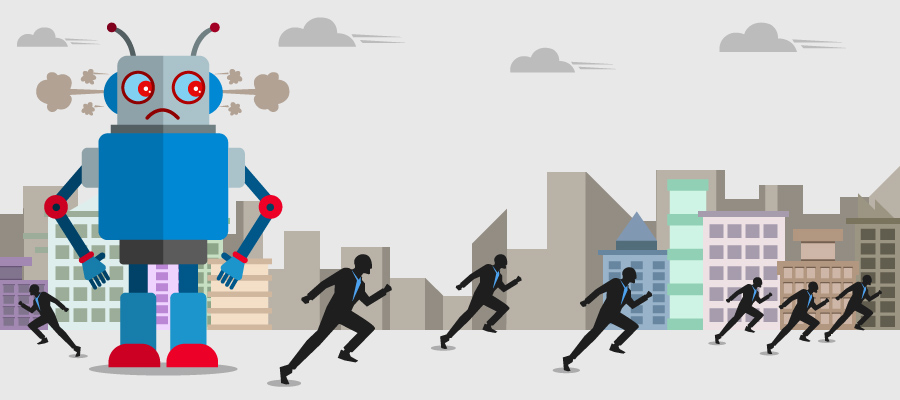 As a manager, you are always banging your head against the wall to maneuver the human resources productively. The ups and downs are obvious, whether it is life or business. But as the time moves ahead, so does the technology. It has now reached the level where you can actually automate your sales force, and that too without turning into a 'living' robot.
Yes, the life of a sales manager is always at war, with the targets, the management issues, poor productivity, and field translucency. Sadly, this war inevitably takes a toll on the sales. However hard a manager may try, but he can't overhaul the deeply infected field issues because one can't supervise all the activities that occur on the field.
Even if you decide to be with your team while they work, you can't be present with any two of members at the same time. That feels like rubbing salt to injuries. You know there is a problem, but you feel hopelessly helpless to patch it.
As a last resort to bring the things under his control, a manager converts himself into a living robot. He has just one mission in his mind, so he escapes into the world where he thinks, breathe, see, sleep, dream, eat and sing nothing but management. So much so, that it disturbs their personal, social and to an inadvertent extent that robs joy from rest of their life.
Even after dedicating his complete mental and physical self to management, the feeling of hopelessness and helplessness continues to haunt him. And this is not even an exaggeration by any means. Observe the behavior of any sales manager who manages the field sales and you will better understand what I am talking about…
Field Force Automation for Soothing Sales
To resolve any issue, you first need to examine the factors which land you into it. Unless you know the factors, you can't help to fix them. But here's the elephant in the room, you essentially lack the control over your team while it is actually working. But why is it so? It is because of few basic flaws which loosen the grip that one would love to have, as the manager.
Disorganized Team
Almost Negligible Transparency
Unable to Mobilize The Human Resource at Will
Deadly Poor Reporting System
No Clue About Individual Productivity
Field force is an unarguable asset that determines your sales success. But as it stands, the sales process is anything but clarity. Just forget about management, it would be no lesser achievement to figure out if your team member is actually active on the field.
These problems can be proficiently tackled with the help of field force automation. It not only fetches field updates but also empowers the manageability of the sales process by giving a real-time access over your team efforts. So you don't have to transform into a Robot by simply opting for automation.
Sales automation involves a bunch of technological tweaks that seamlessly align your sales process in an order that you want it to be. This basically arranges for everything that you need for proper management of complete activities involved in a sales process.
Trace The Whereabouts of your Team
When your team works on the field, you must keep a track of their constant geographical movement. Just because you can't be present on the field doesn't mean you can't locate them. The GPS tracking system is a solution that easily bails you out of it. It notifies you about the movement of every team member.
Have a Knack for Productivity
When you don't have a plan, your team's effort is mostly scattered into different directions and somehow, the impact is not there. We all know the power of unity. Teamwork is essentially about distributing the workload equally amongst themselves so that every member can understand his role in the team and contribute to the overall process. This seamlessly automates the sales team productively.
Do you know the time your employee spends on an average with the clients?
Settle for Nothing But Priorities
Timing plays a very vital role in decision making. You can't target anyone just because you can. For a matter of fact, every business is aiming to land itself a place in Fortune 500 but 99.99% of them will never get there. So, It is much better to set the priorities straight rather than jumping to any opportunities as they come.
Hit The Bull's Eyes Without Searching the Bull
You have to assume a lot of things without any information about your team members. You are left with no other choice but to rely upon Day End Reports given by the team ignoring its authenticity (as if it ever has). Ever thought of hitting the bull's eye blindfolded? You can now…