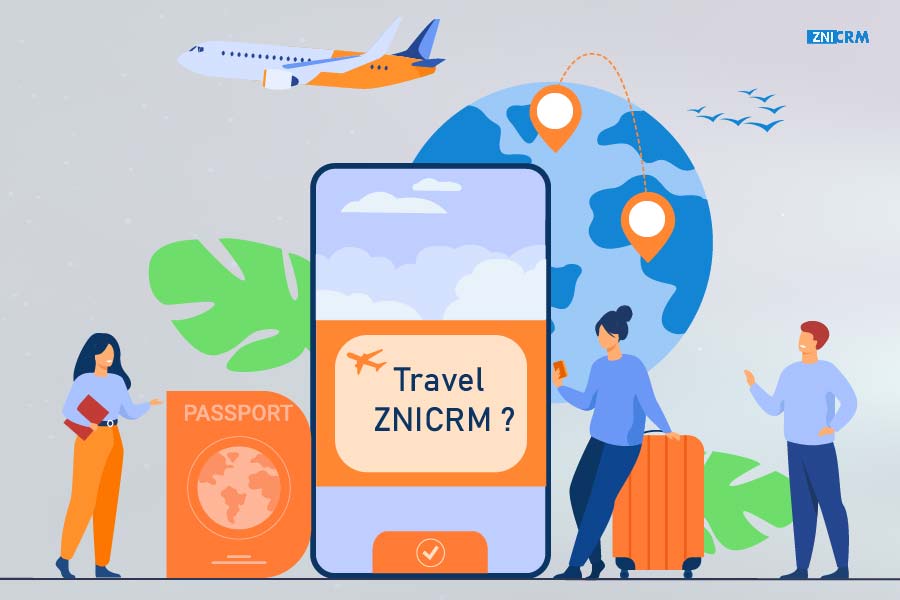 So you're a travel agency, right? You've also heard of Travel CRM software. Correct? Answer three simple questions before we get into the best travel CRM for you:
ZNICRM – The Most Affordable Travel CRM For You
So you're a travel agency, right? You've also heard of Travel CRM software. Correct? Answer three simple questions before we get into the best travel CRM for you:
Do you want to give your travel business a boost?
Do you want your travel business to be a word-of-mouth success?
Do you want to build a solid brand value in the travel industry?
Three times you replied with a resounding yes. You did, didn't you? If you answered yes, you've come to the right place to accomplish all three of these goals. Let us proceed to find out why.
You may already be aware of how a smart and cost-effective travel CRM may benefit your business. But we do know you're looking for a travel CRM that's
Simple and easy to use.
Smart, cost-effective,
And customizable.
So, no worries. This is where ZNICRM comes in. We never compromise on features to keep the costs low.
Let us get a bird's-eye view of how ZNICRM will help you.
Capture Travel Enquiries Like A Hawk
There is no need to rely on a single source. Capture unlimited inquiries from numerous sources including your website and other relevant platforms using our concise API.
Create & Manage Unlimited Customer Profiles
No more barriers to the number of customer profiles. Unlike other travel CRMs on the market, ZNI CRM allows you to maintain your travelers' list as long as you want. Also, from previous purchases to new orders and interactions with your team, all information is at your fingertips.
Create Custom Forms As Per Your Requirements
No restrictions on forms; you can create custom forms per the requirements. You can establish new client profiles in ZNI travel CRM with distinctive information such as:
Traveler's Name
Traveler's Email ID
Traveler's Contact Number
Other Family Members
Tour Location
Tour Type
Travel Date
Number Of Days
Hotel & Meal Details
Traveler's Birthday/Anniversary
Family Member's Birthday/Anniversary
Other Related Details
Find Information In A Split Second
No need to chop and change through spreadsheets for hours to find a bit of data. Finding information is a piece of cake with the best travel CRM software ZNICRM. You can use search filters like tags to locate any or all details at once, and you can search any or all customers data by:
Customer Name,
Customer Email ID,
Customer Contact Number,
Travel date,
Travel Destinations and many others.
Upload Travelers' Documents
Want to upload documents like passports, ID cards, or other KYC documents? You get a free 1GB cloud space per user in your travel CRM software ZNI. You can add as many or as few documents as you want. Furthermore, if more than 1GB of storage is required, you can request it.
No More Missed Follow-Ups
Be unafraid of missed follow-ups. Set reminders to follow up on your leads with ZNI travel CRM. Get alerted before the deadline for contacting your leads. As a result, no follow-ups on leads will be ignored or forgotten.
Get Calls Anywhere, From Anywhere
Do you have any international customers? We've also got you covered here. ZNI travel CRM includes a cloud telephony (zip call) tool. Customers can call you directly from your website, and you can take calls on your phone, regardless of where they are located. You will also receive a real-time report on how many zip-call webs hits you received per month.
Get Daily Digest Of Performances
Do you want to keep an eye on the performances and leads? You can access all data on your dashboard in your ZNI travel CRM. Everything is at your fingertips, from lead generation to follow-ups and client interactions. In just a few clicks, you can monitor the success of your sales team members. As an outcome, you'll save time and effort while increasing productivity.
Easy Third-Party API Integration
Get leads created automatically. You can add widgets to your website, Facebook page, Google Ads landing pages, MakeMyTrip, and other sites using our precise APIs. Let customers submit a request, and leads will be instantly created in the CRM.
Send Automated Emails & SMS Messages
Send tailored and automated emails/SMS. You can build up automatic email campaigns with the most affordable travel CRM. You can send automated emails to your consumers, as well as greetings on their birthdays or anniversaries, along with travel packages that are suitable for them. You can also develop custom templates and deliver drip messages, such as welcome emails, using the ZNI travel CRM. Set the flow simply and let ZNI do the rest.
Create & Send Proposals
Want to make and send proposals right away from your CRM panel? ZNI Travel CRM makes it possible. Make proposals right away and send them as a pdf from your ZNICRM panel.
Lead Management & Tracking Made Easy
Want to keep track of your leads' progress and status? ZNICRM makes tracking a breeze. You may easily change the stages of leads and prioritize them. It makes it simple to track leads based on their status and act accordingly. You can specify the lead status as follows:
New
Follow-Up Today
Potential
Booked Or Closed
Quotation
Disqualified
Unassigned
You can sort leads anyway based on their statuses.
Get Customized & Graphical Lead Reports
Want reports your way? We, as the best travel CRM software, make sure that no detail is overlooked or neglected. Get all of your data in one place. Everything from the best-selling packages to the targets met and the lead conversion ratio is displayed in the form of eye-catching pie charts and bar graphs. ZNICRM provides comprehensive graphical reporting, such as:
Lead Source Reports
Sales Target, Pipeline
Package Wise Distribution
Lead Status
Deals Won vs Lost
Conversion Ratio
In the best travel management system ZNI, you can also sort your activity report for:
Today
Yesterday
Last 7 Days
Last 30 Days
This Month
Last Month
Custom Range(e.g 10th of last month to 5th of this month)
With just a few clicks, you can get your activity reports in excel format from ZNI travel CRM. It makes it easier to assess the performance of your teams.
Smooth Invoicing & Tax Managing
Invoicing seems painful? Invoicing is a snap with our best travel CRM. All you have to do is, set your taxes once and it will handle the rest. You can also define terms and conditions and corporate policy in our invoicing tool. You can make invoices and manage taxes in a few clicks, as well as print quotes to send to your customers.
Why Should You Choose ZNI CRM For Your Travel Business?
Still not sure if ZNICRM is right for your travel business? Let's make this clear: "If you love growth, you'll love ZNICRM."
Take a look at the following three reasons why ZNICRM is the best travel management system for your company.
Up-to-date But Cost-effective
ZNICRM is the most cost-effective travel CRM and the best travel management solution available. We charge 1x the price of competing travel CRM software and aim to provide you with 10x the features and value. We make sure that you get the best at a fair price.
Quick & Friendly Support
Whatever issue you're having, our customer support staff is ready to help you. We will make using your ZNI travel CRM fun for you, from creating leads to receiving reports and sending quotations. If a problem involves a third party, we can assist you if not troubleshoot.
Guaranteed Satisfaction
We believe in the notion of "Succeeding by Helping Others Succeed." We don't just want to make a sale and then walk away. Instead, we seek to build a warm, long-term relationship. When we say we guarantee your satisfaction, we mean it. We put our heart and soul into making your experience with us exceptional.
Confusions can get cleared up, but excuses cannot. If you have any further queries, leave them to us. Our expert team will gladly answer all of your questions. We'll wipe the fog out from the window. Adopt the best travel CRM to stay ahead of the game. Now is the time to get a FREE DEMO.