ZNICRM do not auto-debit payments from your bank account or credit card and instead relies on the system wallet to debit payments for upgrade or renewal.
To upgrade the plan, you can make payment via any International credit card like American Express, Visa, MasterCard, Diners Club & Rupay (India).
Other than international credit cards, we accept payments from Indian and US bank accounts in USD & INR, along with some Indian wallets.
To manage your billing plan, like upgrading or changing the billing plan, first go to the Settings page (Check this article if you don't know how to access the Settings page).
Upgrading Your Billing Plan
Click on the "Change Plan" button given on the right side under "Active Plan & Wallet".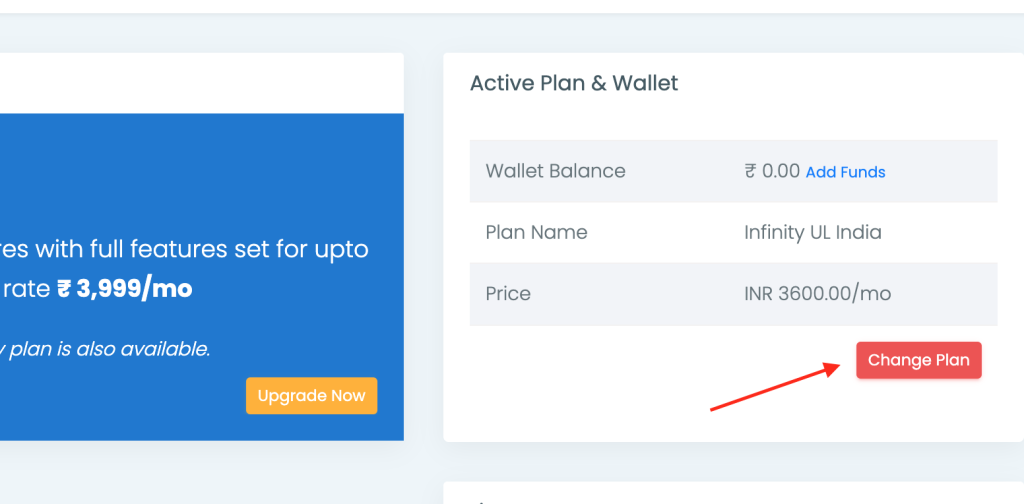 On the next page, under the "Upgrade Subscription" block, select your desired plan and click on the "Upgrade Plan" button.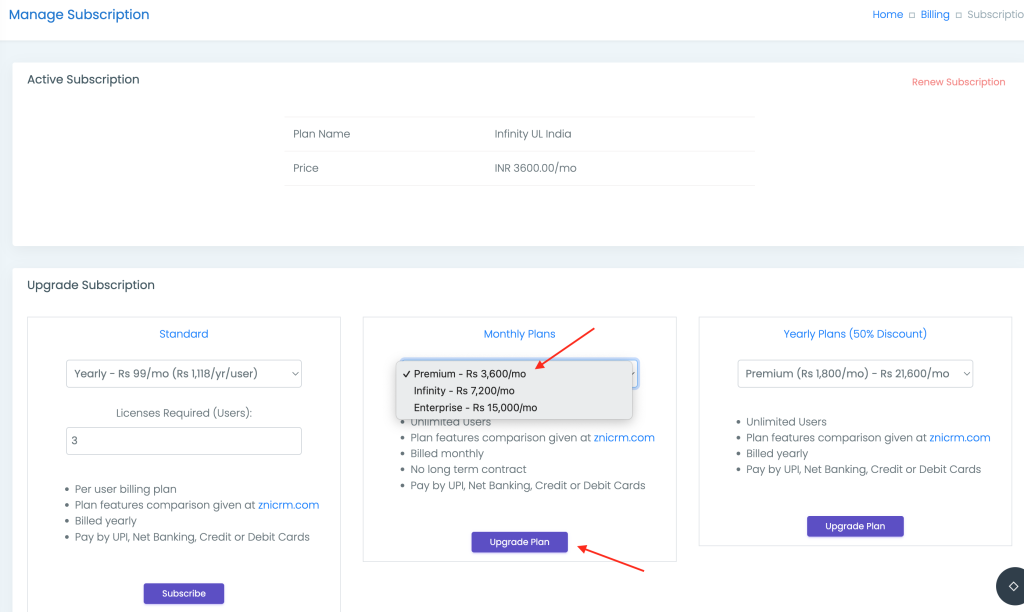 A warning will be displayed informing you that if you have over 15 days of validity left, then do not upgrade the plan as an upgrade will reduce the validity. Click on "Yes, go ahead".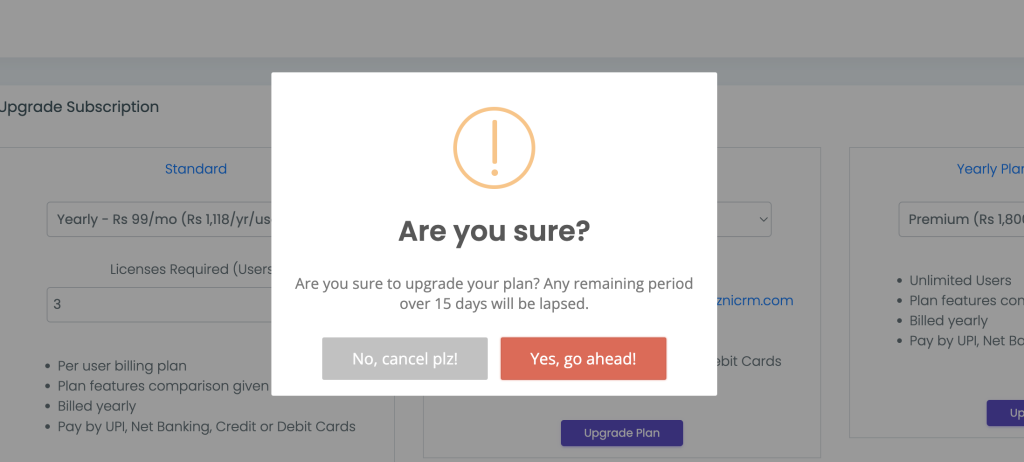 Based on your country, wallet balance, and billing currency, the next page will ask you to add funds to the wallet. If you have any coupons, then apply that on this page to get the discount.

Once the funds are added (check how to add funds), your billing plan will be upgraded automatically.
How to manage user licenses?
Most of our plan comes with unlimited user licenses for CRM but in case you are using a plan which is based on the number of licenses instead of an unlimited one, then you can enter the required numbers before adding funds to your wallet from the Manage plan page.
Just select the desired plan, enter the number of licenses required and then click on the "Subscribe" button.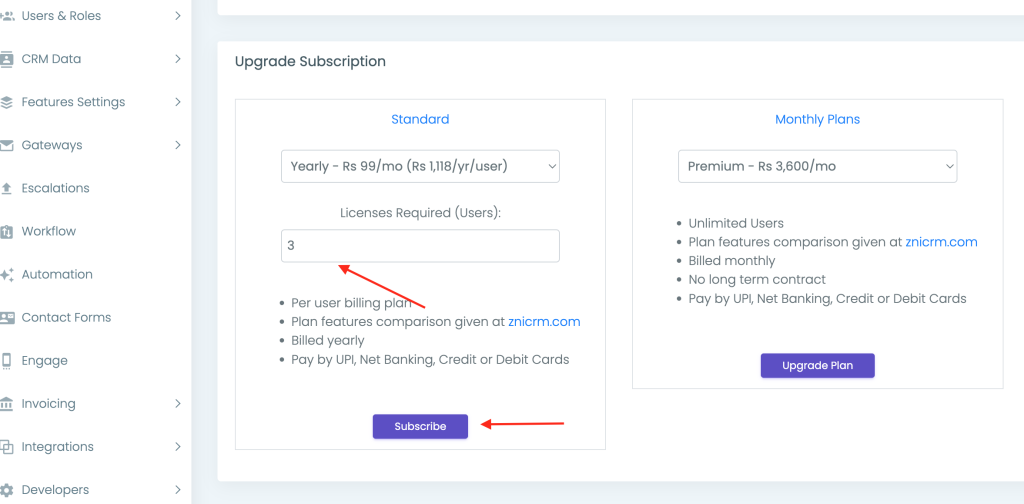 Renewing the exisiting plan
You can upgrade the number of licenses in the plan anytime during the subscription. To change the number of licenses, go to "Manage Plan" from the settings page as given above.
From the active subscription block click on the "Renew Subscription" button given on the top right.

This link will only work if you have a paid plan. If you are on a free trial then use the "Upgrade Plan" option.
If you do not have enough amount in your wallet then the system will ask you to add funds or othwise just click on the "Renew Plan" button.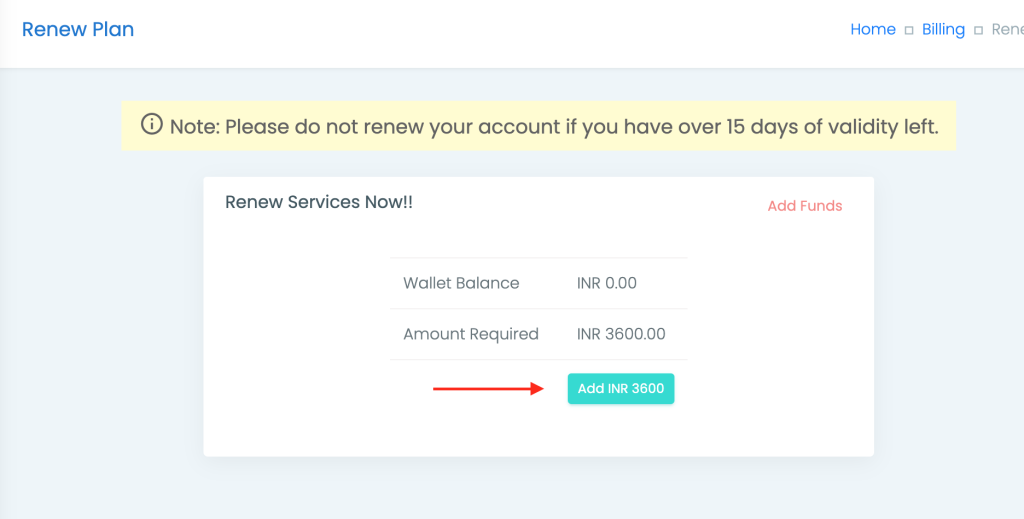 If you already have enough balance in your wallet then the system will automatically renew your account on the expiry date.
From the same page you can also increase the number of licenses if your plan supports that.